Gunter gone, but not forgotten
Updated:
September 9, 2005, 6:23 PM ET
By
Nancy Lieberman
| Special to ESPN.com
I saw an open teammate across the court and could have made the easy pass.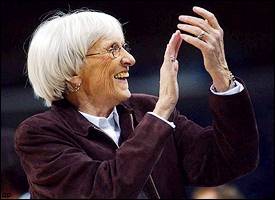 Sue Gunter, who retired in 2004 with 708 wins in 40 seasons, will be inducted into the Naismith Hall of Fame in September.
But I was young and feeling awfully confident in my red, white and blue uniform. Trouble was, my behind-the-back pass went nowhere near its target, and instead bounced off some guy's head in the second row. It wasn't exactly the kind of show the United States wanted to put on while playing in Bulgaria. I cringed as coach called me over to the sideline. "Lieb," she began with an even voice. And that alone immediately put me at ease. Sometimes, when a parent scolds a child, or a coach gets on one of her players, she makes a point to emphasize every syllable of your name.
HALL OF FAME INDUCTIONS
ESPN Classic will broadcast the Basketball Hall of Fame inductions live on Friday at 7:30 p.m. ET, following a retrospective look at great moments in the careers of three inductees.

1 p.m. ET: 1984 NBA Eastern Conference Semifinals, Game 6, Boston Celtics vs. New York Knicks (Hubie Brown)
3 p.m. ET: 1999 NCAA National Championship, UConn (Jim Calhoun) vs. Duke
5 p.m. ET: 2003 NCAA National Championship, Syracuse (Jim Boeheim) vs. Kansas
7:30 p.m. ET: Basketball Hall of Fame Induction Ceremony
But that was never Sue Gunter's style. She didn't scold. She didn't raise her voice. She never killed your creativity or broke your spirit. "Lieb," she said again, using the nickname she'd given me since I'd joined her U.S. squad. "That was a nice pass … but I'd prefer it go to one of your teammates." Yes, Gunter always got her point across, but
the way she did it
is one of the things I always loved most about her and will remember her for. Gunter, who retired from coaching at LSU in 2004 after amassing 708 victories, died at her home in Baton Rouge on Aug. 11 after a long battle with emphysema. She was 66. This weekend, Gunter – who spent 22 seasons at LSU (1982-2004), 16 at Stephen F. Austin (1964-1980) and two at Middle Tennessee State (1962-1964), and was a USA Basketball coach for years, including head coach of the U.S. women's team that would have competed at the 1980 Olympics – is one of five people who will be enshrined into the Naismith Hall of Fame. She's one of the all-time greatest coaches to grace the women's game; one of only four women's coaches to win more than 700 games, leading LSU to 14 NCAA Tournament berths, including the program's first Final Four appearance, four trips to the Elite Eight and eight Sweet 16 bids. Still, Gunter's passion for the game and the people she coached is perhaps her greatest attribute, and one of the things that set Gunter apart on the sideline. She always was very good at how she handled people's feelings. She always drove her point home, but in a way only Gunter could do, often using humor, a sly smile or an assuring wink. Though she never won a title – and in fact was tethered to an oxygen tank and had to watch via TV as LSU played in the 2004 Final Four under assistant coach Pokey Chatman – Gunter made a point to connect with her players, and teach them about past champions and the history of the game.
MEMORIES OF COACH GUNTER
Fans and former players shared their favorite memories of LSU coach Sue Gunter with ESPN.com. To read a selection of the submissions, click here.
But the real mark of success in a career that spanned four decades (she's the only woman to coach 40 years) was Gunter's ability to accept new styles and ideas. If one of her peers ran an offense that was different but successful, Gunter was open to taking a look at it and considering a change. She not only won at every level, she was part of the sport's evolution from the early 1960s, long before Title IX, and certainly long before women's games went from novelty to nightly broadcasts on national television.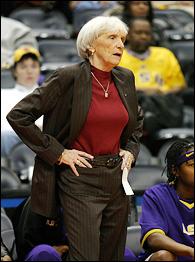 Darrell Walker/Icon SMIThe life of Sue Gunter, born in 1939, could have been a movie, one with a triumphant but thoroughly bittersweet tone.
As a young, impressionable 16-year-old, I couldn't have had a better mentor to mold and influence my life. The same can be said for Chatman, who has since taken over the Lady Tigers and led them to a second consecutive Final Four last season with national player of the year Seimone Augustus (who could have played anywhere but opted to stay home and play for the legendary Gunter). Chatman led LSU to a 33-3 mark last season and also the program's first SEC regular-season title. Chatman's résumé, in fact, includes 17 seasons alongside Gunter, first as an All-American guard at LSU and then as Gunter's assistant coach. Like Gunter – and most likely because of her influence – Chatman is one of the most highly regarded, loyal, loving and well-liked coaches in the business. In today's competitive age, those can sometimes be rare traits, but they weren't for Gunter. That was truly evident in 2004, when the Lady Tigers reached their first Final Four. Even coaches whose seasons had been ended by LSU were happy to see Gunter finally reach the national semifinals. Though she succumbed to her illness before she could be enshrined into the Naismith Hall of Fame this weekend, Gunter was given one final honor in April. It only made sense that a woman who was nothing but first class be voted in on her first ballot.
Nancy Lieberman, an ESPN analyst and Hall of Famer, is a regular contributor to ESPN.com's women's basketball coverage. Contact her at www.nancylieberman.com.
Basketball analyst / Writer
Nancy Lieberman, one of the most recognized individuals in women's basketball, is a men's and women's basketball analyst for ESPN. She works on ESPN and ESPN2's coverage of men's and women's college basketball, plus the WNBA and writes for ESPN.com.
SPONSORED HEADLINES
MORE WOMEN'S BASKETBALL HEADLINES
MOST SENT STORIES ON ESPN.COM