Versatility will carry Lady Vols through adversity
Updated:
February 16, 2006, 1:36 PM ET
By
Nancy Lieberman
| Special to ESPN.com
Shanna Zolman will assume Tennessee's starting point guard position, Pat Summitt said.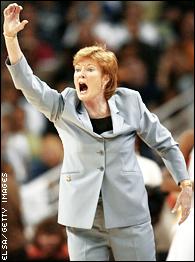 Getty ImagesThe Lady Vols will miss Alexis Hornbuckle, but "there is no time for us to have a pity party or hang our heads," coach Pat Summitt said.
But the Tennessee coach expects to use several different lineups tonight against Georgia (ESPN2, 8 p.m. ET) in the Lady Vols' first game since losing point guard Alexis Hornbuckle for the season.
In her weekly teleconference Wednesday, Summitt acknowledged that the Lady Vols had suffered a huge loss.
"Alexis was so valuable to us in terms of setting the tempo offensively and defensively," Summitt said. "She's the one player that I thought really got us out in transition, defended the point guard and slowed down the opponent's transition game."
But during a one-on-one phone interview, Summitt emphasized that there's no reason to panic.
"The initial entrance point might be different from what we had planned, but we still have to think about executing our offense," she said.
More than anything, Summitt emphasized Tennessee's versatility and the fact that several of her Lady Vols have played multiple positions. Zolman has had plenty of reps bringing the ball up court this season, and players such as Dominique Redding (one, two and three), Candace Parker (four, three and one) and Sidney Spencer (two, three and four) have all played three different positions this season.
If Zolman struggles, Summitt indicated that Redding -- who notched her first start of the season in Tennessee's last game -- would probably see some time at the point. If that doesn't work, expect Summitt to continue to manipulate her lineup depending on who's performing.
"They all have to step up before we decide who's going to step in," she said.
Losing Hornbuckle will hurt Tennessee defensively.
"Are we as good in our man-to-man defense without her? No," Summitt said. "Are we as quick up and down the floor? No. [Hornbuckle] has been the catalyst for a lot of that."
Another trickle-down effect of Hornbuckle's absence means Nicky Anosike "will have to start guarding smaller players," Summitt said, noting that Anosike helped hold Vanderbilt's Dee Davis to nine points in a Feb. 12 game.
Summitt is waiting for someone to step up, as the Lady Vols reacted a few years back when point guard Loree Moore went down.
"Who would have thought Tasha Butts would have been able to play the point spot?" Summitt said. "But she clearly became our best leader and handled it better than anybody could have thought." More than anything, don't forget that Summitt welcomes challenges. This was supposed to be the year she had all the pieces, right? That Tennessee was the favorite to win its first title since 1998. Now it doesn't look that way.
Summitt's response?
"What you're saying to me is if I wasn't challenged, I might get bored and just get out of the game," she said with a laugh. Still, in all seriousness, Summitt knows Georgia will present a tough task, considering the Lady Bulldogs' backcourt is one of the best in the country, especially with SEC all-time steals leader Sherill Baker. "It's almost like playing five on six, [Baker is] that quick," Summitt said in her teleconference.
Nancy Lieberman, an ESPN analyst and Hall of Famer, is a regular contributor to ESPN.com's women's basketball coverage. Contact her at www.nancylieberman.com.
Basketball analyst / Writer
Nancy Lieberman, one of the most recognized individuals in women's basketball, is a men's and women's basketball analyst for ESPN. She works on ESPN and ESPN2's coverage of men's and women's college basketball, plus the WNBA and writes for ESPN.com.
SPONSORED HEADLINES
MORE WOMEN'S BASKETBALL HEADLINES
MOST SENT STORIES ON ESPN.COM