OU freshman ranks as one of country's best
Updated:
March 1, 2006, 3:05 PM ET
By
Nancy Lieberman
| Special to ESPN.com
Courtney Paris is hardworking, humble … and huge.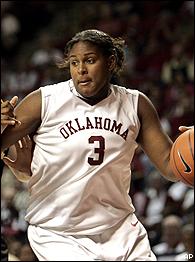 AP Photo/Sue OgrockiCourtney Paris ranks among the NCAA's top 10 in scoring (21.3 points), rebounding (15.0), field-goal percentage (61.4) and blocks (3.04).
That's right. H-U-G-E. And she's not afraid to tell you, either. The Oklahoma freshman -- a 6-foot-4, 220-pound plus rebounding machine poised to shatter school, conference and NCAA records over her career -- regularly refers to her size the same way: with a smile and the word "huge" popping up somewhere in the conversation.
And it's a fitting description. What else would you expect from the daughter of a former Pro Bowl NFL lineman? What else would you expect from the daughter of a dad named Bubba? But Paris gets it. She is comfortable with her size and fully understands the advantages it affords her and the Sooners.
So does her coach.
"Courtney dispels the dichotomy that has often defined post players. She is grace and brawn," Oklahoma coach Sherri Coale said. "She uses both her height and her breadth for position around the basket, and that size coupled with her athleticism makes her almost impossible to corral with not just one, but even two defenders."
It's a good thing Paris -- the daughter of William "Bubba" Paris and teammate of identical sister, Ashley -- is comfortable with her size, because no one else is. And that's part of what makes Paris -- who has to be considered a national player of the year candidate (see inline, below right) -- so punishing inside. While some coaches have to beg their big kids to use their physical attributes, there's no pleading with Paris -- it's second nature for her to, well, throw her weight around and be physically imposing in the paint.
How imposing? Here's just a sampling of some of Paris' numbers:
• Ranked among the NCAA's top 10 in scoring (21.3 points), rebounding (15.0), field-goal percentage (61.4) and blocks (3.04). No other candidate for the Wooden or Naismith award ranks in more than two categories.
• Her 21 straight double-doubles are more than any other player has tallied this season in Division I. Paris has 26 total double-doubles, which is a Big 12 and OU record.
• She's just 12 rebounds shy of breaking a 25-year-old NCAA single-season freshman rebounding record. Ida Johnson of Delta State set the mark at 443 in 1981-82; Paris has snared 432 boards.
• Paris is on pace to break the NCAA single-season rebounding record of 534 boards, set by Drake's Wanda Ford in 1985.
PARIS FOR PLAYER OF YEAR?
The buzz around the women's college basketball world lately has been about whether a freshman should be considered for national player of the year honors.

I say yes, definitely. Because there is no doubt in my mind that Oklahoma's true freshman Courtney Paris should be included on the list of candidates.

Is she deserving? Absolutely. Paris' numbers and production individually and to her team are right up there with the other candidates. She has just been dynamic this season.

Will she win it? Probably not. History dictates that upperclassmen tend to dominate this honor, and she's going up against quite a talented group. Plus, don't forget that LSU's Seimone Augustus was the consensus national player of the year last season. Yes, Alana Beard unseated Diana Taurasi as the Wade Trophy winner their senior season, but if someone does unseat Augustus, Rutgers' Cappie Pondexter, Duke's Monique Currie, UNC's Ivory Latta and Baylor's Sophia Young are already in line.
-- ESPN's Nancy Lieberman
• She's the first player in Big 12 history to tally 600 points and 400 rebounds in a season.
• And as analyst Debbie Antonelli recently pointed out, Paris might even break many of Jackie Stiles' NCAA career marks someday. Stiles, who amassed the all-time NCAA scoring mark with 3,393 points at Missouri State, averaged 20.6 points her freshman season. Stiles' NCAA-record 129 double-digit scoring games also could fall.
Part of what makes Paris so powerful is something we don't have a lot of control over: genetics. Even as a freshman, she already has a pro body (think Karl Malone at Louisiana Tech, but less chiseled and defined). But she has worked hard to become versatile (think Charles Barkley at Auburn, but without his range), is deceivingly nimble and has incredible footwork (watch her from the waist down and she'll display some Tim Duncan-like moves) to be more than just a big body in the paint. And she's getting better and better at passing out of double teams.
While Paris is clearly most comfortable on the low block and won't stray far from the basket, she doesn't consider herself a center. She plays more of a "power post," and just keeps coming at you. She does it early and often and intimidates you not only with her physical presence but deceiving speed. Paris' counterparts hate to play her because she physically wears them down. Inevitably, the opponent comes out bruised, a little battered (ego, too), and more than anything, tired.
"All you can do is try to slow her down because you cannot stop her right now," said Texas A&M coach Gary Blair, who has one Final Four trip (with Arkansas in '98) and five Sweet 16 appearances on his résumé.
"She might be the best post player in the country right now," Blair said just two months into the season. "I'd hate to see her as a senior. She's got the most incredible hands I've ever seen in my life." Incredible hands and incredible impact. With no disrespect to the Sooners or Coale, without Paris, they would not be a top-10 team (currently ranked ninth in both polls) or trying to become the first squad in Big 12 history to go undefeated in conference play (Oklahoma travels to Texas Tech on Wednesday with a perfect 14-0 league mark). And they wouldn't be my sleeper pick to reach the Final Four in Boston, either.
The most notable plus about Paris' presence is her rebounding. OU is averaging 44.9 boards and boasts a plus-11.8 rebounding margin, which ranks No. 1 in the Big 12. The second-best team, Baylor, seems far behind at plus-5.0. Oklahoma's 16 offensive rebounds per game also gives them more second-chance opportunities. The Sooners' dominance on the defensive glass allows them to get their deadly rebound-and-run offense going, which has paved the way for a conference-best 77.2 points per game.
With "grace and brawn," Courtney Paris "dispels the dichotomy that has often defined post players," Sherri Coale says.
The Sooners also are shooting 47 percent from the field, which obviously is boosted by Paris' 60 percent accuracy. But because opponents don't want to give up the easy 2-point basket, they tend to double-down and come after Paris, which of course opens up the outside for her teammates. As a result, the Sooners have attempted the third-most 3-pointers in the Big 12. Though OU is shooting just 34.4 percent from beyond the arc (that's an Achilles' heel, in addition to 17.5 turnovers per game), four Sooners have hit at least 22 3-pointers, led by Erin Higgins' 69 treys. Defensively, Paris has helped OU hold opponents to 33 percent shooting from downtown. That's because having Paris behind them allows the Sooners' perimeter players to be aggressive; if they make a mistake, they have Paris -- who's averaging 3.1 blocks -- behind them to bail them out. Paris' consistency makes for impressive numbers. And like her highly touted Division I peers, Paris owned high school stats that blow you away: 27.4 points per game, 18.9 rebounds per game, 5.0 blocks per game, 2.5 assists per game. But the most impressive thing is that her numbers at the next level aren't that far off those marks. And don't forget she's posting these performances in the fourth-best conference in women's basketball. The only thing she needs to work on is her abysmal free-throw shooting, which is hovering at 48.7 percent.
And as for that humility? Oklahoma State coach Kurt Budke, who produced several WNBA posts while at Louisiana Tech, said Paris might be considered the best women's basketball player in history in another 10 or 15 years.
And he's right. Years from now, Paris' photo will be up there with Cheryl Miller's, showing some 8-year-old kid watching ESPN what she can aspire to be. Paris might be setting records right now, but she's etching her name into history.
Still, Paris knows she has a long way to go before Budke or anyone else can call her the best. "I can't really say that until I learn to box out," said Paris, who added that she didn't play with "energy or swagger" against Budke's Cowgirls. "That's a big compliment. I wouldn't want to represent that person if I can't get the little things right. The greatest women's player doesn't play like that, so I can't say that yet."
Not yet. But she is one of the best this season.
Nancy Lieberman, an ESPN analyst and Hall of Famer, is a regular contributor to ESPN.com's women's basketball coverage. Contact her at www.nancylieberman.com.
Basketball analyst / Writer
Nancy Lieberman, one of the most recognized individuals in women's basketball, is a men's and women's basketball analyst for ESPN. She works on ESPN and ESPN2's coverage of men's and women's college basketball, plus the WNBA and writes for ESPN.com.
SPONSORED HEADLINES
MORE WOMEN'S BASKETBALL HEADLINES
MOST SENT STORIES ON ESPN.COM