Turner Thorne, ASU eyeing top of Pac-10 and beyond
Ask Charli Turner Thorne her mission for the next few seasons, and she cuts right to the chase.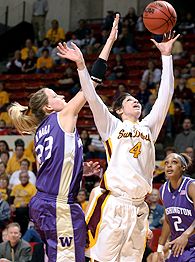 AP Photo/Rick ScuteriEmily Westerberg leads ASU in scoring and ranks second in the Pac-10 in field-goal percentage.
"My mission is to try and get to a Final Four in five years," the Arizona State coach said. So far, the Sun Devils have done just about everything else in Turner Thorne's 11 seasons in Tempe, Ariz. A Pac-10 title. The program's first Sweet 16 appearance in 22 years. Twenty-five victories in 2005-06, which tied the single-season school record. This season, Arizona State is once again pushing Stanford at the front of the Pac-10 race, and in the league's most recent stats (Jan. 21), it's the Sun Devils -- not the Cardinal -- topping several key categories. ASU has the No. 1 offense (78.2 ppg, the Sun Devils' most since the 1985-86 season), best field-goal percentage (49.3 percent, sixth nationally), best 3-point field-goal percentage defense (.289), top turnover margin (plus-5.6) and also is the conference leader in steals (211, 10.6 spg) and assists (400).
The Sun Devils also rank third in the nation in the latter, dishing out a whopping 20.1 assists per game. And that is perhaps the most telling stat about the Sun Devils, whose unselfish play (they're on pace to break the school record for assists for the third straight year) has resulted in an 18-2 overall record (8-1 Pac-10) and a six-game winning streak.
But the balance -- 10 players average at least 12.7 minutes -- has resulted in an almost faceless presence. Yes, despite success -- the Sun Devils are ranked No. 10 in both polls nationally -- they remain relatively under the radar, a sort of faceless power … an afterthought.
Turner Thorne doesn't mind, because it's a formula that works. Two seasons ago, Arizona State reached the regional semifinals for the first time since 1983, losing to 1-seed North Carolina in the Sweet 16. Last season, they lost in the second round to a very tough Utah squad, which lost in the Elite Eight to eventual NCAA champion Maryland.
Like the NBA's Phoenix Suns, the Sun Devils use a lot of players. Seven average at least 8.8 points, although that includes third-leading scorer Dymond Simon, one of the nation's top freshmen who was averaging 9.4 ppg before suffering a torn ACL this past weekend. (On a brighter note, the NCAA granted senior guard Jill Noe a sixth year of eligibility earlier this week; she suffered ACL injuries prior to the start of both the 2003-04 and 2004-05 seasons.)
Senior forward Emily Westerberg leads the way, averaging 14.8 points. She's the only Sun Devil to rank among the Pac-10's top-10 scorers (ninth), but three players rank among the league's top-10 field-goal shooters -- Westerberg is second at 57 percent, followed by Kirsten Thompson (55.6 percent, fourth) and Aubree Johnson (52.7 percent, eighth). Sophomore Briann January ranks fourth in assists (4.3 apg) and fourth in assist-to-turnover ratio (2.15). But junior Reagan Pariseau blows away the competition in that category, with an astounding 3.44 assist-to-turnover ratio.
It all starts with Turner Thorne. A tireless worker (she recruits the same kind of people), the mother of three is as well-known in the community as government officials, often attending rotary club meetings and even supplying TV analysis for Phoenix Mercury games. ASU's marketing and scheduling could serve as a model for other aspiring programs. (Remember the historic outdoor game against Tennessee in 2000? It took two and a half years to plan.)
And, Arizona State leads the Pac-10 in home attendance, averaging 3,508 fans per game. The Sun Devils are 51-3 at Wells Fargo Arena since 2003-04 and enter Thursday's game against No. 22 Cal having won 14 of their last 15 games, 17 of their last 18 Pac-10 games and their last 21 Pac-10 home games.
In fact, since the 2000-01 season, the Sun Devils have won more games (145) than any other Pac-10 team except … Stanford.
The ninth-ranked Cardinal are the only team to beat ASU in Pac-10 play so far this season, winning 77-71 last month at Maples Pavilion. Turner Thorne and the Sun Devils can't wait for Saturday's rematch. If ASU beats Cal on Thursday, Turner Thorne will be on the brink of winning her 100th Pac-10 game and clinching ASU's third consecutive 20-win season. Then, the Sun Devils play five of their final seven regular-season games on the road.
But regardless of what happens in the Pac-10, Arizona State is a team the rest of the country should watch out for come March … and in five years.
Nancy Lieberman, an ESPN analyst and Hall of Famer, is a regular contributor to ESPN.com's women's basketball coverage. Contact her at www.nancylieberman.com.
Basketball analyst / Writer
Nancy Lieberman, one of the most recognized individuals in women's basketball, is a men's and women's basketball analyst for ESPN. She works on ESPN and ESPN2's coverage of men's and women's college basketball, plus the WNBA and writes for ESPN.com.