Latta must play like old self for UNC to top Duke
What a difference a year makes.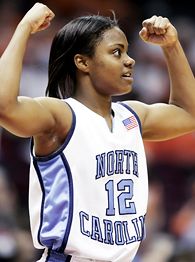 AP Photo/Paul SancyaAt the Cleveland Regional last season, Ivory Latta flexed to LeBron James in the crowd.
Last season, unless you were a Duke supporter, it seemed even the casual women's basketball fan was captivated by North Carolina point guard Ivory Latta. The 5-foot-6 mighty mite flexed for LeBron James and led the Tar Heels to the Final Four. Her charisma stole the show seemingly every time she stepped on the court.
Duke's Lindsey Harding was just as brilliant, but the Blue Devils point guard and her pass-first mentality still seemed more comfortable in the background, allowing the spotlight to fall on her teammates.
Fast-forward to this season, however, and Harding has charmed the nation, putting in huge performances night after night -- and in every nationally televised game against ranked teams -- stepping up her scoring by nearly four points and truly emerging as Duke's go-to star. Harding might not lead the Blue Devils in scoring (that honor goes to sophomore Abby Waner), but there's no doubt the senior -- with her increased scoring and unbelievable 2.0 assist-to-turnover ratio -- is the heart behind the country's No. 1-ranked team.
Up until recently, I'm not sure the same could be said for Latta. After offseason ankle surgery, she appeared a little thicker after spending a lot of time in the weight room. But more importantly, Latta's effervescence had disappeared. Yes, she hit the crucial 3-pointer and foul shots against UConn, but for much of the game, Latta's Tar Heels teammates were the stars.
Luckily for Carolina, Latta appears to be back to her old self, averaging 24.0 ppg in her past three outings. It couldn't come at a better time for the No. 2 Tar Heels, who play Duke tonight (ESPN2, 7 ET) . And with these two teams as even as they are -- identical 24-0 records, high-scoring offenses, great rebounding teams … even their total team blocks are separated by just one swat (Carolina has 171, Duke 170) -- this showdown will be decided by the point guard battle.
In several conversations over the past month, Latta has admitted to playing more cautiously at times. Wary of criticism for being overdramatic and even concerned that her infectious personality might draw technicals from officials, Latta hasn't been as demonstrative. That has hurt her game and mind-set. She must be her usual boisterous self tonight, keeping the home crowd in the game and continuing to ignite her teammates. If she plays passive, Carolina will struggle.
Both Harding and Latta are very gifted passers, although Harding probably takes care of the ball better. Harding also is perceived as the better defender, and Latta is historically the better scoring point guard. Harding delivers 4.1 apg, Latta 4.7 apg. Knocking down foul shots could be another huge factor tonight. And Duke center Alison Bales is another key. Playing against very athletic players, the 6-7 senior must have a big game, establish the inside and get high-quality shots. She's also going to have to run the floor in what likely will be a track meet. With several WNBA coaches likely in attendance tonight, this will continue to be a wonderful opportunity for Bales to showcase her skills for the next level. If she can run in this game, there's no question she'll be able to do it in the WNBA.
Right now, Duke is playing better than anybody in the country. But you can't discount that playing at home gives Carolina an edge, too. Of course, after downing then-No. 1 Maryland and then-No. 4 Tennessee on the road, the Blue Devils are accustomed to playing in front of a big, hostile crowd.
Nancy Lieberman, an ESPN analyst and Hall of Famer, is a regular contributor to ESPN.com's women's basketball coverage. Contact her at www.nancylieberman.com.
Basketball analyst / Writer
Nancy Lieberman, one of the most recognized individuals in women's basketball, is a men's and women's basketball analyst for ESPN. She works on ESPN and ESPN2's coverage of men's and women's college basketball, plus the WNBA and writes for ESPN.com.