Huskers having best season in years
Blame it on Courtney Paris.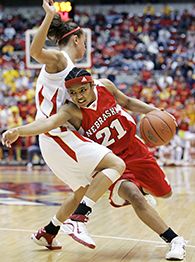 AP Photo/Charlie NeibergallKiera Hardy and Nebraska seek their first NCAA Tournament berth since 2000.
Well, of course it's not really the Oklahoma sophomore's fault. But when the season started, a lot of women's college basketball experts were so focused on the Sooners' potential that the rest of the Big 12 got overlooked.
The conference has been top-heavy for several years. But this season, the Big 12 is strong all the way into the belly of the conference. Nine of the 12 teams have winning records, and the league is vying with the Big East for the most NCAA Tournament bids.
The success of Oklahoma (21-4), which in 2002 became the first Big 12 team to reach the Final Four, and Baylor (24-4), the 2005 NCAA champion, was expected. And now, with the 2006-07 regular season winding down, perhaps we should thank Oklahoma, Paris and the Lady Bears for raising the bar in the Big 12. Texas A&M, Iowa State and Nebraska each also have notched 20-win seasons.
Despite a three-game losing streak, No. 24 Nebraska is a team that shouldn't be overlooked in March. As ESPN.com's Mechelle Voepel has pointed out, the Cornhuskers are struggling through their annual February slump; they are 11-12 the month of February over the last three seasons. But the Huskers -- who play their regular-season finale Saturday at Oklahoma State -- hold a one-game lead over Iowa State for the fourth seed in the Big 12 tournament, which would mean a first-round bye.
Nebraska's success starts with Connie Yori. In her fifth season in Lincoln, Yori is a fantastic, knowledgeable coach with a lot of energy who loves the recruiting race and also has the benefit of top-notch facilities.
This season, Yori and the Cornhuskers have earned their highest national ranking in eight years (as high as No. 19 earlier this month). They also have produced their first 20-win season since 1998-99 (and first under Yori), and at 21-7, need just two more wins to tie the school record for most victories in a season.
One of the biggest keys to Nebraska's success is an impressive 12-3 road record, which includes the program's first win at Texas and at one point a school-record 10-game road winning streak. The Huskers' only road losses came at then-No. 13 Arizona State in the season opener, at then-No. 21 Texas A&M on Jan. 24 and at Iowa State last week. Regardless of Saturday's outcome, Nebraska's road winning percentage (currently .800) already is guaranteed to shatter the previous season best (.652) set 31 years ago during the 1975-76 season when the Huskers were 15-8 away from home.
Kiera Hardy, a 5-foot-6 senior, is one of the top guards in the Big 12. Unfortunately, a lot of fans outside the conference don't know who she is, but Hardy already is a two-time All-Big 12 performer with more than 1,800 career points and 251 career 3-pointers (tied for seventh on Nebraska's all-time list). She has as good of a step-back shot as anybody you'll ever see and truly knows how to create separation to get her shot off. Hardy -- a candidate for the Frances Pomeroy Naismith Award to honor the nation's top senior 5-8 or shorter -- leads Nebraska with 15.5 points per game and 56 3-pointers on the season, starting 88 consecutive games dating back to November 2004.
In the frontcourt, Kelsey Griffin is the star, ranking seventh in the Big 12 in scoring (15.1 ppg) and fifth in rebounding (8.5). The 6-2 forward is probably the second-best sophomore in the conference (behind Oklahoma's Paris) and by far the league's most underrated. She shoots 58 percent from the field and has 10 double-doubles on the season. Griffin comes up big in big games, producing 23 points and 13 rebounds in a win over Baylor, 22 points and eight rebounds against Paris and 21 and seven against Texas' Tiffany Jackson.
And then there's three-year captain Chelsea Aubry (8.5 ppg, 4.5 rpg), a senior from Ontario who has played for the Canadian national team. The unselfish power forward ranks second in the Big 12 with a team-high 43.1 percent shooting from 3-point range (28-for-65 from downtown). She has hit 73 career 3-pointers to become the first forward in Nebraska history to crack the all-time top-10 list.
The Huskers are nothing if not consistent, using the same starting lineup -- seniors Hardy, Aubry, Jelena Spiric and Ashley Ford and sophomore Griffin -- in all 28 games. They also might have the best depth in the Big 12, going 11 players deep. Everybody is expected to contribute, yet it's an unselfish squad with no one averaging more than 16 points.
Nebraska could really use a win Saturday to right the ship before the Big 12 tournament begins March 6 in Oklahoma City. But the Huskers, who seek their first trip to the NCAA Tournament since the 2000 season, already have proved they've turned around their program.
Nancy Lieberman, an ESPN analyst and Hall of Famer, is a regular contributor to ESPN.com's women's basketball coverage. Contact her at www.nancylieberman.com.
Basketball analyst / Writer
Nancy Lieberman, one of the most recognized individuals in women's basketball, is a men's and women's basketball analyst for ESPN. She works on ESPN and ESPN2's coverage of men's and women's college basketball, plus the WNBA and writes for ESPN.com.