The bigger the game, the better Humphrey plays
Updated:
February 16, 2006, 1:12 PM ET
By
Beth Mowins
| Special to ESPN.com
Tasha Humphrey loves a challenge. As an undersized post in the SEC, she is used to big challenges. The 6-foot-1 sophomore center looks up to everyone on the low post. But with the heart of a lion, Humphrey bows down to no one.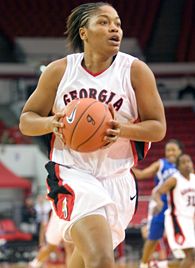 Darrell Walker/UTHM/Icon SMISophomore Tasha Humphrey is the second-fastest Lady Bulldog to score 1,000 points.
It's a fighting spirit she has always had. Her dad played football at Auburn and her mom, Brenda, played basketball for three years with the Tigers before giving birth to Tasha. After college, when her mom hit the road to play in Europe, Tasha went with her. She has been a gym rat on a couple of continents.
"I watched my mom play ever since I was little," said Humphrey, whose mother is now a Georgia assistant coach. "I wanted to do the same thing, and I've been hooked ever since. I played every day and worked on my moves."
The work has paid off for Humphrey. In just her second season, she has developed into one of the premier players in the country. She has scored more than 1,000 points, becoming the second-fastest player in Georgia history to reach the milestone. All-time leading scorer Janet Harris was just a few games quicker.
Humphrey is a big-game hunter. She excels in the big games at Georgia and has made tallying a double-double almost an afterthought. She has 26 in her career, registering double figures in points and rebounds in nearly half of her games in college so far.
"Tasha loves to compete," Georgia coach Andy Landers said. "She loves the big games, the big stage. The bigger the game, the better she gets."
Adds Humphrey: "Coach says I need to be strong. At my size, nothing comes easy. People are always gunning for me to prove what they can do. It comes down to who wants it the most, who will put in the extra time to be the best? I want that to be me."
Landers believes Humphrey is also one of the best students of the game he has ever seen. Humphrey has always been an avid sports fan, watching a lot of football and basketball on TV. Many female student-athletes do not watch games, but Humphrey makes it a priority.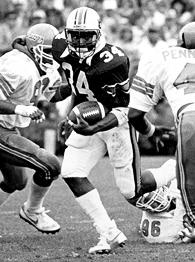 AP PhotoLike her first sports idol -- Auburn tailback Bo Jackson (shown here in 1985) -- Tasha Humphrey wears No. 34.
It's a resource she uses to her advantage: Humphrey has always had a knack for copying the moves of her favorite players. And it should come as no surprise that Humphrey has certain elements of football and basketball to her game.
"I would watch Michael Jordan and Chamique Holdsclaw on TV," Humphrey said. "Then I would go out to our hoop in the driveway and practice the moves I had just seen. It may have taken a few hours to get it right, but I would stay out there all night to do what they could do."
Humphrey learned the finesse part of her game from a couple of famous No. 23s, but she developed her power game from another source and another sport.
It was the Auburn connection of her mother and father where Humphrey -- who wears No. 34 -- learned of another prominent No. 34, football star Bo Jackson.
"Bo was the man at Auburn," said Humphrey of her first sports idol. "He worked every night and always played hard. He was a great showman who knew how to put on a spectacular performance."
Humphrey has had several spectacular performances in her short Bulldog career. She came right out of the gate as a freshman last year and scored 52 points in her first two games against Furman and Texas. She was the SEC Player of the Week before she even saw an SEC opponent. Only Humphrey and Olympic gold medalist Chamique Holdsclaw have received the honor in their first week of play.
As a youngster, Humphrey started wearing the No. 34 as a tribute to another Auburn legend, Charles Barkley. The Round Mound of Rebound has a similar personality to Humphrey; outgoing and charismatic. Barkley was also undersized in the paint but highly successful inside. Humphrey has borrowed Barkley's blend of power and finesse.
"People compare my game to his," Humphrey says. "I can play physical or show finesse. I think that's what made Charles so hard to guard and probably it's the same for me. We make our living off of mismatches against players who are good at one aspect but not the other. I'm a whopping 6-1, so I'm not winning many battles on the block. To survive I have to take them outside once in a while."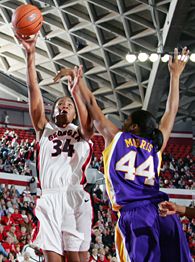 Dale Zanine US PRESSWIRE"Working close to the basket is a mentality for [Humphrey]," coach Andy Landers said. "Going away from the basket is like recess ... she's uncanny."
Case in point was last Sunday's showdown at LSU against 6-5 Sylvia Fowles. Unable to outmuscle Fowles or get her shot over the top, Humphrey unveiled the finesse game instead. She knocked down four 3-pointers on her way to a game-high 18 points. More than half her shots on the day were from outside the arc.
In four career games against Fowles and the Tigers (all of which had LSU ranked in the top five), Humphrey is averaging 24 points and 10 rebounds.
"Working close to the basket is a mentality for her," Landers said. "She has a toughness about her, she likes the contact.
"Going away from the basket is like recess for her. There aren't many out there that read a situation and understand the game like Tasha. She's uncanny."
In high school near Atlanta, Humphrey started showing interest in the University of Georgia. It didn't take long for the sports junkie to find out about a legendary Bulldog named Herschel Walker. And wouldn't you know, he was another No. 34.
Last fall, Humphrey got a chance to meet Walker at a Georgia football game honoring his 1980 national championship football team. He won the title as a freshman. In Athens, the folks hadn't seen a rookie sensation like him in 25 years. In 2005, Humphrey arrived and created a similar ruckus. She was the national co-freshman of the year with Candice Wiggins of Stanford. Humphrey was the SEC rookie of the year and a unanimous selection for All-SEC First Team. The only other unanimous choice was Wade Trophy winner Seimone Augustus of LSU.
Like Humphrey's numbers in the record books, Walker made a lasting impression with her.
"I'm never nervous to meet people," Humphrey said. "But I'm shaking his hand thinking, 'My goodness, this is Herschel Walker.' He has such an aura about him, but he is so nice and humble. He was easy to talk to and so genuine."
Walker made a promise that day to check out Humphrey's game in person when Georgia visited his hometown of Dallas before Thanksgiving. He kept his promise and was on hand to watch the Bulldogs beat TCU.
"Here's a guy who has won everything, any honor you could want, been on the cover of Sports Illustrated. And yet he is so down to earth, still committed to his school," Humphrey said. "He's accomplished great things in sports, but is an even greater person."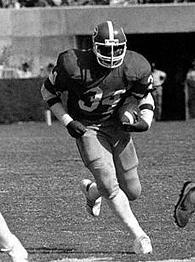 AP PhotoGeorgia tailback -- and No. 34, of course -- Herschel Walker (shown here in 1982) went out of his way to attend one of Humphrey's games when she played near his hometown.
Humphrey shares a similar commitment to Georgia. She passed on a stint with USA Basketball last summer to take care of plantar fascitis in her feet. She says she wanted to be at her best for the Bulldogs.
"It was hard to watch my friends play for the USA," Humphrey said. "But I had to do what was best for Georgia this year. Representing my country would be special. I hope I get to do it one day. Winning Olympic gold is the ultimate goal, but I've got business here first."
That business got a lot harder to take care of when Georgia lost four post players early in the season. A formidable frontline to help Humphrey fight the battles on the low block had come apart around her.
"It was hard at first with the injuries," Humphrey said. "But we are still a contender. Coach has prepared us well and we make the most of what we still have."
What they still have is one of the best contingents of guards in the country. Alexis Kendrick has started for four years at the point, never missing a game. Sherill Baker is the SEC career steals leader and arguably the best perimeter defender this side of the NBA.
Cori Chambers and Janese Hardrick provide the shooting spark and Megan Darrah is a natural wing forced to play power forward for the second year in a row.
"Even with the injuries, we just worked through it," said Landers, who recently picked up his 650th Division I career win. "Tasha has initiated our growth as a team; she gives us a chance to be confident and play the best in the country.
"We walk on the floor every night believing that Tasha is gonna do something special. That takes pressure off everyone else. Now they just have to concern themselves with the way they play. It's been neat to watch the rise in confidence of everybody else."
Humphrey will be out hunting another big game Thursday (ESPN2, 8 p.m. ET) at Georgia's Stegeman Coliseum. At stake will be the biggest prize in the SEC, a win over Tennessee.
"Tennessee is special, I must admit," Humphrey said. "They are women's basketball. We played them close in Knoxville last month, and I'm excited to have them come to our place."
In that matchup, Humphrey faced Lady Vols freshman sensation Candace Parker for the first time in college. Against the slender Parker, Humphrey flexed her muscle, scoring 23 points and grabbing eight rebounds. She powered the ball near the rim and went to the foul line 10 times.
In the rematch, Georgia will be gunning for its first win over a current member of the Top 25 this season. Just another opportunity for Humphrey and Georgia to prove they can run with the big dogs.
But you'll never be able to tell what Humphrey is thinking just by looking at her. She's been watching television again, developing another resource and looking for another advantage. She has found another big game to study in the high stakes world of Texas Hold 'Em Poker.
"My poker face is worth a million bucks," Humphrey said. "I'm intrigued by the mystery of the game. If I don't show any weakness, can I con them into thinking I've got the best hand?"
Beth Mowins is a regular contributor to ESPN.com's women's basketball coverage.
Women's Basketball
Beth Mowins is a regular contributor to ESPN.com's women's basketball coverage.
MORE WOMEN'S BASKETBALL HEADLINES
MOST SENT STORIES ON ESPN.COM