Tar Heels take care of business in ACC final
Updated:
March 8, 2006, 12:23 AM ET
By
Beth Mowins
| Special to ESPN.com
GREENSBORO, N.C. -- Think North Carolina has shored up a No. 1 seed in the women's NCAA Tournament?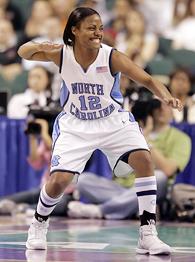 AP PhotoWhen Ivory Latta looks to establish UNC's inside game first and then take her shots when they come, the Tar Heels might be unstoppable.
How about the No. 1 overall seed? With a 91-80 victory over fourth-ranked Maryland on Sunday in the ACC tournament final, the Tar Heels continued to make a strong case to earn the very top spot when the bracket is released on Selection Monday.
North Carolina did everything right Sunday. The Tar Heels took it to the Terps on the glass, building a plus-12 rebounding advantage. They scored inside and out, and perhaps most impressively, got great contributions from every Tar Heel who stepped on the court.
And that is what makes North Carolina so strong: Everybody on the court can score. And though fans of the Tar Heels' 1994 national championship team might not agree, this might be the best team talent-wise that North Carolina has ever had.
During the regular season, three Tar Heels averaged double-digit scoring, with a fourth player hovering right around 9.0 points per game. But the Tar Heels were even better in three ACC tournament games, with four in double figures and a fourth player -- LaToya Pringle, who averages just 15 minutes per game -- just missing the cut at 9.7 points.
UNC hasn't had too many problems with foul trouble this season, but even if it did, the Tar Heels would be fine. Not many teams can lose a starter or two to foul trouble and not be affected by it. But UNC's balance is a huge bonus, particularly with the NCAA Tournament -- where you have to come up big in six straight games -- looming. Junior point guard Ivory Latta, UNC's leading scorer who averaged 20 points in three ACC tournament games, earned MVP honors for the second straight season. Though obviously very talented, Latta at times is an easy target by critics for her 3.5 turnovers per game. But right now, she's making great decisions for UNC offensively. Latta's assists are up, her turnovers are down and she's shooting much better. Specifically, Latta is making better decisions on when to shoot. Early in Sunday's final, she was actually taking too many attempts and forcing it. But she adjusted her game and in the second half and made sure to get her teammates more looks. And when Latta looks to establish UNC's inside game first and then take her shots when they come, the Tar Heels might be unstoppable.
Teammate Erlana Larkins was just great inside, tying Latta with a game-high 26 points and adding 12 rebounds. Larkins' first-half hustle plays were the difference, and by halftime, she had as many offensive rebounds (four) as Maryland's entire roster.
Though hampered by foul trouble in the first half, Camille Little finished with 13 points. But again, whoever came on the court had something to contribute. Both Pringle (18 minutes), a sophomore, and freshman Christina Dewitt (11) did a great job playing a lot more minutes, combining for 10 points and 12 rebounds. On the perimeter, Alex Miller -- who averages 18 minutes -- played for 24 and finished with six points on 3-for-7 shooting.
UNC just executed its game plan to perfection, scoring 17 points off of 20 offensive rebounds and 27 points off of the Terps' turnovers. The Tar Heels love to get it and go, and at one point had scored 13 of their 18 baskets on layups, either in transition or down on the low block. When they weren't sprinting from end to end, Larkins was scoring in their half-court sets.
UNC's help defense, particularly in limiting Crystal Langhorne's touches inside, also was crucial. Langhorne, Maryland's leading scorer and top shooter (66 percent accuracy from the field) attempted just seven shots to finish with 12 points, about 4.5 short of her per-game average.
Maryland's freshman guards, Kristi Toliver and Marissa Coleman, had played spectacular leading up to the final. They remained a story line Sunday, but not in the positive light they had been portrayed. Though their poise had been one of the most impressive things about the tournament so far, Toliver was frustrated and in foul trouble in the first half before settling for a four-point effort on 1-for-9 shooting from the field, including missing all five of her 3-point attempts. Coleman was quiet before the break before finishing with 14 points and eight rebounds.
Beth Mowins is a regular contributor to ESPN.com's women's basketball coverage.
Women's Basketball
Beth Mowins is a regular contributor to ESPN.com's women's basketball coverage.