Plenty of questions abound as 2006-07 nears
Updated:
October 23, 2006, 4:49 PM ET
By
Mechelle Voepel
| Special to ESPN.com
Well, here we go again. It's almost basketball season.
The leaves are falling like rain. I have to get out a coat (wow, I didn't remember I left a bag of pretzels in the pocket) and my pal Chuck Schoffner -- longtime Associated Press Top 25 poll administrator -- has sent out the e-mail asking us to partake in another season of easily second-guessed voting.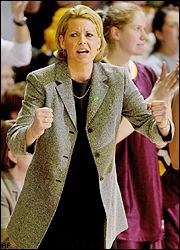 Two years ago, Minnesota was in the Final Four. But since last season, five players and an assistant left Pam Borton's program.
I went to my first media day of this season on Oct. 12, at Kansas. The Jayhawks have seven freshmen. Although no one asked coach Bonnie Henrickson whether she'd gotten her day care license, we did all inquire how she planned to deal with so many youngsters.
"I just keep reminding myself I need to be patient," Henrickson said.
One of her freshmen, Rebecca Feickert of North Dakota, said in the media guide that her greatest talent outside of basketball is "knowing useless facts."
Asked her most useless fact, Feickert told me that koalas have fingerprints. Which got me wondering when we might see a "criminal" koala get nailed on "CSI."
Oct. 18, I went to Big 12 media day for the 11th year in a row. The "kids" I talked to that first day, in 1996, are now all near or past age 30. A sobering thought. Then I wondered whether the ones I talked to Wednesday in Oklahoma City were really any different from those a decade ago. It didn't seem like it.
They are just a bit, I suppose, only to the degree that the world around them has changed. Most of them don't recall a time when the WNBA wasn't an option. They have all this "mechanical stuff" -- as Baylor coach Kim Mulkey put it -- in their lives: cell phones, iPods, laptops, etc.
Are the coaches different? Not really. But they make more money now, and that has increased the pressure. Which sometimes affects their behavior.
Are the fans different? Yes, in these ways: They are better informed (the Internet and increased television coverage gave them that opportunity), and there are more of them.
Am I different? Not fundamentally, but yes in this regard: I'm a lot more professionally skeptical of all people in positions of power in this game. Coaches and administrators. The selection committee. Those who run tournaments for girls aspiring to get college scholarships and also "rank" those girls' ability. (You just know there are never any conflicts of interest there, right?) The "coaches" of traveling teams and/or the "advisers" who link themselves to prep players, especially the girls who do not have their fathers in their lives.
All these people are supposed to be looking out for the best interests of the kids. But there are street hustlers who've wormed their way into being "contacts" for sought-after recruits. There are coaches who attempt to pass off their own emotional problems as, "I'm just a demanding taskmaster trying to get the best of my players." There are well-polished administrators who are on all the "important" committees but are so used to talking out of both sides of their mouths that they're convinced what they're doing isn't really the same as L-Y-I-N-G.
Then there are the folks who aren't doing any wrong … but also don't really challenge those who are.
There has been a long, long series of things that has made it clear to me that those of us who cover the sport and the fans who follow it must be vigilant. Among the more recent:
• How many coaches in the women's game were willing to chat up molester Rick Lopez because he'd turned himself into a prep talent broker? Did they know what was going on? They insist they didn't. Maybe they just didn't want to know. And how many more Rick Lopez types do you think are out there?
• That's one type of abuse, but there are many others. They might not seem as damaging. They really are harder to quantify and, certainly, they're not classified in any way as crimes. But they are counter to what should be any coach's bedrock belief: That no amount of victories can ever be worth the willful destruction of even one young person's self-esteem.
It happens, though. Some athletic directors and other ranking athletic administrators allow it to happen for various reasons, such as:
a) They don't care.
b) They don't pay enough attention to know what's going on.
c) They think the coaches have more power than they themselves do, so they don't rock the boat.
d) Even though they know they should act, it's not very high on their agenda.
• The Penn State "situation" has been going on in its current "incarnation" -- Jennifer Harris vs. Rene Portland -- for more than a year. But it took a quarter-century of people not speaking out or looking the other way or rationalizing that led to Portland having such complete belief in her dictatorial power that it seemed perfectly reasonable to her to tell three kids right after a difficult loss that they were not part of the program anymore.
This great "leader," the self-described "mommy-coach" couldn't wait until everyone was in a calmer setting, then try to figure out what was truly best for both her program and these three kids.
As I've said before, whatever faults Harris has, whatever she did that contributed to her terrible relationship with Portland, she was still "the kid" there. The very-well-paid adult in charge should bear the greater responsibility in more gracefully and compassionately handling the difficulties between the two.
Instead, they're still involved in a lawsuit, Portland thumbed her nose at her own school's admonishing report earlier this year and she appears a million miles from ever admitting she might have contributed even slightly to what went wrong.
• How about Minnesota? Two years ago, it was in the Final Four. This spring, so many people fled the program it appeared to be radioactive. Five players and an assistant left. Then, after an investigation, athletic director Joe Maturi said that all the problems were caused by "poor" communication and that he supported coach Pam Borton.
In a Minneapolis Star Tribune story, Maturi said when asked how he would monitor the program in the future, "It's not so much monitoring as being aware. We need to be more consistent in our relations."
And Borton, when asked how she might change the way she coaches in light of the issues raised, said, "Not so much as coaching is concerned, more of how I deal with individuals. It's about being aware."
Oh, OK, now that everybody is "aware" …
I imagine more than a few Minnesota fans think, "It's not so much that anyone thinks Borton really will change, but the school sure as heck doesn't want to cough up the million dollars it's obligated to pay her if she got fired."
• At Purdue -- and believe me, I'm not picking on the Big Ten here -- there was a 10-week investigation and subsequent report of six violations to the NCAA. Player Cherelle George was removed from the team because of alleged academic misconduct; the assistant who reportedly helped her too much, Katrina Merriweather, already had had her contract terminated when head coach Kristy Curry left to take over at Texas Tech.
Merriweather more or less accused fellow assistant Jannon Roland Lampley of sabotaging her; Lampley answered back in a lengthy, prepared statement to the Lafayette/West Lafayette (Ind.) Journal and Courier that she did no such thing and vigorously defended herself against the allegation that she was the "black widow" -- that was the term she used -- of the program.
• I've been to 14 Final Fours and never heard anything like the kind of constant chatter of "something's coming down" the way I did with Maryland last season. Yet so far, nothing has happened to the national championship program in terms of NCAA penalties.
So, was there really no substance at all to this? Was it mostly the result of some ticked-off competitors who managed to "gossip" it into the media's consciousness?
Or did Terrapins coach Brenda Frese and her staff push the envelope -- but not far enough for the NCAA to respond? Is it an open investigation?
• As for Kansas State, a lot of folks have asked me about the response to my story that appeared in The Kansas City Star on Oct. 1. With just a handful of exceptions, the e-mails I received were very positive in regard to us running it. The most important responses, to me, were those from people who identified themselves as K-State fans.
At least based on the e-mail I got, they were saddened -- but not surprised. Fans sensed there were problems inside coach Deb Patterson's program , but many said they just weren't sure what the issues were. They were thankful that we'd attempted to explain. (Incidentally, this was not a case of players/coaches coming to me with gripes. The staff departures of recent seasons and my observations after closely covering the program led me to contact people and ask whether they would talk realistically about their experiences.)
K-State women's basketball fans' response just reaffirmed to me that they care very deeply about the kids who have been and currently are in that program.
As for K-State's administration, I still haven't gotten a call back from athletic director Tim Weiser. He did talk about my story and the overall situation to some others in the media, including a Star columnist. That produced a column I knew nothing about until it ran in our newspaper. Its author never contacted me to ask about my reporting or anything else.
Weiser told this columnist that, "For all the talk of dysfunction … Deb has won a lot of games. We've averaged 7,000 to 8,000 fans. We won a Big 12 title. I wish I had this kind of dysfunction in all of my programs."
If you're wondering why there weren't any supportive Weiser quotes like that in my story, that's easy: He didn't say anything remotely like that in any of our four conversations before the story ran.
Penn State, Purdue and Minnesota all did formal investigations of their programs that took several weeks. Weiser told The Star's columnist that he "interviewed" current and former players about the comments in my story. He said this three days after my story ran. So obviously, that was an exhaustive process.
He did know about the story I was doing for four months, although I certainly didn't tell him what other people's specific comments were. He had prior awareness of some -- although not all -- of the issues I asked him about. I think it would be rather difficult to classify what K-State has done as investigating the issues.
• By now, you might be saying, "This is a really long downer of a column to supposedly 'celebrate' the impending arrival of another season."
Others will point out that there are many issues at programs across the country, so why didn't I mention all of them?
Well, I don't know all of them, and the point of this is less to single out anyone and more to showcase the need to, as Minnesota put it, "be aware."
It would be more fun if every column I wrote was stuff like a kid from North Dakota telling me about koalas. But that's not always going to be the case for me, nor will it be for other reporters, columnists, bloggers and message-board posters. Truly appreciating the sport also means recognizing its problems.
The sport gets stronger, not weaker, when the dialogue stays open about all topics, even the ones we wish we didn't exist.
Mechelle Voepel of The Kansas City Star is a regular contributor to ESPN.com. She can be reached at mvoepel123@yahoo.com.
espnW.com
Mechelle Voepel joined ESPN.com in 1996 and covers women's college hoops, the WNBA, the LPGA, and additional collegiate sports for espnW.
SPONSORED HEADLINES
MORE WOMEN'S BASKETBALL HEADLINES
MOST SENT STORIES ON ESPN.COM