SEC's parity could cost some teams an NCAA berth
Updated:
February 26, 2007, 10:34 AM ET
By
Mechelle Voepel
| Special to ESPN.com
Conference tournaments start this week. And you're not going to believe this, but the top four seeds for the SEC tourney are Tennessee, Georgia, Vanderbilt and LSU.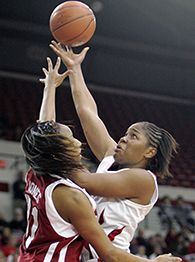 AP Photo/Todd BennettTasha Humphrey and No. 2 seed Georgia play either Kentucky or Arkansas in the SEC tourney after a first-round bye.
Actually … you probably wouldn't believe anything else, would you? They all have their NCAA tickets emphatically punched, with Tennessee as usual aiming for a No. 1 seed. Year in and year out, those four usually make up the best of a league that's always strong, even if its teams' results aren't screaming that out at you.
Meanwhile in the Big Ten, the top four are Ohio State, Purdue, Michigan State and Illinois … the latter of which is a surprise in regard to what was predicted before the season. The Illini were picked seventh by both the coaches and the media.
In both the SEC and the Big Ten, there are quite a few teams that are rather hard to distinguish from one another in terms of regular-season results. A few will separate themselves by getting something done in the league tournament and getting a shot at the NCAA field.
Only the top three teams in the Big Ten actually have winning league records; Illinois is 8-8 and also has an RPI in the 70s. Which means the Illini really can't afford a slip against No. 5 seed Penn State, which went 7-9 and realistically has only a spoiler role to play in the league tournament.
It has been a very disappointing season for Iowa, which was picked fifth but finished 6-10 in league play and is the eighth seed. The Hawkeyes were hurt by injuries this season, although that doesn't fully explain why after what seemed like a pretty good nonconference start, Iowa appeared to regress. But the Hawkeyes did win a 103-93 scorefest with Wisconsin on Sunday.
That really, really hurt the Badgers; it could have been their 19th victory and would have allowed them to finish .500 in the conference. That's not a prerequisite for getting an at-large NCAA berth, but it sure would have made it easier for Wisconsin. As it is, the Badgers have lost three in a row and five of their last seven.
On the flip side, Iowa should take some confidence into its first-round game with Indiana. The winner of that one gets Ohio State, which has the No. 1 seed in the Big Ten for the third season in a row. The Buckeyes lost Brandie Hoskins to another Achilles' tendon injury on Feb. 8, and nobody should have to go through that twice. But coach Jim Foster has tried to take a typically low-key, let's-make-some-lemonade approach.
Ohio State lost its only regular-season league game 10 days after Hoskins was hurt, to visiting Michigan State. Not having Hoskins affects Ohio State in the obvious statistical way on the court but also because of the spirit and urgency she plays with. She'll have to do the best she can providing that for her team as much as possible from the bench.
Since the Buckeyes closed the regular season against Penn State and Michigan, it's hard to tell how successfully they've adjusted to her absence on the court.
We'll find out for sure, though, should seeds hold all the way to the championship game. No program has won the Big Ten tourney title more than Purdue (five times) and you know the Boilermakers would like another shot at the Buckeyes. Ohio State won their regular-season meeting, at Purdue on Jan.29, by nine points.
Back to the SEC … this could be one of those seasons where the parity within the league is going to end up costing some teams' NCAA berths. Some years, it has been just the opposite.
Consider that Arkansas finished 3-11 in the league, yet took Tennessee to overtime last week.
The SEC tournament always provides that survival-of-the-fittest atmosphere. But this is really going to be a case of just a little momentum swing here and there perhaps making all the difference in who survives for NCAA inclusion and who doesn't.
It's tough when the margin is that narrow in a league made up of teams that a lot of us would give the benefit of the doubt to in terms of whether they "belonged" in the NCAA Tournament.
But that's why conference tournaments are still so compelling, especially with the likes of the SEC and Big Ten.
Mechelle Voepel of The Kansas City Star is a regular contributor to ESPN.com. She can be reached at mvoepel123@yahoo.com.
espnW.com
Mechelle Voepel joined ESPN.com in 1996 and covers women's college hoops, the WNBA, the LPGA, and additional collegiate sports for espnW.
MORE WOMEN'S BASKETBALL HEADLINES
MOST SENT STORIES ON ESPN.COM
STORIES FROM HUFFINGTON POST