Conradt played big role in progress of women's sports
Updated:
March 13, 2007, 2:39 PM ET
By
Mechelle Voepel
| Special to ESPN.com
Jody Conradt graduated from college the year John F. Kennedy was assassinated. She began coaching college basketball the year Neil Armstrong walked on the moon. She took over at Texas the year of the bicentennial.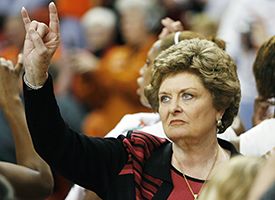 AP Photo/Ty RussellTexas coach Jody Conradt's 900th win came March 6 in the Big 12 tournament.
This isn't meant to make Conradt feel old. It's to make everyone else appreciate how long she has been on the scene in college athletics, how much growth she has helped spur, and how her career has impacted thousands and thousands of people. I'm just one of those people.
On Selection Monday, after the Longhorns had missed the NCAA Tournament for the second year in a row, Conradt announced that she was retiring, ending one of the most monumental coaching careers in college sports. She leaves with an even 900 victories.
Conradt said she'd been thinking about this for a while, and decided it was finally time. It's hard to quite absorb it.
I've always thought it would be absolutely amazing to have been born around 1900 and live 100 years (coherently) and have seen us go from horse and buggy to the Internet.
On a smaller scale, of course, seeing where women's sports have gone from the 1960s to 2007 is also pretty amazing. Conradt and contemporaries such as Kay Yow at NC State have done that, and they will tell you that they were educators first. Coaching just ended up being another way to teach.
Conradt was the proverbial right person in the right place at the right time. She coached at Sam Houston and Texas-Arlington at the start of her career. Then Dr. Donna Lopiano took over as women's athletics director at Texas in 1975. Title IX had become law in 1972, and universities across the country were attempting to put in place athletics programs for women. In most cases, it was because they "had" to; it was done grudgingly and with as little foresight, planning and vision as possible. Texas was different. Texas had Lopiano. And soon, she would bring Conradt on board.
It would be good for every player competing in the women's NCAA Tournament this month to have some idea of what Texas did for them. Long before they were born, people such as Lopiano and Conradt were challenging barriers and thinking so far outside the box that the box became, thankfully, irrelevant. What the players have now could never have happened if women's college sports' pioneers hadn't started us down that road at a time when none of the territory had been mapped.
The mind-set at Texas was so different than in many other places, so much ahead of its time. The Texas women's sports programs took themselves seriously, and by doing so made the rest of the university and the community feel that way, too. And it also spread to other schools.
The Longhorns' women's basketball team reached it peak under Conradt with a 34-0 national championship season 1986. I had the opportunity to see Texas , in person, clobber Missouri in the NCAA Tournament that year. I was a journalism student at Mizzou then, and that was the first airplane trip I ever took to cover an event. So it was just breathtakingly exciting. (Not to mention it beat the heck out of driving to Louisiana and back like I had the year before to cover the team.) Anyway, to a 20-year-old then, everything about Conradt and the Longhorns and the atmosphere at the Erwin Center seemed big-time on a scale I'd never seen or even envisioned before.
Lopiano left in 1992 for the Women's Sports Foundation, and for the next nine years, Conradt served as director of women's athletics at Texas as well as being the Longhorns' women's basketball coach.
Conradt is in every Hall of Fame that matters, including those in Springfield, Mass., and Knoxville, Tenn., and obviously her accomplishments as a coach are her most visible legacy. But that near decade in administration is such a crucial part of Conradt's story, too. Because there, she had influence on every aspect of women's sports development -- not only at Texas, but all the rest of the schools that try to keep up with Texas.
Conradt's ability to pull that "double-double" for as long as she did is impressive even if you consider only the time it required. But also think about how dynamic a leader and problem solver she had to be on a large scale -- while still presiding over her own team.
The Longhorns went back to the Final Four in 2003, then made a Sweet 16 appearance after that. Texas also made the NCAA field in 2005. But the last two seasons, Texas has gone a combined 31-29 and not received an NCAA bid. Conradt opted to step aside and see if the Longhorns' fortunes will change.
Unfortunately, all this sounds so somber and final. But in fact, let's hope Conradt feels a lot of weight off her shoulders and sees many opportunities on the horizon. There is so much more for Conradt to do, but perhaps now it can be done at a pace that's a little less like a pressure-cooker. Her achievements from here on out won't have to fit under either a "W" or an "L".
Conradt is one of the most well-spoken coaches ever; she always seems averse to "spin" and is able to get to the very essence of whatever she wants to say. That's a gift, something Conradt can continue to use in whatever capacity she continues to help Texas and women's sports.
Since the Big 12 began in 1996, several of the longtime fixtures at their schools have left coaching, including Colorado's Ceal Barry in 2005 and Texas Tech's Marsha Sharp last year. Both work in administration at their respective schools. Kansas ' Marian Washington stepped aside with health issues in 2004. Now Conradt is leaving. And, yes, it will be very, very strange to not see her again on the sidelines.
A Texas game without Conradt coaching? Really? Can such a thing even happen?
We'll find out that it can. And Conradt hopefully will find out that there are other big things in life left for her, too. Not that she hasn't already done far more than enough already.
Mechelle Voepel of The Kansas City Star is a regular contributor to ESPN.com. She can be reached at mvoepel123@yahoo.com.
espnW.com
Mechelle Voepel joined ESPN.com in 1996 and covers women's college hoops, the WNBA, the LPGA, and additional collegiate sports for espnW.
SPONSORED HEADLINES
MORE WOMEN'S BASKETBALL HEADLINES
MOST SENT STORIES ON ESPN.COM