Report: Duke to hire Michigan State's McCallie
Updated:
April 18, 2007, 1:47 PM ET
By
Mechelle Voepel
| Special to ESPN.com
Duke's women might be getting a coach named "Joanne" after all. That would be Michigan State's Joanne P. McCallie, not Blue Devil alum Joanne Boyle, who turned down the job last week to stay at Cal.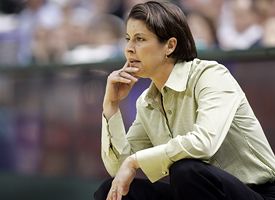 AP Photo/Carlos OsorioJoanne P. McCallie guided Michigan State to the 2005 national championship game.
A source with knowledge of the hiring process at Duke told ESPN.com on Tuesday night that McCallie is Duke's choice for the position, vacated when Gail Goestenkors resigned April 3 after 15 seasons to take over at Texas.
Radio station WVFN in Michigan reported Wednesday morning that McCallie would accept the Duke job. But neither school had made any announcement as of Wednesday morning.
On March 24, McCallie signed a revised contract with Michigan State, which was described as a five-year rollover deal valued at $500,000 annually, with the potential to increase to $643,000 with incentives. Her base salary was to increase from $232,875 this past season to $325,000 next season.
McCallie, who is 149-75 in seven seasons at Michigan State, said at the time of that contract revision, "The McCallie family is absolutely thrilled to continue working with such a great group of young women. … We're looking forward to all the exciting challenges ahead for our basketball program."
Of course on March 24, Duke's job wasn't open yet. However, that was the day the Blue Devils were upset by Rutgers in the NCAA Tournament's Sweet 16 and the speculation about Goestenkors' potential move to Texas took center stage. Incidentally, McCallie's Spartans had lost to Rutgers in the NCAA's second round.
The process of finding Goestenkors' replacement had been going on for more than a week on April 13, when McCallie announced that former Auburn standout and DePaul assistant Samantha Williams was joining the Spartans' coaching staff. That seemingly made it appear that McCallie indeed was moving full-speed ahead on preparing for next season in East Lansing.
But if McCallie is relocating to Duke, there will be three Big Ten jobs open: As of Wednesday morning, Penn State had not yet announced a replacement for Rene Portland, who resigned in March. And Portland's former Immaculata teammate Theresa Grentz stepped down at Illinois on Tuesday.
Michigan got a new coach April 10 as Kevin Borseth left Wisconsin-Green Bay to take over the Wolverines after Cheryl Burnett stepped down.
McCallie is a 1987 graduate of Northwestern, where she played collegiately. She was an assistant at Auburn, where she earned a master's degree, and then head coach at Maine before going to Michigan State, where she led the Spartans to the national championship game in 2005.
Mechelle Voepel of The Kansas City Star is a regular contributor to ESPN.com. She can be reached at mvoepel123@yahoo.com.
espnW.com
Mechelle Voepel joined ESPN.com in 1996 and covers women's college hoops, the WNBA, the LPGA, and additional collegiate sports for espnW.
SPONSORED HEADLINES
MORE WOMEN'S BASKETBALL HEADLINES
MOST SENT STORIES ON ESPN.COM