Commentary
Game's next big rivarly could be brewing in Big 12
Updated:
July 12, 2007, 5:58 PM ET
By
Mechelle Voepel
| Special to ESPN.com
The following is a dramatization meant strictly for humorous purposes. While there are real people and places referenced, the speaking characters are absolutely, totally fictional. Any (slight) resemblance to actual fans is purely intentional by the smart-aleck author, who enjoys engaging in these sophomoric writing stunts a few times a year.
As the scene opens, we see four women's college basketball fans bump into each other at the Texas-Oklahoma (or Oklahoma-Texas, depending on your point of view) high school girls' hoops all-star game.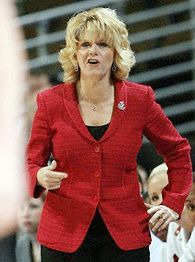 AP PhotoImagine Oklahoma coach Sherri Coale in burnt orange? Sooners fans think not.
SOONER SALLY: "Well, hey, there! How are you guys! Didn't we meet you just a couple of years ago in the Dippin' Dots line at Reunion Arena?" HORN HOWARD: "Oh, yes! So great to see you again! I missed the Big 12 tournament this past season … I just couldn't bear to watch Texas in case we lost to one of those, ahem, North schools. Luckily, that didn't happen because, of course, we easily beat Missouri as always, but …" OU OSCAR: "Yes, then your Longhorns ended up losing to our Sooners. You guys gave us a good game, though! Really appreciated it; you offered our bench players some challenges. It helped us on our way to winning the Big 12 tournament. You know, it was our fourth time doing that. It never gets old." TEXAS TINA: "Oh, we totally understand. When we won the Southwest Conference regular-season title a bazillion years in a row, we never got tired of it, either. But we really felt for you guys when you went to the NCAA Tournament this year and got run ragged right out of the gym by Mississippi. That was so sad." OU OSCAR: "Well, yes … uh, Ole Miss did get on quite a roll there, didn't it? I know you guys were home watching on TV since your team wasn't in the NCAA Tournament, unfortunately. Of course in that game, as usual, three people fouled Courtney Paris every time she touched the ball, and nothing ever got called …" HORN HOWARD: "Ha ha! Oh, you guys are so funny! I mean, Courtney kind of has her way in the paint all the time, and the refs just look the other way. But, hey, that's all right. I mean, she's a star, and stars should get special treatment. We've had enough of them at Texas in every sport, so we know! Seriously, we really admire Courtney. And Coach Coale." TEXAS TINA: "Yes, Sherri is such a great ambassador for the Big 12. We're so happy she's president of the WBCA now, and it's so good that you guys have the coach you want. Her being an Oklahoman and 'fitting' so well at Oklahoma. It's just wonderful!" SOONER SALLY: "Yeah … thanks. We love Sherri. We wouldn't trade her for anyone in the world. I mean, it's really terrific that Texas got Gail Goestenkors away from Duke -- they just don't care at
all
about women's basketball in the ACC -- and perhaps she can help the Longhorns finally get back into the NCAA Tournament. Won't that be nice?" HORN HOWARD: "Heh heh. You know, we've only missed the NCAA field two years in a row, and that was because we played too tough of a nonconference schedule. When you're Texas, you just can't back down -- even for your own good. But it's not like our women's basketball program ever got 'canceled' or anything. By the way, it's
so
good you all at Oklahoma came back from that utter humiliation …"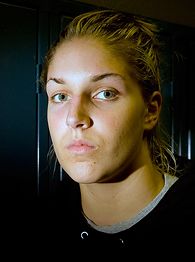 HoopGurlz.comNo. 1 recruit Elena Delle Donne recently took Texas off her list because the school is "just too far away."
TEXAS TINA: "And we're all just so excited about next season we can hardly stand it! Group hug! We got the best coach on the planet, which we are used to at Texas, and you guys are satisfied with whom you have. It all worked out so well. It's fantastic that everyone is happy! I mean, it was just
silly
for anyone to think Texas might have been in any way considering Sherri, when she's such a
perfect
fit for Oklahoma, and we were only interested in Coach G." OU OSCAR: "Well, it may have been that Texas put out some feelers to Sherri in some way, then realized how ridiculous it was because there was no chance she'd ever go there. After that, the Texas folks probably talked to whomever else they thought might make the move. But then Duke lost, and they were officially free to send the Brinks truck to Durham …" HORN HOWARD: "Oh, you've been listening to your University president again! Shouldn't do that! It's too bad he was so grossly misinformed -- saying Sherri was offered the Texas job and spurned it -- and then tried to back down on it and wouldn't just fess up to his foot-in-mouth mistake. We had only one target, and we got her! Heck, once Jody Conradt said, 'Aloha means goodbye,' we in Austin knew that it was all over but the cryin' in Cameron Indoor Stadium! In fact, I had a friend who, the night of Jody's retirement announcement, went out and had 'GG' tattooed on her … well, let's just say she's really 'behind' the Longhorns! Admittedly, that was after her eighth margarita, but …" SOONER SALLY: "OK, look, I don't want to seem like I'm being argumentative here, and to tell you the truth, we know David Boren messed up. But it's hardly impossible, on a theoretical basis, that Texas would have been interested in Coach Coale. I mean, come on! What school wouldn't be?" TEXAS TINA: "Sorry, sweetie, but it's
completely
impossible. But let's not quarrel! You're happy, and we're happy. Just like you guys might go after some recruits we would never, ever be remotely interested in at Texas, but that doesn't mean they won't be good players for you!" OU OSCAR: "Oh … here we go! Typical Texas! Wow, it's too bad No. 1 recruit-on-sabbatical Elena Delle Donne said Texas was, 'Just too far away.' News flash: Guess Austin isn't the center of the freakin' universe after all! Oh, and like you wouldn't have
killed
for the Paris twins!" HORN HOWARD: "Please! As I said, we greatly admire Courtney and Ashley -- no matter how many fouls they get away with. Seriously, let's calm down. We have nothing but respect for Oklahoma … after all, we're the only two schools to make the Women's Final Four since the Big 12 began." OU OSCAR: "
What???!!!
Hello! Baylor! Sophia Young! Kim Mulkey -- another coach you guys at Texas wanted! National championship in 2005! Or did that not happen?" HORN HOWARD: "Of course, I stand corrected. I somehow forgot our friends in Waco. We all know the only thing that didn't really happen in 2005 was … the
Oklahoma football season!!!!
" SOONER SALLY: "OK, that's it, Hornboy!"
A scuffle ensues, the police are summoned, and our quartet is told to "beat it." They grumpily walk to their respective cars, which coincidentally happen to be parked near each other, talking loudly so the other party can overhear them.
SOONER SALLY: "I loved that part about Mickie DeMoss having been 'retired' for 'months' before she was, astonishingly, lured back to be an assistant coach at Texas. I bet they loved that in Kentucky, too." OU OSCAR: "Yeah, that press release from Texas practically read like she'd gone deep into the Himalayas to consult with yogis on the meaning of life. And some yogi told her, 'You must go work for Coach G!' " TEXAS TINA: "I've heard jealousy literally corrodes the soul. It just makes me so sad." HORN HOWARD: "Wait a second … you know who we're sounding like? [He motions over to the Oklahoma duo.] Guys, do you know who we're sounding like, with all this animosity?" SOONER SALLY: "Umm … Tennessee and UConn?" HORN HOWARD: "Exactly! They're on the warpath for real and aren't going to have their annual game next season. Their series is currently kaput. Heck, I heard the alums for both schools are even elbowing each other a little harder than usual now in the WNBA. Do we want to be like that?" OU OSCAR: "No … but it would be awesome if we could take their prime-time television spot with
our
rivalry game! Coach Coale vs. Coach G! Courtney vs. … um, whomever you guys have now that 'Traveling' Tiffany Jackson is in the pros." TEXAS TINA: "Uh-uh-uh, don't start again! Let's talk about our shared successes! The Big 12 led the nation in attendance for the eighth year in a row last season! Think about the things we have in common!" HORN HOWARD: "Yeah, like do you guys know any good Lubbock jokes? Ha ha!" SOONER SALLY: "And I just thought of something else we can bond over and be happy about." TEXAS TINA: "Have they decided nobody from the Big 12 South has to play at Iowa State anymore if it's below 86 degrees in Ames on game day?" SOONER SALLY: "Well, no, not that. Let's go celebrate that we're not Fresno State fans!" HORN HOWARD: "I'll buy the quesadillas!"
Mechelle Voepel of The Kansas City Star is a regular contributor to ESPN.com. She can be reached at mvoepel123@yahoo.com.
espnW.com
Mechelle Voepel joined ESPN.com in 1996 and covers women's college hoops, the WNBA, the LPGA, and additional collegiate sports for espnW.
SPONSORED HEADLINES
MORE WOMEN'S BASKETBALL HEADLINES
MOST SENT STORIES ON ESPN.COM