Commentary
McCants, UNC posts push aside Sun Devils
Updated:
November 12, 2007, 3:01 AM ET
By
Mechelle Voepel
| Special to ESPN.com
CHAPEL HILL, N.C. -- When she has the time and inspiration, North Carolina's Rashanda McCants composes poetry. She also writes notes to herself while ideas are fresh in her mind, things she wants to work on.
[+] Enlarge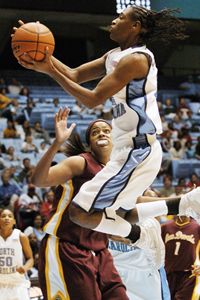 AP Photo/Sara D. DavisNorth Carolina's Rashanda McCants had 18 points and eight rebounds Sunday.
McCants did that in April after her Tar Heels lost to Tennessee in the national semifinals. She had 13 points, nine rebounds and five steals in that game, and it was clear things were starting to click with her in terms of how much of an impact player she could be. McCants looked at that game and saw that she could have done more, including so-called "small stuff" that could have made a big difference. More than anything, though, she wanted to improve her confidence with the many things she does well. And so she wrote to herself, "Drive! Make them respect your dribble! Don't be scared to shoot it!" Because there were times last season when McCants didn't pull the trigger when she could have. She doesn't want that happening this year. And in the Tar Heels' 75-60 victory over Arizona State on Sunday at the State Farm Hall of Fame Tipoff Classic, McCants was a multidimensional force. She had 18 points, topping the career high of 17 she scored Friday in Carolina's opener, a 109-32 romp against North Carolina Central. That was cherry-picking, but going against the Sun Devils wasn't. Arizona State made the Elite Eight last season. And although post play was what the Sun Devils lost most to graduation, they should be very good inside as the season progresses. Transfers Lauren Lacey and Sybil Dosty (who has been slowed by injury in the preseason) will try to fill in for departed starters Aubree Johnson and Emily Westerberg. The Sun Devils couldn't get a better lesson for their post players than facing North Carolina.
Former Lady Vol
among inductees
CHAPEL HILL, N.C. -- Jill Rankin Schneider couldn't be happier with how her life has turned out. She coaches girls' basketball at Monterey High in Lubbock, Texas, and teaches precalculus.
One of her daughters, Haley, is a 6-foot-5 sophomore who will play for her this season. On the way to mom's team is Kellyn, an eighth-grader who already stands 6-3. "I coached for five years at the University of Texas with Jody Conradt, and after I got married, I wanted to go into high school coaching and have a family," Rankin Schneider said. "Next year, I'll have Haley and Kellyn playing for me, and I think it's really what I've looked forward to in all these years of high school coaching. I love coaching, and now I have the opportunity for it to be a family thing." Rankin Schneider is one of six women who will be inducted into the Women's Basketball Hall of Fame in Knoxville, Tenn., in June 2008. The class had been announced earlier this summer at the WNBA All-Star Game but was honored Sunday during the State Farm Tipoff Classic doubleheader at North Carolina's Smith Center. The other inductees are former Penn State and WNBA guard Suzie McConnell Serio, Virginia coach Debbie Ryan, Central Arizona College coach Lin Laursen, former Australian national team and WNBA guard Michele Timms, and longtime official Patty Broderick. Rankin Schneider is yet another ex-Tennessee player who will be enshrined in Knoxville. She started her career at Wayland Baptist in Texas and finished it at Tennessee in 1980. That year, she was co-captain of the U.S. Olympic team that did not get to compete in the Moscow Games because of the American-led boycott. It's the one thing from a successful playing and coaching career that still remains a sore spot for her. "I don't know that I'm over that disappointment still," she said. "It's just something that will always stay with all of us. Just because it was the opportunity of a lifetime. But I guess it's dimmed a little, in terms of now I can just be proud that I was selected to that team." Plus, the induction to the Hall of Fame will be a final salve to that scar of missing a chance to earn an Olympic medal. "It's hard to describe how it feels to be included in that group of people," Rankin Schneider said. "It's almost surreal. I played with Hall of Famers and for Hall of Famers, and you've got to believe we all helped each other get there."
-- ESPN.com's Mechelle Voepel
"They truly may be the best rebounding team in the nation when it's all said and done," ASU coach Charli Turner Thorne said. "They're so quick off the floor. We were still turning to find them, and they were already grabbing the rebounds. You have to play your heart out every possession against them, or you're not even going to be in the game. Because they are going to run you." The Tar Heels did that, of course, and it ended up wearing out the Sun Devils. McCants was a key factor, as she can push the ball downcourt
and
work the boards. She had eight rebounds Sunday, including five on the offensive end. "We played North Carolina when she was a freshman, and she would have flashes of brilliance and then disappear," Turner Thorne said. "But it's her time now, and she's showing it. She's just a great player -- not just with scoring, but she rebounds, she defends. Much like Camille Little, she does everything." Little is in the WNBA now. On Sunday, McCants, sophomore Jessica Breland and senior LaToya Pringle really did cover for that loss. Breland was terrific, with 16 points, 12 rebounds and five blocked shots. Pringle had five points, seven rebounds and four blocks. Of course, senior star Erlana Larkins led the way inside offensively with 20 points, also grabbing 11 rebounds. The guard play, which includes rookies Cetera DeGraffenreid and Italee Lucas, was about what coach Sylvia Hatchell expected now that Ivory Latta has graduated. It's going to take a little while for the Heels to be able to play as fast as Hatchell wants without things looking quite as sloppy as they did at times Sunday. DeGraffenreid and Lucas combined to shoot 1-for-13 from the field with just two assists. Larkins heaved a comical sigh when asked how long it might take for the Tar Heels' backcourt to really get in sync with its more veteran frontcourt. "Man, I don't know. I hope it's sooner than later," Larkins said. "Because, as you could tell, I was really frustrated today. Arizona State did a great job, but I felt there were times when I was open. Hopefully, it will take [just] a couple of games. Everybody had to do it at their own pace. But as it comes tournament time, the mistakes are going to cost us." That's still quite a ways off, though, so there's plenty of opportunity for the kids to grow. And in the meantime, the Heels can rely a lot on McCants, a 6-foot-1 player with great leaping ability to go along with her guard skills. Yes, she had nine turnovers Sunday, but part of that was because of the youngsters on the floor. "Rashanda is a great player, and I've known all along that she could play this way. I don't know what's taken her so long," Larkins joked, then added, "Maybe she did feel like it wasn't her time because we had other people like Ivory, Camille and myself. But she's playing like she knows she can. She's every bit resembling her brother right now -- and that's a good thing for us." McCants, of course, is the younger sibling of Rashad McCants, who helped the Carolina men to the 2005 NCAA title and is now with the Minnesota Timberwolves. Among the spectators at Sunday's doubleheader at the Smith Center was UNC men's coach Roy Williams, who watched both the Tar Heels' game and the later contest between Maryland and Oklahoma. "Just like in the men's game, the speed and athleticism has gotten better and better over the years," Williams said. "And I think the coaching is fantastic, as is the execution of what the coaches want. It's been fun for me to sit here and watch. "I thought Rashanda had a heck of game today except for the turnovers. She played really well. She gives them a scorer who can shoot from the outside, but she can also put it on the floor and take it to the basket. She gives them that scorer inside and out that everybody needs, and I think she's going to have a big-time year." McCants -- who, like Williams, is from Asheville, N.C. -- chuckles when asked what it's like always being known as "Rashad's little sister." "It's easy because people know you … and it's also hard because people know you," she said, laughing. "But, really, I love it. He's really blunt with me; if I need to know something, he'll tell me. "It's been that way since I was little, and I always followed him around. I think he helps make me a lot better. He'll tell me, 'You have to be aggressive; you can't let people take anything away from you.' And that's my mind-set now."
Mechelle Voepel of The Kansas City Star is a regular contributor to ESPN.com. She can be reached at mvoepel123@yahoo.com.
espnW.com
Mechelle Voepel joined ESPN.com in 1996 and covers women's college hoops, the WNBA, the LPGA, and additional collegiate sports for espnW.
SPONSORED HEADLINES
MORE WOMEN'S BASKETBALL HEADLINES
MOST SENT STORIES ON ESPN.COM
STORIES FROM HUFFINGTON POST