Commentary
Cowgirls reaching new heights in Big 12 as 2008 unfolds
Updated:
January 16, 2008, 3:29 PM ET
By
Mechelle Voepel
| Special to ESPN.com
The coach, Kurt Budke, took the long, dues-paying road to the Big 12 -- and went winless in league play his first season. The star point guard, Andrea Riley, committed to Oklahoma State even though the Cowgirls hadn't made the NCAA Tournament in a decade.
So it would be hard to overstate their joy after what was -- all factors considered -- the most monumental game in program history.
Eighteen years in the making
A scene from after the Oklahoma State-Oklahoma game in Stillwater on Saturday explains how truly remarkable the evening was for OSU. And for women's basketball.
The Cowgirls won 82-63, and what had been a completely full gym had emptied. But the lingering buzz still filled the then-quiet Gallagher-Iba Arena. And radio announcer Kevin Gum remained to soak it in. "When the postgame show signs off, usually I pack up my equipment, grab my children and head for the car," Gum said. "But I didn't want to leave that night. I knew I had experienced history. I just sat there and thought, 'Wow, this really happened.' " Gum, an OSU graduate, is in his 18th season doing radio play-by-play for the Cowgirls. He has seen some good times for OSU, which made seven NCAA Tournament appearances under coach Dick Halterman between 1984-96. But, frankly, it has been more hard times -- and a lot of them -- since the Big 12 began in the 1996-97 school year. In one particularly painful stretch, from 2003-06, Gum watched the Cowgirls go 8-56 in league play. You don't think that wears on a broadcaster? The people who do that job -- such crucial contributors to the growth and popularity of women's hoops -- are the type of folks who
live
the job. They really care. They feel all the emotions the team feels. "People would ask me, 'How do you stick with it?' But I always believed we would get competitive again. It was just a matter of when," Gum said. "To sit in there Saturday and see so much excitement and electricity for the women's team -- I've waited 18 years for that night at Gallagher-Iba Arena." Gum grew up in Monroe, La., and actually started in broadcasting when he was in junior high. A neighbor worked in sports at KMOE-TV and covered the nearby Louisiana Tech women's team. He gave Gum a chance to apprentice, so the youngster got to see up close the Louisiana Tech dynasty years. Gum says one of his prized possessions, still, is an autographed picture of former Louisiana Tech coach Sonja Hogg. Gum graduated from Oklahoma State in 1989 and soon after began doing radio play-by-play for the Cowgirls. His broadcast partner at KGFY, color commentator Casey Kendrick, is in his 13th season. "Casey and I have a real passion for this program," Gum said. Another OSU grad, Ryan Cameron, is in his seventh year as media-relations coordinator. Cameron joked that he hoped listeners could still understand Gum and Kendrick by the end of Saturday's broadcast, figuring they might have been almost incoherent with giddiness. Like Gum, Cameron also was in no hurry to leave the arena Saturday. In fact, he sat down for a while just to watch the cleaning crew working on the upper levels of the refurbished Gallagher-Iba. "Until then," he said, "I'd never seen them way up there after a women's game."
-- ESPN.com's Mechelle Voepel
Saturday in Stillwater, Okla., the Cowgirls ended a 17-game losing streak to rival Oklahoma in the matchup that's called "Bedlam." Gallagher-Iba Arena was packed, the crowd of 13,611 being the largest ever to watch a women's hoops game in the state of Oklahoma. Riley had 45 points, four rebounds, three steals, two assists -- and no turnovers. In short, she put on an epic performance on the best possible night to sell the program to fans. OSU won 82-63. The students rushed out, someone hoisted Riley, and they gave her a triumphant ride around the court. No woman who had played basketball for Oklahoma State had ever experienced anything like this. Their best daydreams hadn't even been that good. "The atmosphere was really fun," Riley said. "Wow, 13,000 people! I never thought I'd see that." Who did? Well, actually those of us who closely follow the Big 12
did
envision that the women's version of Bedlam could fill Gallagher-Iba one day. Part of it was seeing, over the years, how the right mix of factors had led to breakthrough crowds at other schools in the Big 12, which has led the nation's conferences in attendance for the past eight seasons. Part of it was knowing how much enthusiasm and fan support the Sooners have created with their success. They were already more than pulling their weight in potential Bedlam mania. OU had turned into the kind of women's hoops giant that the Cowgirls and their fans could get worked up about -- even over and above the schools' historical rivalry. But the other part was believing that Budke could elevate OSU -- a program that fell on hard times when the Big Eight became the Big 12 -- into a real contender. Still, even if we cock-eyed optimists could see reasonable hope for a night like Saturday, the actuality of it was nothing short of magical. OSU is just two years removed from enduring an 0-16 league record in Budke's first season after coming from Louisiana Tech. The three years before that, with Julie Goodenough as coach, OSU had a combined eight conference wins. I had been in Gallagher-Iba Arena for quiet games played in front of a sprinkling of orange-clad die-hards who, despite their loyalty, had little to cheer about. Most of the noise came from the opposing fans who traveled to Stillwater. The place was about as dreary as a Friday night at the Laundromat. After one of OSU's losses in 2006, I sat with Budke talking about the past and the future. There wasn't much good at the time to say about the present. He knew by then there was a strong possibility his overmatched Cowgirls wouldn't win a league game -- and they didn't -- so he had told his players he'd stop looking at the scoreboard if they would just play hard. And that, they did. Budke grew up in Salina, Kan., and his father spent four decades with Southwestern Bell, starting as a lineman. So work ethic came to Budke by nature and nurture. He got paid $500 -- for the entire season -- at his first head-coaching job for women, at Kansas City Kansas Community College. He was also an assistant there for the men's team, earning the princely sum of about $1,500 a year. He had intended to stick with coaching men but … he was pleased with the way women's players listened to him. He liked how hard they would compete. He decided to remain in the women's game, a path taking him to jucos Allen County (Kansas) and Trinity Valley (Texas), then to Louisiana Tech. No matter how bad things seemed that first season at Oklahoma State, he was undeterred. For one thing, he knew there was some salvation on the way. Riley, a crazy-quick guard out of Dallas' Lincoln High, was heading to Stillwater for 2006-07. She was Big 12 freshman of the year last season, averaging 12.8 points and helping the Cowgirls make their first NCAA Tournament appearance since 1996. For all her obvious talent, though, there were some expected holes in her game. The kind of things even the best freshmen have. She wasn't consistent enough from behind the arc. And foes could sometimes thwart her by forcing her to go left.
[+] Enlarge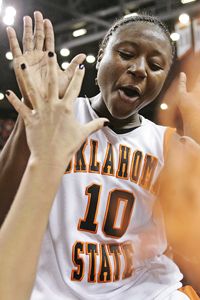 AP Photo/Sue OgrockiAndrea Riley went off for 45 points on Saturday to lead Oklahoma State past Oklahoma.
She spent the summer fixing that stuff. Now she's leading the Big 12 in scoring (22.5 ppg) and definitely deserves to be in the conversation about the nation's top point guards. Riley, who has nine siblings, is from a family that is always competing athletically. Riley was a two-sport star at Lincoln High. Her dad taught her basketball. Her mom taught her volleyball. And SpongeBob taught her resilience. Well, kind of. Riley dearly loves the cartoon poriferan and was rather inspired by his movie. You know, where he and Patrick have to brave Shell City to get back King Neptune's crown and save the wrongly accused Mr. Krabs? Hey, if SpongeBob can triumph over the nefarious Plankton, then Riley figures there's no limit to what she can do. Never mind that she's 5-foot-5. She doesn't worry about being small. What does concern her is making the right decisions on court, and she's improved that tremendously already as a sophomore. "It all comes down to knowing the game, and it's something I really work on," Riley said. "My teammates help me out with that a lot." Indeed, obviously there is more to Oklahoma State. Seniors Danielle Green (14.1) and Maria Cordero (10.8) average double-figure scoring and have shown the maturity to let the youngster Riley be the team leader. Juniors Shaunté Smith and Taylor Hardeman are the other starters and have been dependable role players. Oklahoma State played a cream-puffy nonconference schedule in which its only loss was a wake-up haymaker from TCU, 97-63. Because of that, the jury has been out on how good the Cowgirls actually are. We're only a week into Big 12 season, which means the jury still cannot be certain. The Cowgirls struggled to win at Kansas, then solidly beat the Sooners. It's safe to say Oklahoma State is a talented squad, an NCAA Tournament team. At least now, the Cowgirls have to be considered as contenders for the league title. But … Budke would tell you that in Big 12 play, it doesn't take much of a slip to get knocked down a peg or two. Or more. However, he would have had a difficult time telling you that Tuesday. Because multiple interviews after the Bedlam victory took a toll on his vocal chords. What better way to lose your voice, though, than because your program just made such a big statement?
Mechelle Voepel of The Kansas City Star is a regular contributor to ESPN.com. She can be reached at mvoepel123@yahoo.com.
espnW.com
Mechelle Voepel joined ESPN.com in 1996 and covers women's college hoops, the WNBA, the LPGA, and additional collegiate sports for espnW.