Commentary
Little drama in UConn's script
Streak might not seem exciting, but journey is full of scene-stealing moments
Originally Published:
March 7, 2010
By
Mechelle Voepel
| Special to ESPN.com
So imagine you go into the theater and the movie starts, and it's about this group of people who are climbing a mountain. After meticulous preparation, they break camp at the bottom and begin their ascent with great enthusiasm, energy, strength and dedication.
Longest Division I win streaks
The Connecticut women have beaten 27 ranked teams during their 2008-10 win streak. The 2001-03 Huskies and 1971-73 UCLA men each beat 18 ranked teams during their respective streaks. However, the men's poll ranked only the top 20 teams during UCLA's run. -- ESPN's Greg Dohmann
| Team | Wins | Years | Ended by |
| --- | --- | --- | --- |
| UCLA men | 88 | '71-74 | Notre Dame, 71-70 |
| UConn women | 78 | '08-10 | ??? |
| UConn women | 70 | '01-03 | Villanova, 52-48 |
| San Francisco men | 60 | '55-57 | Illinois, 62-33 |
| La. Tech women | 54 | '80-82 | Old Dominion, 61-58 |
You settle into your seat, admiring how good they are at this. But you're also waiting for something bad to happen. Because scary, perilous and exciting stuff always happens in these kinds of movies.
They don't just climb the mountain -- and that's it. Right? Well …
We should have mentioned this isn't "North Face" or "Cliffhanger" or "The Eiger Sanction" or "Touching the Void" or "Into Thin Air: Deaths on Everest" or even the von Trapp family fleeing over the Alps to escape the Nazis at the end of "The Sound of Music."
This is a movie about expertly climbing a mountain … and pretty much, nothing else happens. Nobody falls into a crevasse, there's no horrifying plunge when a rope snaps or a carabiner mysteriously fails, there are no bad guys loosening anchor bolts. Not so much as a case of frostbite.
The UConn women's basketball program reached the peak of 70 consecutive victories in 2003, a streak that finally ended in the Big East tournament final.
Now, seven years later, the Huskies have reached the same peak, 70 in a row, with a 77-41 victory over Syracuse on Sunday. And entering Monday's Big East semifinals against Notre Dame, UConn looks to just keep methodically climbing.
And since "The Streak No. 2" reached 70 on March 7, 2010 -- the same night that Hollywood honored its best in the dramatic arts at the Academy Awards -- it's hard not to notice how drama-free UConn's ascent this time has been.
Every margin in double digits. Trailing in the second half of games less than 1 percent of the time. No need for a furious late-game rally. No last-second shots.
Sure, there was Caroline Doty's ACL injury last season, in January 2009, and some might insist that proves there was a little drama on the mountain.
[+] Enlarge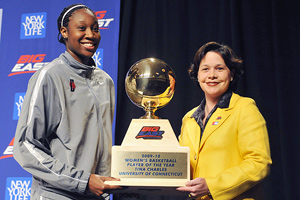 AP Photo/Jessica HillThe award for best actress, er, Big East player of the year went to UConn's Tina Charles.
Not really. While it was physically and emotionally hard for her, the climb itself didn't so much as pause. In UConn's next game, two days after Doty's injury, the Huskies beat the No. 2 team in the country by 30 points.
We all learn in high school English/drama class about Freytag's pyramid, also referred to as the "dramatic arc:" exposition, rising action, climax, falling action, denouement.
With UConn during this 70-game streak, it has been more like: exposition ("We're starting the season with the goal of winning a national championship"), action that doesn't really rise or fall ("We win all our games by double digits"), and what they hope will be a repeat denouement from last season ("We win the national championship").
What kind of movie is that? The thing is, even though it might not seem very exciting, it's still exceedingly well-made. And there are little moments in each scene (game) that can be thrilling separate of the overall context of the picture. Something like Maya Moore's breakaway finger roll on Sunday against the Orange, for example.
Or just watching the consistent fluidity of UConn's offense, as if coach Geno Auriemma was directing on a set where it seemed everyone said all their lines and hit their marks right on the first take.
Certainly, Auriemma would tell you, "No, no, no! We have lots of goofs!" But then he would admit that even when forced to ad-lib, his Huskies cover up every mistake.
They have the best performers, with Moore and Tina Charles, who tied her career high with 34 points on 16-of-19 shooting against the Orange. They have the best supporting cast, with starters Kalana Greene, Tiffany Hayes and Doty able to -- when necessary -- step out of their roles as character actors and actually deliver star performances.
UCONN ON UCONN

What do Connecticut coach Geno Auriemma and some of his former Huskies think about the program's success this season? Which streak is more impressive? Which UConn team is the best all-time?
What they're saying
That (2002-03) team had a much more difficult time scoring the ball. So every game was a grind, every game went down to the last five or six minutes. It was difficult. Every game, every possession was important. This (2009-10) team has had it a little bit easier, in the sense where there's been more games where there's not as much pressure on every shot and defensive stop. So maybe that's helped them handle it a little bit. And the fact we've kind of been there before and we know what to expect as coaches. -- UConn coach Geno Auriemma
I don't want them to beat (the 2001-03 winning streak), but I think they will and I'm happy for them. When you get to a milestone like that, you've obviously put in a lot of hard work and you've found a way to win that many games. -- Former UConn standout Diana Taurasi (said with tongue-in-cheek)
I know there's going to be comparisons (about which team is the best ever). When I was in college in 2002, there were comparisons to the '95 team, who had gone undefeated. And even last year, with the 2009 team, they compared '09 to 2002. The bottom line is, this team is pretty dominant. And you can't overlook that. I think Diana [Taurasi] actually said it, "They're [the 2009-10 Huskies] definitely in the top two." No. 2, though. -- Former UConn standout Sue Bird
And everybody else involved with the production is doing their best, too. With the exception of …
We might want to quarrel with the scriptwriter for the failure to make the plot more exciting. Except, of course, there is no script. If there were, the writer could do things like make the opponents super-confident or give UConn a little crisis in confidence or perhaps introduce a small -- not deadly, just effective -- avalanche on the mountain.
Instead, the Huskies continue to climb as they play the same game over and over again -- or so it seems from the outside. Isn't it true that the best always make even the extremely difficult look easy? That's what's happening.
What the Huskies are doing really isn't effortless. It took years of practice by all involved to make it look that way.
It isn't drama-free. The Huskies have classes and personal lives and worries and good days/bad days just like all other Division I players.
It isn't without peril. Yeah, you might think that since the Huskies really haven't come close to losing then they were never in danger of losing. And that's not the case.
Rewind to a game like Feb. 15 in Norman, Okla., when a full house of rowdy fans and a fired-up Oklahoma team actually took the lead a couple of times in the second half. Admittedly, it was only for a few seconds, but still … the Huskies did have a fight on their hands.
And they handled it as efficiently as they have handled keeping their performances as brisk and efficient as possible in blowouts, when even the best teams can descend into sloppiness.
So if you think nothing's gone on in this movie, you have to realize a lot really has happened. Seventy wins in a row. That's a big mountain. It just hasn't been that dramatic.
The people who love the climbers (Huskies Nation) don't really mind, although even they might say they haven't always been riveted. But they're still paying attention, and so should everybody else.
Because remember, winning streaks are sort of magical mountains -- peaks that, technically, could go on forever. There really isn't such a thing as a final summit. No matter how far you get, there's always a possibility that somebody else could go further.
If they're able to beat Notre Dame on Monday, then with that and each subsequent step, the Huskies will be covering new ground in women's basketball -- turf even their UConn predecessors haven't crossed.
So stick around and grab some more popcorn -- the movie's not over yet. Maybe there'll be no real drama the rest of this season's climb … but you never know. You gotta watch until the end.
Mechelle Voepel, a regular contributor to ESPN.com, can be reached at mvoepel123@yahoo.com. Read her blog at http://voepel.wordpress.com.
espnW.com
Mechelle Voepel joined ESPN.com in 1996 and covers women's college hoops, the WNBA, the LPGA, and additional collegiate sports for espnW.
UConn's March To 71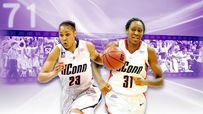 On Monday, Connecticut broke the women's NCAA Division I win streak of consecutive victories with a 71st win in a row, breaking the Huskies' string of 70 straight wins in 2001-03.
Stories
•
Voepel: UConn as close to perfect as possible
•
Recapping 1-71: Memorable wins along way
•
Comparing the streaks statistically
•
Experts' favorite moments from streak
•
Voepel: UConn endures little drama in streak
•
Voepel: '70s Oscar nominations for 70 wins
•
Voepel: Geno's confidence boosts Charles
•
Voepel: Numbers pile up for UConn, Charles
•
Hays: Defense is UConn's biggest weapon
•
Voepel: Comparing UConn's streaks
•
Charles now UConn's top scorer, rebounder
Video highlights
•
UConn notches record-setting 71st straight win
•
Jeremy Schaap: Big deal, but little buzz
•
Experts: How great is UConn's streak
•
Doris Burke breaks down the streak
•
UConn ties NCAA mark with 70th win in a row
•
Charles tops UConn career points, boards
•
Lobo's Five Questions with Tina Charles
•
Moore tallies 38 points, 20 rebounds
•
UConn extends streak to 65
Recaps
•
Win No. 71: UConn 59, Notre Dame 44
•
Win No. 70: UConn 77, Syracuse 41
•
Win No. 69: UConn 76, Notre Dame 51
•
Win No. 68: UConn 84, Georgetown 62
•
Win No. 67: UConn 87, Syracuse 66
•
Win No. 66: UConn 85, Providence 53