Commentary
'70 nominees for 70 wins
Originally Published:
March 7, 2010
By
Mechelle Voepel
| Special to ESPN.com
OK, this is a stretch. But … UConn's women have been so good for so long they are forcing us to really dig deep into our bag of tricks to find "new" ways to write, "They won by 30." (Or 20 or 40 or 50.) So …
Since UConn tied its own program's streak of 70 victories in a row on Oscar Sunday, we decided to look back at the Best Picture nominees from the 1970 Academy Awards. And figure out which one would best represent the 2008-10 Streakin' Huskies.
All right, enough groaning. Give me a break. You got a better idea? Besides, just wait until you see these 1970 movies! You won't believe how well they fit. Or, you know, perhaps how well I'll manipulate them to fit.
1970 nominees for Oscar's Best Picture
| Movie | How it relates to UConn |
| --- | --- |
| "Patton" | Too easy, right? "General" Geno Auriemma has led his troops to 70 consecutive wins a second time. Like George S. Patton, Auriemma's known for demanding precision and excellence, for being extremely outspoken and opinionated … and for winning. Auriemma is also handling multiple "fronts," as he is coach of the U.S. national team and president of the WBCA, too. But … Auriemma is a lot, lot funnier than Patton. |
| "Airport" | OK, the Huskies often charter, so they're not spending a lot of time in airports. But during this 70-win streak, one thing that stands out is that no travel of any kind has been perilous for the Huskies. They have been as efficient on the road as they are at home. This season, the Huskies shook things up a bit, traveling to Philadelphia by train for a game at Villanova. They probably could have bicycled there and still won. |
| "M*A*S*H" | Knock on wood, right? UConn, like so many women's basketball programs, has suffered some devastating injuries over the years. But during this streak, the only major blow came when Caroline Doty suffered an ACL tear in January 2009, which kept her out the rest of the season. Knee injuries to Kalana Greene, now a senior, and then-senior Mel Thomas in the 2007-08 season might have kept this streak from being even longer, as that UConn team lost just two games -- both after Greene and Thomas were hurt. |
| "Five Easy Pieces" | Coaches will always say that to win a lot of games, you need to have three strong scoring threats. But what if you have even more than that? Both this season and last, what distinguished UConn was that as good as its two superstars (Maya Moore and Tina Charles) were, opponents could never ignore the other Huskies on the floor with them. As Oklahoma coach Sherri Coale said of trying to prepare for the Huskies, "Are we going to come up with a plan for who you don't have to guard on their team? I mean, come on." |
| "Love Story" | Among UConn fans, the affection for their team is a powerful thing. The love affair truly blossomed in the perfect season of 1994-95, and 15 years later it remains one of the strongest forces in all of women's athletics. Admittedly, the Huskies -- while definitely admired and respected -- do not necessarily inspire much love among women's basketball fans nationwide. They are, shall we say, more than a little weary of UConn's success. But that's not the Huskies' problem. Winning means never having to say you're sorry. |
And the "Best Picture" to represent this UConn "70" streak is … we're going to say all of them. But don't worry, you don't have to sit through any acceptance speeches.
Mechelle Voepel, a regular contributor to ESPN.com, can be reached at mvoepel123@yahoo.com. Read her blog at http://voepel.wordpress.com.
espnW.com
Mechelle Voepel joined ESPN.com in 1996 and covers women's college hoops, the WNBA, the LPGA, and additional collegiate sports for espnW.
SPONSORED HEADLINES
MORE WOMEN'S BASKETBALL HEADLINES
MOST SENT STORIES ON ESPN.COM
UConn's March To 71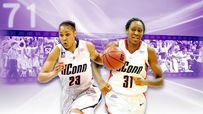 On Monday, Connecticut broke the women's NCAA Division I win streak of consecutive victories with a 71st win in a row, breaking the Huskies' string of 70 straight wins in 2001-03.
Stories
•
Voepel: UConn as close to perfect as possible
•
Recapping 1-71: Memorable wins along way
•
Comparing the streaks statistically
•
Experts' favorite moments from streak
•
Voepel: UConn endures little drama in streak
•
Voepel: '70s Oscar nominations for 70 wins
•
Voepel: Geno's confidence boosts Charles
•
Voepel: Numbers pile up for UConn, Charles
•
Hays: Defense is UConn's biggest weapon
•
Voepel: Comparing UConn's streaks
•
Charles now UConn's top scorer, rebounder
Video highlights
•
UConn notches record-setting 71st straight win
•
Jeremy Schaap: Big deal, but little buzz
•
Experts: How great is UConn's streak
•
Doris Burke breaks down the streak
•
UConn ties NCAA mark with 70th win in a row
•
Charles tops UConn career points, boards
•
Lobo's Five Questions with Tina Charles
•
Moore tallies 38 points, 20 rebounds
•
UConn extends streak to 65
Recaps
•
Win No. 71: UConn 59, Notre Dame 44
•
Win No. 70: UConn 77, Syracuse 41
•
Win No. 69: UConn 76, Notre Dame 51
•
Win No. 68: UConn 84, Georgetown 62
•
Win No. 67: UConn 87, Syracuse 66
•
Win No. 66: UConn 85, Providence 53