Commentary
Miami, FSU eye first ACC tourney title
Seminoles to test Canes' perfect 19-0 mark in Coral Gables this season
The Florida State-Miami football war goes back a long time, of course, with many well-known chapters.
In women's basketball, the Seminoles and Hurricanes have a lengthy series, too, but it has mostly been under the radar nationally. Not this season, though. Thursday's 7 p.m. ET game between No 12 Florida State and No. 14 Miami is a big deal, with a possible ACC title at stake.
[+] Enlarge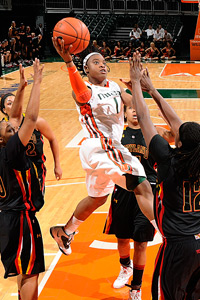 Richard C. Lewis/Icon SMIRiquna Williams and No. 14 Miami (24-3) are tied atop the ACC with Florida State and Duke.
And while it's a rivalry, obviously, it's not a grudge match. Florida State's Sue Semrau and Miami's Katie Meier recruit against each other, but understand how one's success also helps the other when it comes to the ACC's focus turning to the Sunshine State. Which it definitely is now as both the Seminoles and Hurricanes are tied atop the league standings with Duke at 10-2.
"It is a huge game," Meier said of Florida State's visit to Coral Gables. "We're not Triangle schools in the ACC. We're not Duke or North Carolina or NC State. We're not Wake. I know what it means to be in that group. But also know what it means to come from the 'perimeter,' and challenge that.
"I'm proud and happy for Sue. I love her team, and I know she feels the same about my team. I think it's pretty awesome, and it's great for women's basketball that we're rising up to say, 'Hey, the ACC goes from south Florida to Boston.'"
Understandably, much of the focus of the league always has been on the Carolinas. And the ACC women's tournament has been based in those two states for most of its existence. It's in Greensboro, N.C., again this season, as it has been for the past 11 seasons.
That followed eight years when it was first in Rock Hill, S.C., and then nearby Charlotte, N.C. The nine seasons before that, Fayetteville, N.C., was the host city. And for the first five years of the tournament -- from 1978-82 -- it was on campus sites: Virginia, NC State, Maryland, Clemson and then NC State again.
The ACC women's tournament never has been held in or near the state of Florida. But could this be the season when one of the ACC's Florida schools finally makes a breakthrough to win the tourney title?
Meier played for Duke, so she knows well what it's like to be in the heart of ACC country. Now in her sixth season coaching at the league's southern-most extremity, Meier has the 24-3 Hurricanes poised for their first trip to the NCAA tournament since 2004, which was their last season in the Big East.
Semrau and Florida State (22-5) are assured of going back to the NCAA tournament for the seventh year in a row. The Seminoles have been in the ACC since the 1991-92 season, but neither they nor the much-later arriving Hurricanes have ever made the ACC tournament final.
[+] Enlarge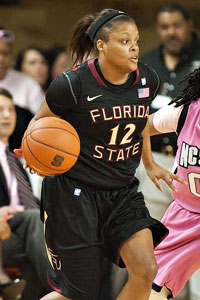 Peyton Williams/Getty ImagesCourtney Ward and No. 12 FSU beat Miami 66-59 in Tallahassee, Fla., on Jan. 24.
Might that happen this season? In fact, might one of them actually win the tournament? That would be quite a shakeup.
Going back to 1994, Duke and North Carolina have dominated the ACC tournament, combining to win 14 of the last 17 titles. The only other schools to win the ACC tourney crown during that period were Clemson (1996, '99) and Maryland (2009).
Currently Duke, Florida State and Miami are two games up in the ACC standings over No. 16 North Carolina -- which was upset by NC State on Monday -- and Georgia Tech, both 8-4.
With two games left in the regular season for ACC teams, this is what it comes down to: Along with the Seminoles and Hurricanes meeting Thursday, No. 9 Duke travels to Virginia, and Georgia Tech visits North Carolina.
Sunday, the last day of the ACC's regular season, Clemson is at Florida State, Miami travels to Georgia Tech, and the Tar Heels take the quick bus ride over to Duke.
In other words, the league's regular-season title and ACC tourney seedings are still up in the air. Pretty fun final week, huh?
"It's not going to cause us to panic," Meier said of what's at stake in these next two games. "We're really happy to be in a position to impact the ACC race."
Last season, the Hurricanes were a good team that didn't get any breaks on the way to finishing 4-10 in the league, tying with Clemson and Virginia Tech at the bottom of the standings. Meanwhile, Florida State finished tied atop the ACC with Duke, at 12-2.
Both the Hurricanes and Seminoles lost their first games in the ACC tournament; Miami in the first round to Wake Forest, and Florida State in the quarterfinals to Boston College.
But the next part of the postseason went much better for the Florida schools. Miami went to the WNIT, where the Canes made it to the championship game, falling to Cal. Florida State advanced to the NCAA's Elite Eight before running into the UConn brick wall.
In the first Miami-FSU matchup this season, Jan. 24 in Tallahassee, the Seminoles won 66-59. Meier wasn't happy with how her Miami squad played throughout that game, and said that she's able to be very blunt with her players. In fact, that's what they want.
Even though Miami won by 28 points Monday over Wake Forest, Meier was really displeased with how the Canes competed and told them so.
"The conversations I have with my team are straight to the point," she said. "I was angry [Monday], and I've found my team respects hard-core honesty. It's a really neat group; we're all working for the same thing."
The dynamic duo of junior guards Riquna Williams (21.4 ppg) and Shenise Johnson (19.7 ppg) continue to lead the way for Miami, boosted by sophomore Morgan Stroman (13.4).
For the Seminoles, Cierra Bravard, Alexa Deluzio, Courtney Ward and Natasha Howard are all averaging in double-figures scoring.
Miami's two ACC losses are to FSU and Duke, the latter an 82-58 shellacking at Durham that came right after the Blue Devils had gotten similar treatment from UConn. The Seminoles' league losses were to Duke and North Carolina. So Duke does have that edge, with victories over both Miami and FSU.
The Seminoles have a 30-8 lead in the Miami series, which long predates the schools' shared membership in the ACC. Florida State has won 15 of the past 17 meetings between the two.
However, Miami hasn't lost at home this season; the Canes are 19-0 in Coral Gables.
"We were close last year in a lot of games," Meier said. "But it didn't frustrate anybody. It fueled us."
And now Thursday's Miami-FSU matchup has all the fuel it needs to be one of the best games ever in a series that's ready to get some spotlight.
Mechelle Voepel, a regular contributor to ESPN.com, can be reached at mvoepel123@yahoo.com. Read her blog at http://voepel.wordpress.com.
espnW.com
Mechelle Voepel joined ESPN.com in 1996 and covers women's college hoops, the WNBA, the LPGA, and additional collegiate sports for espnW.
MORE WOMEN'S BASKETBALL HEADLINES
MOST SENT STORIES ON ESPN.COM