Three top-10 teams on tap in Austin
Originally Published:
November 13, 2004
By
Mechelle Voepel
| Special to ESPN.com
Odds are you know a good deal about Seimone Augustus and Temeka Johnson, returning standouts for second-ranked LSU. And Sunday's State Farm Hall of Fame Tip-Off Classic game against No. 8 Baylor (1:30 p.m. ET, ESPN2) will introduce you to LSU freshman Sylvia Fowles, too.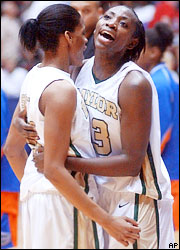 AP PhotoSophia Young, right, and eighth-ranked Baylor take on No. 2 LSU Sunday.
But this is more than just a good chance to check out LSU early in the season. Baylor will put a lot on display, too.
Last time you saw Baylor, it was in the high-drama Sweet 16 matchup against Tennessee in the NCAA Tournament. Gee, you probably don't recall anything about how that one ended, right?
Obviously, Baylor coach Kim Mulkey-Robertson and her players are still bugged by it but have tried to walk the line of not making too big of a deal over it. As these things are always phrased, they'll try to "use it as motivation."
There's a more specific lesson to be learned, though. Mulkey-Robertson has reminded her team that the game with Tennessee wouldn't have come down to an official's call had Baylor been able to hold the eight-point lead it had with 6½ minutes left. And Baylor did have possession in the closing seconds before turning over the ball.
Baylor is picked second in the Big 12 behind third-ranked Texas, which is host to this State Farm doubleheader and faces No. 21 Penn State in the second game (4 p.m. ET, ESPN2).
When Baylor beat Texas Tech in the quarterfinals of the Big 12 tournament last season, a lot of Big 12 watchers saw a glimpse of what was to come in the NCAA Tournament. Indeed, Baylor would be the toughest "out" in the NCAAs for the league. And that was even without first-team all-Big 12 post player Steffanie Blackmon, who was lost for the rest of the season to a knee injury in that game against Texas Tech.
Big 12 fans are solidly on the bandwagon for Baylor forward Sophia Young as one of the nation's best players. If she has the type of game she's capable of Sunday, they'll have to expand the bandwagon.
Blackmon's knee problems go back to before last season, and after surgery this spring she didn't really do much basketball-wise until October. She played in both of Baylor's exhibitions, though.
The post game is Baylor's known ace, but what will be interesting to see is how well the other three projected starters in the lineup do. They are the "Ch" crew: Chelsea (Whitaker), Chameka (Scott) and Chanelle (Fox). Whitaker is a returning starter, Scott a reserve from last year's team.
Fox is one of those kids everyone should root for, because she has battled injuries for a grossly unfair amount of time. She missed the end of her sophomore season, 2001-2002, with an ACL and dislocated kneecap. In 2002-2003, she played just four games before being sidelined with injuries again. Last year, she redshirted after reconstructive surgery on her right knee again. She got medical hardship from the NCAA and is now a junior athletically, though she's in graduate school academically.
Which brings to mind another graduate student who'll be on the floor at this event, Texas' Jamie Carey. Texas is picked to win the Big 12 -- the Longhorns tied Kansas State for the regular-season title last year. Texas comes in as the favorite against Penn State, which lost two starters to graduation (Kelly Mazzante and Jess Brungo), while another player transferred (Recina Russell).
Led by Tanisha Wright and Jess Strom, though, Penn State certainly isn't going to disappear. Winning in Austin, though, is very tough for anybody -- the last opponent to do it was Kansas State, in double overtime, in January 2002.
Mechelle Voepel is a regular contributor to ESPN.com's women's basketball coverage.
espnW.com
Mechelle Voepel joined ESPN.com in 1996 and covers women's college hoops, the WNBA, the LPGA, and additional collegiate sports for espnW.
SPONSORED HEADLINES
MORE WOMEN'S BASKETBALL HEADLINES
MOST SENT STORIES ON ESPN.COM