These six make habit of passing glory
Updated:
February 19, 2005, 8:56 AM ET
By
Stacey Dales-Schuman
| Special to ESPN.com
It seems like all we talk about these days in the world of hoops is how many points players score. Sure, points are the glory stat, the one that entertains and drives discussion. And yeah, the individuals who amass brilliant totals are typically blessed with unique talent.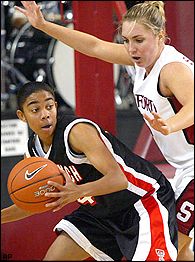 Texas Tech's Erin Grant has dished out 143 assists and committed just 41 turnovers this season.
But in many cases, good offense must accompany high-scoring performances, at least for most of the teams that climb the NCAA Tournament ranks. And good offense is often a direct result of cohesive offensive execution and, of course, the way teams share the basketball. Essentially, the root of good offense besides chemistry and execution, then, is the perfect pass.
So how do you define the perfect pass?
Through keen perception and a strong periphery, I think delivering the ideal pass is the ability to put a teammate in a perfect position to score. It should lead her ever so slightly in the best possible direction, based upon the placement of the defense. The passer must be able to suck the defense and create angles that do, in fact, make the pass simple and effective.
A good pass can be delivered from virtually anywhere -- full court, three-quarter court or even as a handoff. A deliberate, crisp pass flows with momentum from the body, and in many cases gives momentum to the recipient. For example, even a short wrap-around bouncer into the post should be delivered with momentum insofar that the post player might catch and work efficiently away from the defense. When it's done right, it will never leave teammates in a precarious situation.
There are some dandy passers in the women's game this season who every now and then will kick things up a notch to give fans something to talk about. Let's take a look at my top six, listed in random order:
Note: Assist/turnover ratio is the number of assists distributed compared to a single turnover. For example, a 2.0 assist/turnover ratio means for every two assists, one turnover is suffered.
PASSERS FANCY

Ivory Latta
North Carolina
5-6, G, so.

null

At just 5-6 (on a really good day), Latta is averaging nearly five assists per outing. Although she carries an assist/turnover ration of 1.47 (for every 1.47 assists, she throws the ball away once), she ignites her team and fans with exceptional court vision.Besides crossing foes up off the dribble, her favorite ability is to dole out the ball, and boy, is it fun to watch. She gets my nod for entertainment value alone.
Erin Grant
Texas Tech
5-8, G, jr.

null

Grant is the epitome of a point guard and the prime reason four Lady Raiders are averaging double-figure scoring. Grant's stature with the ball is exemplary because there never is a time when her head is down. When I picture Grant, I picture a player who can orchestrate in the half court, but also zing a bullet from 50 feet to catch the defense sleeping in transition.Marsha Sharp and company love the sophomore leader because she's smart, coachable and nearly flawless with an outstanding 3.48 assist/turnover ratio. Grant's 6.95 assists per outing lead the Big 12.
Temeka Johnson
Louisiana St.
5-3, G, sr.

null

If you thought Latta was small, take a look at Johnson. But you know as well as I that this senior is mighty in every single facet of the game. She's lightning quick, establishes offensive tempo for her club and understands the demands of former LSU point guard and head coach Pokey Chapman.Johnson has electrified Bayou territory with humming assists that have made the Lady Tigers' fast break as good as anyone's in the country. She tallies seven assists per contest and holds a heady 2.49 assist/turnover ratio.
Nikki Blue
UCLA
5-8, G, jr.

null

Let's not forget about the Pac-10. I've had the luxury of seeing Blue play on a couple of occasions, and she is yet another playmaker who will make you smile.While she is equally as good at creating her own shot off the bounce, she knows exactly how to draw the defense to ultimately find a teammate in prime scoring position. She's averaging 6.32 assists for Kathy Olivier's Bruins.
Janel McCarville
Minnesota
6-2, C, sr.

null

The art of passing isn't just relegated to point guards. And it has to be refreshing when your center is the second-best passer on the team and No. 1 in terms of creativity.McCarville hands out 3.71 assists each game, but it's really the way she shells it out that's impressive. With her back to the hoop, she'll drop you one, swing you one or hand you one -- all without even appearing to notice your whereabouts. She is the best passing big in women's basketball, but will have to cut back on some pesky turnovers (she averages three per game).
Yolanda Paige
West Virginia
5-6, G, sr.

null

Passing is Paige's niche. Even though she can score, she's locked in to where her teammates are located at all times, and she loves to find them, particularly in the halfcourt.In fact, she finds her peers an average of nine times each game -- you heard correctly -- nine times each game. What makes that number especially extraordinary is that while she plays a whopping 39 minutes per game, she only commits 2.77 turnovers in the process. Now that's special.
ESPN analyst Stacey Dales-Schuman is a regular contributor to ESPN.com's women's college basketball coverage.
STORIES FROM HUFFINGTON POST