Commentary
Stringer devastated, awaiting explanation after controversial finish
Updated:
February 12, 2008, 5:00 PM ET
By
Chris Low
| ESPN.com
KNOXVILLE, Tenn. -- Even C. Vivian Stringer, always the loquacious one, struggled to find the right words.
She also struggled to fight back the tears, as did her Rutgers players. Losing to Tennessee -- which presumably will be the No. 1 team in the country when Tuesday's ESPN/USA Today poll is released -- on its home floor was one thing. But to lose like this, in the final two-tenths of a second, with the game clock seemingly and inexplicably coming down with an acute case of paralysis? It was difficult to tell following Monday night's controversial 59-58 loss whether Stringer was more nauseated, more frustrated or just downright brokenhearted. She had a right to be all three. "The clock froze," a glassy-eyed Stringer said over and over again. "I'll remember that one."
FEEL FAMILIAR?
Some controversial women's hoops history might have flashed through your mind after seeing the ending of the Tennessee-Rutgers game Monday night.
As everyone who watched on TV saw, the game clock froze on two-tenths of a second. It appeared time should have expired before Rutgers' Kia Vaughn was called for a foul on Nicky Anosike, sending the Tennessee player to the line for two free throws that won the game 59-58. That figure -- 0.2 -- is infamous in NCAA Tournament lore. Go back to 2004, and a Sweet 16 game in Norman, Okla., between Tennessee and Baylor. The score was tied 69-69, and Tennessee got a steal and two shots at the basket. After the second miss, Tennessee's Tasha Butts and Baylor's Jessika Stratton collided on the rebound. Official Charles Gonzalez called the foul on Stratton with two-tenths of second left, and Butts made both free throws as Tennessee advanced. I was at Lloyd Noble Center that night, and in 12 years of writing for ESPN.com, that still ranks first in terms of the most e-mail I've ever received after a specific game. Some "issues" have produced more reader response, but no specific game I've ever covered got people so riled up -- both objecting to and defending that call. The other women's hoops moment that popped into my mind Monday was the "Time Stops in Tuscaloosa" game, during the 1998 NCAA Tournament. UCLA led host Alabama by one point with eight-tenths of a second remaining. And then the officials fell asleep. The Crimson Tide ran along the baseline, illegally, before inbounding the ball. But it wasn't called. Then the clock didn't start when the ball was first touched. It stayed frozen until it was tipped to LaToya Caudle, who nailed a 15-footer to win the game. So much more than 0.8 of a second went by that it was utterly absurd, the equivalent of a shot in tennis being 5 feet out but called "in." And the officials immediately raced off the floor, leaving chaos in their wake. The NCAA did take action after that, as its women's hoops rules committee in the summer of 1998 formulated an educational program for officials in regard to clock management. Longtime referee and secretary-rules editor for the women's committee Marcy Weston said back then, "The program will center on what the officials should do if they determine that a problem exists in the last few seconds of a game. "In such a case, the referee will go to the scorer's table and remain at the table until the situation is remedied and the final score is approved. Review of the television monitor and information available from the scorer's table personnel can be used in making this determination. The unfortunate situation at the end of the UCLA vs. Alabama game clearly suggested to the committee the need for fine-tuning of the clock management procedures." Ten years later, though, we see that sometimes "clock glitches" still happen.
-- ESPN.com's Mechelle Voepel
Indeed, television replays showed the clock appeared to freeze briefly before Rutgers' Kia Vaughn was whistled for fouling Tennessee's Nicky Anosike with 0.2 seconds left in the game. The officials huddled, reviewed the play on the monitor and ruled the foul had occurred before time had expired. Anosike, who had not done much of anything all game to help her team, calmly stepped to the line and buried both free throws to send the Lady Vols (22-1) to their 12th straight win. "Honestly, I just saw Candace [Parker] miss, and I got the ball and threw it up," said Anosike, who had no sense of how much time was or wasn't left in that final, frantic flurry, which saw Shannon Bobbitt miss a jumper and Parker misfire in the lane. Tennessee coach Pat Summitt said during her postgame news conference that she was unaware there was any issue with the clock. "It froze?" Summitt said in response to a reporter's question. "I was not aware of that, obviously." Parker, who was playing just four days after suffering a bruised left knee that had forced her to use crutches, finished with 27 points and 10 rebounds and hit three straight shots late to keep the Lady Vols afloat after they missed 15 of their first 16 field goal attempts to open the second half. But it was her miss in the lane with 1.8 seconds to play that ignited the controversy. In the frantic scramble, official Tina Napier called a foul from right in front of the Tennessee bench when Anosike collared the rebound from Parker's miss. Stringer's issue wasn't so much with the foul call as it was with the phantom clock stoppage. She said her assistants were watching the seconds come off the clock when she heard one of them exclaim, "Oh my God, I can't believe this. They stopped they clock. They stopped the clock." Stringer, her eyes blazing and her voice rising, repeated, "The clock was stopped. That's the reason there was time for a foul to occur." Television replays appeared to support her contention, at least that there was some pause in the clock at the end before Anosike was fouled. "These two teams are too good for that," said Stringer, whose Scarlet Knights (19-4) wore pink uniforms to promote breast cancer awareness as part of the Think Pink initiative. "It's not Pat's fault. It's not Tennessee's fault. … It has nothing to do with Tennessee, and it has nothing to do with those players and those coaches. Unfortunately, it was a human error. "I just happen to be on the [wrong] end of a human error too many times with too many erasers at the end of my name. I've seen it all, and I'm so sorry, because these young women deserve better." Afterward, confusion reigned at Thompson-Boling Arena, with more questions being posed than answers being given. A pool reporter had not been assigned before the game to get an explanation from officials in case of a controversial ruling, and Tennessee sports information officials attempted to get that explanation. The problem was that the clock stoppage wasn't addressed in the statement released by the officials. Rather, they addressed why the final two-tenths of a second were allowed to tick off after Rutgers inbounded the ball following Anosike's two made free throws. Debby Jennings, Tennessee's associate athletic director for media relations, then released a statement from arena manager Tim Reese explaining that Tennessee uses the Precision Timing Device, similar to all major conferences. Reese said the game clock can be stopped only by the official, who blows his whistle, sending a wireless signal to the scorer's table to automatically stop the clock. Theoretically, that takes the human element out of the process. Try telling that to Stringer and her players, though. They certainly weren't buying it after coming within an eyelash of knocking off the team ranked No. 1 in the Associated Press poll in back-to-back games. Rutgers upset previously unbeaten Connecticut 73-71 last Tuesday. "It's unbelievable how anyone can take that many shots in that given amount of time and how time can still be left on the clock," Rutgers senior forward Essence Carson said. "I knew the game was over." Stringer was being hoisted in celebration by one of her assistants, Carlene Mitchell. The Scarlet Knights' players were rushing onto the court. Absolutely, Stringer thought the game was over. "I knew we beat them," she said. "I didn't think about nothing. I knew it. And then …"
[+] Enlarge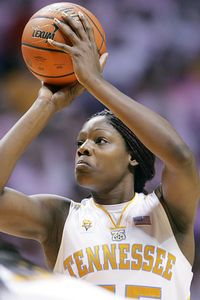 AP Photo/Wade PayneA 66 percent free-throw shooter this season, Nicky Anosike nailed both of her foul shots to lead Tennessee to the controversial finish.
Stacey Brann, Rutgers' associate director of athletic communications, said Rutgers athletic director Bob Mulcahy was attempting to contact the Big East's director of officials even before the Scarlet Knights left the arena Monday.
And while Stringer admirably did her best not to pull Tennessee or Summitt into the fray, she left little doubt that, in her mind, the win was tainted.
"This should not be tolerated," she said. "We have a question mark behind this game." Parker can understand Rutgers' frustration. After all, the Lady Vols have ended the Scarlet Knights' season each of the past three years, including in the national championship game last season. But nobody in orange was apologizing for the win, either, especially considering Tennessee found a way to survive despite shooting just 29.6 percent from the field. "We're not going to make the best plays all the time," Parker said. "We're going to turn the ball over, and the referees aren't going to make the right call all the time. That's the game of basketball. We won and came out with the victory with a 'W' on our side. "That's what we're going to take with us." For Stringer, there was at least one small consolation. "Thank God it wasn't an NCAA championship, or quite frankly, I would probably lose my job," she said.
Chris Low is a college football and basketball writer for ESPN.com.