Discussion
Players to watch as 2009-10 unfolds
Originally Published:
November 11, 2009
By
Graham Hays
| ESPN.com
Sue Semrau has more wins to her credit than any other coach in the history of Florida State women's basketball. In fact, despite having been in Tallahassee for little more than a decade, she's just a few good seasons away from having more wins than all the other coaches in program history. At some point, that kind of tenure starts paying back success with interest.
When former Florida State players plying their trade in Spain relayed scouting reports back to the Panhandle about ...

Read full story
2009-10 Season Preview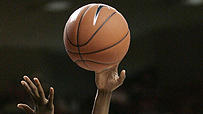 Get ready for 2009-10 with ESPN.com's women's college basketball preview.
Friday, Nov. 13
•
ESPN.com's Preseason All-America teams
•
Moore is preseason player of year (again)
•
Voepel: Baylor's Griner set for debut
•
Voepel: Spartans ready to move on in Big Ten
Thursday, Nov. 12
•
Voepel: UConn's Charles all-business
•
Hays: Greene fits holes, roles for Huskies
Wednesday, Nov. 11
•
Top five players at each position
•
Voepel: A difficult decision
•
Hays: Players to watch
•
Voepel: OU shifts to guard-oriented attack
Tuesday, Nov. 10
•
Hays: Appel leads Stanford
•
Voepel: Academics first for Ogwumike
•
Hays: Mid-major top 10
Monday, Nov. 9
•
ESPN.com preseason top 10
•
Voepel: Five questions
•
Hays: Teams to watch
MORE WOMEN'S BASKETBALL HEADLINES