Discussion
Top senior point guards clash in semis
'Less is more' for Stanford's Jeanette Pohlen; A&M's Sydney Colson 'keeps it simple'
Texas A&M guard Sydney Colson discusses her career and the program's first Final Four.
INDIANAPOLIS -- Texas A&M's Sydney Colson does impressions of everyone, but says mimicking coach Gary Blair is the easiest.
"He talks so slooooooow," Colson said.
Stanford's Jeanette Pohlen has quite a sense of humor, too, with hers tending more toward wry comments and finely tuned sarcasm.
Thus, off court, both senior point guards can be quite entertaining. ...

Read full story
NCAA WOMEN'S TOURNAMENT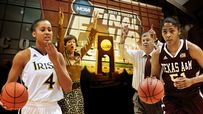 CHAMPIONSHIP GAME
FINAL FOUR
VIDEO
HOW WE GOT HERE
TOURNEY TOOLS