Every minute on court is precious
Updated:
March 18, 2005, 10:36 AM ET
By
Mechelle Voepel
| Special to ESPN.com
You hear the phrase a lot every season about the NCAA Tournament: "This is what we play for."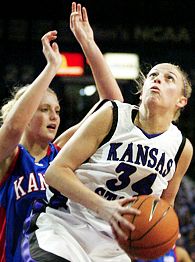 AP Photo/Lindsey BaumanMegan Mahoney won't be able to play in her last NCAA Tournament.
Coaches and players say it after they get their seed, and they keep saying it after every postseason win. They use a variation of it all during the season, in fact, looking ahead: "We're playing for the NCAA Tournament."
It's the payoff for when March comes, and you've done everything right. You woke up for practice early all those times you felt too tired to move. You did your time in the weight room, you shot the ball a million times, you got good grades. Your team is in the big tournament.
But what happens when a ligament tears, a bone breaks, an ankle twists or a tendon ruptures? What then? You stop, but nothing else does.
The tournament comes, the games tip off, there are buzzer-beaters, bracket-busters and maybe even some blowouts. People cry when they lose, sometimes they cry when they win. And everyone hopes to take just one more step ... and then another ... and then ...
Yes, it's what you play for -- except if you can't play.
Then you have to pull back and look at it, the whole thing: basketball.
What it's been to you, what you've been to it. Every practice and game. The things you did better than you thought you could; the things that frustrated you. All the moments you had with your teammates. The people you've met and those you haven't, both of whom you've influenced.
You know what? All of that's really what you play for.
I've been thinking about this a lot since Sunday, almost nonstop to be honest, because someone I know very well won't be playing in the NCAA Tournament: Kansas State's Megan Mahoney. For the past four years, she's started every game for the team I cover for my newspaper. I've seen her play through bloody noses, stitches in her lip at halftime, back pain, colds that left her face crimson after games and many other aches and ailments I never knew about.
The first time I ever sat down for a long interview with her, when she was a freshman, I laughed at how she couldn't help but pick at the assortment of scabs that always covered her knees and elbows. It was a nervous habit whenever she sat still, which she couldn't do for very long.
I watched her celebrate at times and sob at others, I got e-mails from people who said they'd become women's basketball fans just because of her.
She played as hard as anybody could. She did it all the time. You know the type. I took for granted that for every game of her college career, that's what she'd be doing.
But then with just over seven minutes left in the Big 12 championship game last Saturday, her college career ended.
She was playing one of her best games of the season, with 17 points as the Wildcats were trying to reel in Baylor the way they'd done in the semifinals against Texas. K-State had been down 17-0 to the Longhorns, an all-time nightmare of a start, but rallied to win. The tying basket had come when Mahoney had the ball with the shot clock winding down ... dribbling, looking, spinning, faking, finally getting her defender off-balance and hitting the shot at the buzzer.
Making the buzzer-beater was one of her "signatures" as a player, along with getting impossible offensive rebounds and being the Wildcat the K-State crowd was always directly plugged into emotionally.
The K-Staters were delirious with joy after that win, as the program made its first Big 12 final since 1997. Then, 48 hours later, Mahoney missed a free throw, chased the ball ... and she felt a pain like someone kicked her, really hard, in the back of her left leg. She fell to the floor and stayed there, and no one who watched K-State had ever seen that before.
It was a ruptured Achilles tendon. The kid who hadn't missed a game at K-State would now miss her last NCAA Tournament.
"In sports, the highs are very high," K-State coach Deb Patterson said. "And the lows tend to be very low."
But in the realm of sports injuries, doesn't it amaze you how fate often seems absurdly cruel in its timing? Why did UConn's Nykesha Sales' rupture her Achilles tendon when she was one basket from breaking the school scoring record her senior year in 1998? How did the Huskies' Svetlana Abrosimova tear a ligament in her foot just before her parents -- who'd finally saved enough money to make the trip from Russia -- came for the first time with the hope of watching her play on senior night in 2001?
Why did ACL injuries hit Stanford's Vanessa Nygaard and Kristin Folkl within four days of each other right before the 1998 NCAA Tournament?
Why did the ACL rip for Louisiana Tech's Maquisha Walker in the 1996 NCAA regional final against Georgia, after which Tech lost its lead and its chance to go to the Final Four?
Why did the Achilles tendon rupture for Boston College co-captain Jessalyn Deveny this February when she was leading her team in scoring her senior year?
Sometimes, an injury doesn't completely take a big moment away from a player, but it greatly changes it. Like the 1999 NCAA title game, when Purdue senior Stephanie White badly twisted her ankle with 4 minutes left.
"It was so surreal," said White, now an assistant coach at Kansas State. "I thought, 'We're winning a national championship, and I'm not on the court.'"
But she also remembers that then-freshman Kelly Komara came in for her, drew an offensive foul, made a free throw and pointed over to her.
"I wanted to be out there so bad, but I knew they had my back," White said. "And that's what teams are for -- to multiply the good and divide the bad. I think it made everything so much easier, to realize you can have an impact on everybody you play with. Kelly was thinking about me, and that's what college athletics is all about -- doing things for each other."
So the Wildcats will try to do it this year for Mahoney. Teams have to move on, go to practice, attempt to fill the hole, get ready to play a game. The other players can't feel sorry for themselves.
Fans don't really have that kind of distraction for their sadness, so they have to do something. There's been a steady stream of flowers, cookies and cards into the K-State basketball offices this week.
Last August, I made the 11-hour drive with Mahoney to her hometown of Sturgis, S.D. I wanted to tell her story from the viewpoint of where she was from, what shaped her. A few years back, I'd read native South Dakotan Tom Brokaw's book "A Long Way from Home: Growing Up in the American Heartland" and had thought about Megan throughout it.
Especially the chapter where Brokaw talked about how athletic accomplishment and "heroism" were solely the provinces of boys in his youth and adolescence in South Dakota in the 1940s and '50s. And that one of the first things he noticed when he visited many years later was a sign outside one town proudly proclaiming it the home of a girls' state championship team.
In one of Mahoney's scrapbooks, there was a letter from an older gentleman consoling her on a state playoff loss. He told her how it brought back memories of a playoff game he'd lost decades before in Pennsylvania, and how proud she should be, how certain he was that she was a true champion.
I talked to the high school coach who had her on his team for five years -- she played varsity in eighth grade -- and he could rattle off her stats and plays she made as if the games had just happened. He didn't have to actually say the words because they were all over his face: "I'll never have another one like her."
I drove by the cement factory where her father has worked since he was 18. Then a few weeks ago when I saw him at a game in Nebraska, I teased him about how he must be using up all his vacation days for the long drives to these last stretch of games.
He said: "You know what? I just decided the heck with work. Nothing's more important to me than seeing this."
It's all been going through my head because that's what you play for, too. You play to mean that much to people, those who already love you and those who come to.
Megan Mahoney is just one kid who won't get her last chance at the NCAA Tournament; there have been too many before her, and unfortunately there will be too many after her. But the message from her situation is universal.
Yes, right now the NCAA Tournament, March Madness, the big trophy is what everyone's playing for. But your whole career, every day you take the court, give it all you have. Because you're always playing for so much more.
Mechelle Voepel of the Kansas City Star is a regular contributor to ESPN.com's women's basketball coverage. E-mail her at mvoepel@kcstar.com.
espnW.com
Mechelle Voepel joined ESPN.com in 1996 and covers women's college hoops, the WNBA, the LPGA, and additional collegiate sports for espnW.
MORE WOMEN'S BASKETBALL HEADLINES
MOST SENT STORIES ON ESPN.COM