Two dramatic wins, one night to remember
Originally Published:
March 21, 2005
By
Mechelle Voepel
| Special to ESPN.com
INDIANAPOLIS -- This is really cool: The two conferences who've led the nation in attendance for the last six years -- and I'd bet that will be the case again this season -- are in the women's championship game Tuesday night.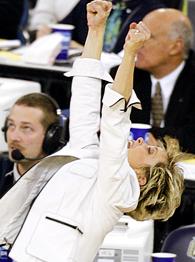 AP Photo/Darron CummingsKim Mulkey-Robertson celebrates her team's first trip to the national title game.
Congratulations, Big 12 and Big Ten. Your respective league-tournament champions both pulled riveting comebacks Sunday night at the RCA Dome as both programs advanced to the Final Four for the first time.
The way both did it made for one of the best nights the sport has ever had. There were two momentous comebacks, and one, of course, came against women's basketball's most legendary program.
Baylor's rally from 15 down in the first half to beat LSU 68-57 seemed like quite a drama-award winner ... until it was eclipsed just a couple hours later by Michigan State's "how-did-that-happen" comeback from 16 down in the second half to beat Tennessee 68-64.
Women's basketball overall is a winner after these two games. The unexpected gets attention, and Michigan State's win, especially, was that. Even more so after the Spartans seemed so far in a hole. Who digs their way out of that, especially against Tennessee? You had to see it to believe it, and what a fabulous game it was to watch.
Further, this upcoming title game (ESPN, 8:30 p.m ET Tuesday) is evidence for every athletic director out there that if you make the right coaching moves and support your program, anything is possible. Where were Baylor and Michigan State when this decade started?
Michigan State was a decent program, but not one you ever thought about in terms of "national contender." In 1999-2000, Michigan State went 19-12 overall and 8-8 in the Big Ten, losing in the WNIT quarterfinals to Wisconsin. Baylor, meanwhile, was 7-20 overall and 2-14 (dead last) in the Big 12.
Karen Langeland stepped aside at Michigan State after 24 seasons. Sonja Hogg, who was in her second incarnation as a head coach (having been at Louisiana Tech from the 1970s to the early 80s), retired after six seasons at Baylor. She had breathed some life into the program, but like at Michigan State, new leadership was needed.
So in the spring of 2000, Baylor hired Kim Mulkey-Robertson and Michigan State brought on Joanne P. McCallie. Five years later, both face off in a title game that proves true everything we've all been chatting and writing about the last few months. That is: This season, it really was a wide-open race for the national championship.
Now, that certainly doesn't mean that we're forever done with Connecticut and/or Tennessee being powerhouses. Please. After all, think what this Tennessee team would have been like if it hadn't been struck by so many injuries. Tennessee and UConn will win more NCAA titles, we all know that.
However, every Final Four that gives us something "different" makes a positive mark on the sport as a whole. Heck, it was UConn that did that a decade ago when it won its first NCAA title and brought the phenomenon of massive media coverage.
Having two title-game first-timers in Purdue and Duke in 1999 was another building brick. The all-Indiana final in 2001, where Notre Dame beat Purdue, was the same thing.
After three consecutive years of UConn titles -- and two years in a row of UConn-Tennessee finals -- women's hoops really did need a change this season. That isn't a knock on or a jab at those two schools. They have been great programs, deserving of all the attention that they've gotten.
But, again, unpredictability is the spice of sports. You can't "script" that. You can't just "wish" for it. It happens only as programs step forward and take what previously has belonged to somebody else.
Baylor and Michigan State have done it all season. Sunday night, they took their biggest steps yet -- and carried the sport with them.
Mechelle Voepel of The Kansas City Star is a regular contributor to ESPN.com's women's basketball coverage. E-mail her at mvoepel@kcstar.com.
espnW.com
Mechelle Voepel joined ESPN.com in 1996 and covers women's college hoops, the WNBA, the LPGA, and additional collegiate sports for espnW.
SPONSORED HEADLINES
MORE WOMEN'S BASKETBALL HEADLINES
MOST SENT STORIES ON ESPN.COM