Pressure's on Augustus as semifinals near
Updated:
April 2, 2005, 4:16 PM ET
By
Miki Turner
| Special to ESPN.com
INDIANAPOLIS -- About two hours after Wade Trophy winner Seimone Augustus had been named the nation's top player, the LSU guard was still walking around in a sort of Twilight Zone daze.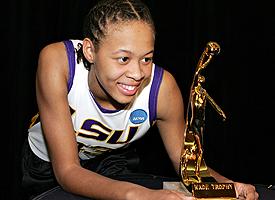 AP Photo/Darron CummingsWady Trophy winner Seimone Augustus is the consensus national player of the year. But can she lead LSU to its first NCAA title?
Given the whirlwind pace of her hectic morning Saturday, it was quite understandable that the Baton Rouge, La., native would be in a state of semiconsciousness. First came the Kodak All-America Team announcement. That was followed by the Wade presentation, an honor that had Augustus wiping away tears on her LSU jersey. Next up was practice for Sunday's game against Baylor.
And after all that, of course, was a lengthy news conference to chat about everything that had happened earlier in the day and what might happen on Sunday in the Lady Tigers' second consecutive Final Four appearance.
"Man, it's been very overwhelming," a visibly tired Augustus said as she took a seat in the LSU locker room following the news conference. "It started early. I didn't want to get up this morning, but if I had to get up I wouldn't have imagined my day being like this."
But the load won't be getting any lighter any time soon. Now that Augustus is officially the best player in the nation, all eyes will be on her Sunday at the RCA Dome -- especially the pair belonging to Pokey Chatman. The LSU coach says she needs her junior guard to do "everything" against the Lady Bears in the national semifinals on Sunday (ESPN, 7 p.m. ET).
"I need her to do all the things she's done all year," Chatman said. "I just need her to be Seimone and she understands that. She's not going to change her approach or her mentality. She's not going to try and get off X number of shots. She's going to play within the system but understands that she's a player who can be most effective on the offensive end and she'll bring that mindset into the game."
That's why the Kodak All-American will check her Wade Trophy at the gate when she suits up for Baylor.
MORE ON THE SEMIFINALS
Be sure to check out ESPN.com's complete coverage of the women's Final Four:
"I'm going to try not to think about that," Augustus said. "I understand it's a big honor, but at the same time I understand I can't go away from our offensive scheme -- away from the things that got us here."
And that's a good thing. Because even though Augustus exploded for a career-high 33 points in the Tigers' 71-70 victory over Baylor in November, she knows the Lady Bears, who are slight underdogs, will be all the way up for the Lady Tigers on Sunday.
"It's a very good Baylor team that we're going to be playing tomorrow and we just have to be focused," Augustus said. "We have to buy into our system and come out and execute not only for 20 minutes but for 40 minutes. They're a fighting team and they will fight."
Augustus also understands that the play of senior point guard Temeka Johnson will key the Lady Tigers' success, too.
"Everything I do is within our system," Augustus said. "I try to keep moving, I try to stay active. I tend to bring attention to myself from other defenses and stuff, so that brings a lot of attention to me and leaves other people open like our post players and Temeka. She has really stepped up and started hitting big shots for us, so we need her to keep doing that."
Added Johnson: "It's a tandem for us. We feed off each other. My job is to be the best leader I can be and to get the ball to Seimone and the other players to make things happen for us. "
And Johnson couldn't be happier for Augustus' individual accolades.
"I'm glad (Seimone) is on my team. What you see is what you get," said Johnson, a partial qualifier in 2000 who opted to come back for a final season. "She takes the pressure off of me. I'm glad that she was named national player of the year. She deserves it more than anyone I know."
If LSU loses to the Lady Bears on Sunday, it will be the last time Augustus and Johnson play together at this level. Johnson doesn't want to think about it, but Augustus is already envisioning life without her backcourt partner.
"It's going to be difficult," Augustus said. "She's a great person and a great mentor to me. I'm going to have to step up into a leadership role and I understand that. But I'm glad that she came back because we have some freshmen here who are very talented and really need her help in order to progress. She's set a wonderful example for me to follow."
Miki Turner is a regular contributor to ESPN.com. E-mail her at dmiki@aol.com.
SPONSORED HEADLINES
MORE WOMEN'S BASKETBALL HEADLINES
MOST SENT STORIES ON ESPN.COM