Terps have what it takes to upset UNC
Updated:
April 2, 2006, 12:52 AM ET
By
Nancy Lieberman
| Special to ESPN.com
BOSTON -- The phrase "fear the turtle" might be a little much.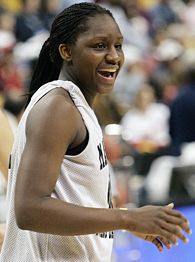 AP Photo/Winslow TownsonNo one finishes better in the lane than Crystal Langhorne, writes Nancy Lieberman.
But the least we can do is give Maryland and its starting lineup of mostly underclassmen a little more respect. Yes, North Carolina is the favorite heading into its national semifinal matchup on Sunday (ESPN, 7 p.m. ET), and that's not surprising, even though the Terps were the only team to beat the Tar Heels this season. After all, Maryland hadn't been to the Final Four since 1989, when some of these Terps were just toddlers. And only five teams have won NCAA titles without a senior starter.
But here's the catch, and why those of you who think Maryland doesn't have much of a chance against the No. 1 overall seed are wrong: To be a title contender, you must have a dominant post and an assertive point guard.
And guess what? Maryland has both.
Never mind that guard Kristi Toliver is just a freshman and center Crystal Langhorne is a sophomore. The underclassmen are playing beyond their years in the NCAA Tournament, and as players such as Courtney Paris at Oklahoma and Candace Parker at Tennessee have helped prove this year, class is beginning to cease to matter. It's how you play the game, not how old you are.
Don't buy it? Maryland wouldn't be in Boston if not for these two. In the Sweet 16, Langhorne tied her career-high with 34 points. In the Elite Eight, despite fighting a stomach flu, Toliver went off for a career-high 28 points and six 3-pointers.
Langhorne is well known in ACC country. She was the league's freshman of the year last season and became the ACC's first freshman since 1993 to average a double-double. This season, and after a well-spent summer with USA Basketball's Under-19 team, she has been even better, leading the nation in field-goal percentage, setting a school record with four games of at least 30 points and posting an ACC-best 15 double-doubles.
Junior guard Shay Doron says Langhorne is the team's No. 1 option, but also an incredibly unselfish teammate.
"Everything goes through her and she spreads out the game because she draws so much attention … she's just powerful and quick and just a mismatch hell for any post player in the country right now," Doron said. "And the great thing is that as a guard you know Crystal is going to pass it right back when she's double-teamed."
But even with two defenders, no one finishes better than Langhorne. Through four NCAA Tournament games, she's shooting 69.6 percent (39-for-56) and has tallied 97 points and 40 rebounds to average a double-double. Langhorne also has helped Maryland dominate the low post en route to averaging eight more points per game in the Big Dance (24.3) than in the regular season (16.3).
This is a game that can be won on the boards, and that's what makes Langhorne and her amazing consistency around the basket so important. She knows exactly where to be and is always moving. And even if you try to take away the lefty's right shoulder, as Utah did at times in the first half of their Elite Eight matchup, Langhorne is mobile and savvy enough to move around and create another option. After seeing her play in person in the Albuquerque Regional, I can't help but appreciate her game, her skill, her heart and her consistency.

The same goes for Toliver, who, when her team needed her most and despite little sleep because of an illness, found a way to come up with the best game of her life in the biggest game of her career. Freshman or not, she recognized she had found a zone and took it upon herself to keep taking the big shot, hitting 6-of-9 3-pointers. Nobody called a play for her. Toliver plays with the confidence of a guy.

Toliver might be a shade less quick than Ivory Latta, but she's bigger than her UNC counterpart. Can she use it to her advantage? Toliver doesn't have the experience to push Latta where she wants on the floor defensively, but she'll also make Latta expend plenty of defensive energy guarding Toliver, too.

The Terps' ballhandling skills and rebounding were crucial in Maryland's 98-85 overtime victory in Chapel Hill on Feb. 9. Maryland, which fought a 46-36 halftime deficit in that upset, is one of few teams this season that hasn't struggled against North Carolina's vaunted 1-3-1 press.

So what's the secret?

"We boarded with them and were able to get a lot of second-chance opportunities," said Maryland coach Brenda Frese, whose entire team except Doron, Langhorne and reserve Angel Ross have been hit by the stomach flu since the regional semifinals (reserve Aurelie Noirez was so sick that she missed the team's flight to Boston and arrived a day later with the band and cheerleaders).

Adds Doron: "The main thing is we have five ballhandlers on the court. Our posts can handle the ball as well as the guards. We play up and down and welcome the press. So not many teams pressed us all year because we kind of feed off of that and do well against it."

Nancy Lieberman, an ESPN analyst and Hall of Famer, is a regular contributor to ESPN.com's women's basketball coverage. Contact her at www.nancylieberman.com.
Basketball analyst / Writer
Nancy Lieberman, one of the most recognized individuals in women's basketball, is a men's and women's basketball analyst for ESPN. She works on ESPN and ESPN2's coverage of men's and women's college basketball, plus the WNBA and writes for ESPN.com.
SPONSORED HEADLINES
MORE WOMEN'S BASKETBALL HEADLINES
MOST SENT STORIES ON ESPN.COM