Oft-overlooked Stanford, Smith shut down OU
Updated:
March 26, 2006, 2:13 AM ET
By
Mechelle Voepel
| Special to ESPN.com
SAN ANTONIO -- Stanford coach Tara VanDerveer, who is seeking her program's seventh Final Four, had just watched Brooke Smith score a career-high 35 points in the Cardinal's 88-74 victory over Oklahoma.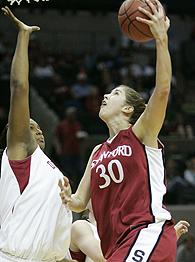 AP Photo/Donna McWilliamBrooke Smith hit her patented hook shot -- with both hands -- time and again against and over Oklahoma and Courtney Paris.
Did VanDerveer think, perhaps, that later Saturday afternoon on driveways across the country, kids were practicing their hook shots?
"Wouldn't that be a great thing?" VanDerveer said. "I know it's not the dunk …"
Folks in the media room laughed along with VanDerveer at that, and she continued, "Brooke's got the hook, and it's a great old-time move, either hand. I'm really excited for Brooke. She's really very talented, and maybe now people might have a chance to watch her play and recognize her ability."
The No. 3 seed Cardinal technically upset No. 2 Oklahoma -- although not very long into this game you realized that Stanford had the upper hand. The Cardinal, who have lost in the Elite Eight the past two years, jumped to a 9-0 lead, and the Sooners spent the rest of the game unable to fully recover.
Of course, coming in, most of the stories and broadcast banter had been about OU freshman sensation Courtney Paris, and what an exciting matchup it might be if she and the Sooners met center Sylvia Fowles and LSU in the San Antonio Regional championship game. It was a reasonable prognostication.
But it's not going to happen. Smith hooked with the left hand and the right, she did the up-and-under, she spun around, she gave a clinic on how to use the pivot foot.
"Brooke is really tough to stop one-on-one," VanDerveer said. "On the bench, my assistant coaches kept saying, 'Keep going to Brooke! Keep going to Brooke!' She was scoring, and she has some great moves. They didn't double her a lot, but when they did, she made nice reads and good passes to other people."
And if there were youngsters trotting out to their basketball hoops Saturday to work on the hook shot after seeing Smith, I hope they realize why she is so good at it: practice, practice, practice.
Naturally, Smith was asked whether it bugged her that Paris and the Sooners had gotten so much publicity before this game, and if that perhaps fired her up. Well, thank goodness, Smith didn't go biting on that bait. Instead, she answered in a very smart and perceptive way.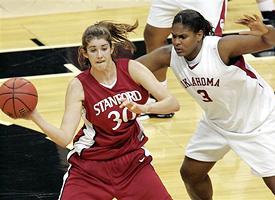 AP PhotoBrooke Smith had all the right answers against OU and Courtney Paris on Saturday, both on the court and to questions from the media afterward.
"I think they deserve all the attention they've gotten," Smith said of the Sooners, who went 16-0 in the Big 12 and won the league tournament.
"They've had a phenomenal year, and Courtney had a phenomenal year. She deserved the attention and the praise; she's a great player.
"Being on the West Coast, a lot of people don't see us very much. But we just wanted to show people we're a good team, too."
Two years ago, the Cardinal felt legitimately dismissed by the tournament selection committee when Stanford got a No. 6 seed. The Cardinal, fueled a bit by indignation, came within a 3-pointer of beating Tennessee for a spot in the Final Four.
Last year, Stanford was a No. 2 seed and fell in the regional final to No. 1 Michigan State. This time around, the Cardinal were coming off a Pac-10 tournament title-game loss to UCLA -- a defeat, VanDerveer said, that she has pretty much let go of but still seems to be bugging sophomore star Candice Wiggins.
Hmmm … now that's saying something about Wiggins. Not too many players are going to obsess over a loss more than VanDerveer. But in this case, it's a more pragmatic view of the situation. VanDerveer knew that her team would learn from the mistakes it made in that loss to UCLA, including letting a lead get away.
Clearly, the Stanford players did learn -- even when Oklahoma got as close as six in the second half, there was no panic by the Cardinal. Smith hit another shot. Wiggins made two free throws and a 3-pointer. Stanford took full control again, and didn't let go.
"We made sure to keep attacking," Wiggins said.
Next up, on Monday (ESPN, 9 p.m. ET), will be No. 1 seed LSU, another team with a big, strong center in Fowles. Not to mention do-everything player Seimone Augustus and a lot of speed and skill spread among the other starters: Scholanda Hoston, Erica White and Ashley Thomas. They combined to score all 66 points for LSU in its victory over No. 4 seed DePaul on Saturday.
LSU is going for its third consecutive Final Four appearance.
"Our defensive scheme was very effective," VanDerveer said of Saturday's performance. "Kristen [Newlin] was huge for us. Brooke really was just the post to talk about today; she scored really well. And Candice was saving some shots for our next game."
Again, everyone -- including Wiggins -- laughed along with VanDerveer for poking fun at Wiggins' 6-for-22 afternoon from the field.
"She did a great job at the free-throw line and is a tremendous leader," VanDerveer said. "We're really, really excited and we just want to keep playing. I'm happy to be coaching for the third year in a row in the Elite Eight. Third time is a charm, I hope, for us."
Mechelle Voepel of The Kansas City Star is a regular contributor to ESPN.com. She can be reached at mvoepel123@yahoo.com.
espnW.com
Mechelle Voepel joined ESPN.com in 1996 and covers women's college hoops, the WNBA, the LPGA, and additional collegiate sports for espnW.
SPONSORED HEADLINES
MORE WOMEN'S BASKETBALL HEADLINES
MOST SENT STORIES ON ESPN.COM
STORIES FROM HUFFINGTON POST