UNC the favorite, but many others not far behind
Updated:
March 13, 2006, 9:02 PM ET
By
Graham Hays
| ESPN.com
The bracket for the NCAA Tournament has been essentially a prix fixe menu for more than a decade.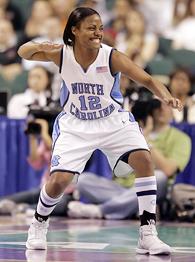 AP PhotoIvory Latta and UNC are 29-1 and have won seven straight since an overtime home loss vs. Maryland.
Traditional powers Connecticut and Tennessee rarely served up anything less than the best, but even gourmet basketball grows stale without some innovation and fresh ingredients. Sure, there were occasionally specials, like Katie Douglas and Purdue in 1999 or Ruth Riley and Notre Dame in 2001. But since 1995, only Douglas' Boilermakers have claimed the title at a Final Four that didn't include either the Huskies or Lady Volunteers (and often both). So when Baylor beat Michigan State last April in a championship game that was guaranteed to give one of the schools its first national title, a lot of people speculated about the beginning of a new era of parity at the top of women's college basketball. So far, so good. As long as you aren't expecting miracles. This isn't likely to be the year a No. 7 seed cuts down the nets. Heck, the sum of the seeds that make it to the Final Four in Boston may not even add up to seven. But just as Baylor emerged last year from a field that featured LSU as the consensus favorite, there are a host of challengers capable of making life at the top unpleasant for current tourney favorite North Carolina.
The favorite
Make no mistake, the Tar Heels deserve the label of tournament favorite, even if they started the season ranked just eighth in the ESPN/USA Today coaches' poll. North Carolina helped its own cause early, beating Arizona State, Connecticut (by 23 points in Hartford) and Vanderbilt before reaching ACC play. And the Heels took over the top spot in the polls the right way, beating No. 1 Duke at Cameron Indoor Stadium on Jan. 29. Sylvia Hatchell's team later stumbled at home against Maryland, but the Heels bounced back by beating Duke in the regular-season finale and putting up 91 points to beat the Terrapins in the final of the ACC Conference tournament. With player of the year candidate Ivory Latta and wins against half of the other teams on this list, North Carolina is the team to beat.
The Challengers
Connecticut:
Geno Auriemma's team bounced back from the beat-down it suffered at home against the Tar Heels, finishing second in the Big East in the regular season and winning the conference tournament for the second year in a row. Seniors Ann Strother and Barbara Turner lead the way as they seek a third national championship in four seasons, but it's the youthful exuberance (and mistakes) of freshman Renee Montgomery and sophomores Charde Houston, Ketia Swanier and Mel Thomas that seems to send Connecticut on a perpetual offensive roller-coaster ride.
MORE TEAM BREAKDOWNS
Taking a closer look at the favorites to win the 2006 NCAA Tournament, ESPN.com's Graham Hays identifies the biggest X factors facing each team:

• UConn's fate rests in Houston's hands
There might not be a more gifted player with the ball in her hands than Charde Houston. But can she break loose in the Big Dance?

• Time for Currie to come up big for Duke
Duke personifies the team concept. But Monique Currie must be able to put her teammates on her back when needed.

• Tiger duo could be best in bracket
Seimone Augustus and Sylvia Fowles will determine how far LSU advances. But if they come up big, it's a 1-2 punch that could knock out the field.

• Terps must limit turnovers
The Terps are good enough to beat any team in the country -- as long as their guards take care of the ball.

• Larkins must be Robin to Latta's Batman
When (and if) star Ivory Latta should falter this NCAA Tournament, Erlana Larkins must be the one to step up for UNC.

• Packer can't let OSU foes pack in paint
Marscilla Packer must keep hitting shots from outside to open up the paint for OSU and Jessica Davenport.

• OU's role players can't disappear
Courtney Paris will come up big. But for OU to win, it needs every part firing on all cylinders to get it done against top competition.

• Two sides to Rutgers' aggression
Rutgers could go far on its relentless and downright annoying defense -- as long as opponents don't match or find a way to exploit that aggressiveness.

• Will fatigue be a factor for Tennessee?
Tennessee's success rests solely on its starters, who are more familiar with each other than Buddhist monks in monasteries.


When the parts come together, as they did against Notre Dame and DePaul in the Big East tourney, the Huskies are balanced and dangerous. When they don't, the only danger comes from Auriemma's temper.
Duke:
The Blue Devils have long held down an isolated post, with the Huskies and Lady Vols on one side and the rest of the college basketball world on the other. Elite in the regular season but unable to break into the championship club, Duke is no newcomer to contender status. This team, viewed by many as the second-best squad in the nation, has a terrific shot to break the title drought, but it's no small thing to say that North Carolina is all that stands between it and a national title. Not after Duke failed to solve the Tar Heels in two regular-season meetings (the Blue Devils missed out on a third game after losing to Maryland in the semifinals of the ACC tournament). But with point guard Lindsey Harding and freshman Abby Waner added to virtually the same lineup, including All-American Monique Currie, that was swept in three games against North Carolina and came up just short against top-seeded LSU in last season's NCAA Tournament, the Blue Devils will make it difficult for history to be repeated.
LSU:
The Tigers might rather have reigning WNBA rookie of the year Temeka Johnson along for the ride again, but without her they get to play the role of challenger instead of suffering the attention and pressure placed on the favorite. Johnson is gone, replaced by standout sophomore point guard Erica White, but Seimone Augustus and Sylvia Fowles are back and just as good as ever. Those two led LSU through one of the nation's toughest schedules, earning wins against Georgia, Florida, Kentucky, Michigan State, Minnesota, Ohio State, Tennessee and Vanderbilt. But it was a loss at Connecticut many will remember, as Augustus struggled through a tough shooting night, much as she did in a loss to Baylor in the Final Four last season. It's tough to lean so heavily on any one player, but it might as well be a player like Augustus if a team is going to try it.
Maryland:
Only a No. 7 seed in last year's bracket, the Terrapins are now very much in the running for a trip to Boston and a national championship. Still led by the inside-outside combination of sophomore power forward Crystal Langhorne and junior guard Shay Doron, the Terrapins have a much stronger supporting cast than they did in losing to Ohio State in the second round last season. Although they dropped this season's first two major tests, against Tennessee and Duke (and would drop another game to Duke later), they made a statement about their place in the upper echelon by beating North Carolina on the road on Feb. 9 and getting revenge by knocking out Duke in the semifinals of the ACC Tournament. So while the team might try to play the underdog role, the résumé suggests the Terps are more contender than sleeper.
Ohio State:
It's difficult to slip quietly through a season when you win the Big Ten regular-season and conference tournament titles, and it's not easy to slip quietly through the spotlight when you're a 6-foot-5 junior and reigning Big Ten player of the year. But Ohio State and star center Jessica Davenport did just that for much of this season. An early blowout loss at home against LSU and the lack of individual star rivals in the Big Ten this season contributed on both fronts, but the Buckeyes enter the NCAA Tournament with all the pieces in place to get back to the Final Four for the first time since 1993. The only catch? While the Buckeyes took care of business in conference, posting a 6-1 record against top challengers Michigan State, Minnesota and Purdue, they remain something of an unknown against the other teams on this list.
Oklahoma:
Not many freshmen have ever had as big an impact as Courtney Paris had for the Sooners this season. Then again, not many freshmen are as big as Paris, period. A prized recruit, along with twin sister Ashley, for Oklahoma coach Sherri Coale, Paris was largely responsible for taking a team that lost a first-round game as a No. 8 seed last season and making it a title contender. And Paris' emergence is one reason it's dangerous to make too much of Oklahoma's nonconference schedule. Early in the season, the Sooners lost badly at Connecticut and Michigan State and couldn't pull out a win at Ohio State. But they've only gotten better as they adjust to the big girl in the middle and as she adjusts to the college game. The Big 12 was undeniably down this season, but the Sooners still made a statement by following up a 16-0 conference regular season with wins over Iowa State, Missouri and Baylor to win the conference tournament. Surrounded by a deep supporting cast of shooters and hustle players, Paris easily could emerge as the bracket's biggest star.
Rutgers:
Whether or not the cliché is right about defense winning championships, Rutgers coach C. Vivian Stringer has made a career out of proving it at least gets teams to the Final Four. The first coach to lead three different schools (Cheyney State, Iowa and Rutgers) to the Final Four, Stringer is back with one of her best teams ever. Blessed with the offensive skills of star guard Cappie Pondexter and the raw skills of promising freshman center Kia Vaughn, the Scarlet Knights still play their familiar brand of suffocating defense. If not for a surprising loss to West Virginia in the Big East tournament, which the coach is sure to use as motivation for a team that went undefeated in the conference regular season, the Scarlet Knights might have earned a No. 1 seed. The bad news for opponents is it's still entirely likely they'll play like one.
Tennessee:
After overcoming injuries and transfers to win 28 games and the SEC tournament, the Lady Vols are as much a part of the national picture as they've always been. But to actually win the school's first title since 1998, they'll have to survive for six games with limited resources. They still have a star in Candace Parker and star role players in Shanna Zolman, Sidney Spencer and Nicky Anosike, but Pat Summitt's team is desperately short on depth after losing Alexis Hornbuckle (broken wrist) and Sa'de Wiley-Gatewood (transferred to Maryland). Seemingly unbeatable in racing out to an 18-0 record with wins against Connecticut, Georgia, Louisiana Tech, Maryland, Michigan State, Old Dominion, Temple and Vanderbilt, the Vols were reminded of the sport's new reality in a 22-point loss at Duke and a subsequent loss at formerly downtrodden Kentucky. The rest of the regular season was a roller-coaster ride of coping, but wins against Georgia and LSU in the conference tourney suggest they may have circled the wagons at just the right time.
Graham Hays is a regular contributor to ESPN.com's women's basketball coverage. E-mail him at Graham.Hays@espn3.com.
espnW.com
Graham Hays covers college sports for espnW, including softball and soccer. Hays began with ESPN in 1999.
SPONSORED HEADLINES
MORE WOMEN'S BASKETBALL HEADLINES
MOST SENT STORIES ON ESPN.COM