Team effort saves Duke in ugly win
Updated:
March 29, 2006, 12:24 PM ET
By
Graham Hays
| ESPN.com
BRIDGEPORT, Conn. -- There are games when it becomes abundantly clear why basketball is a sport that determines its winners without the assistance of judges offering marks for artistic impression or aesthetic quality.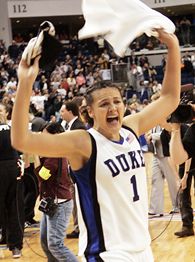 AP Photo/Bob ChildMistie Williams celebrates an Elite Eight win that Duke coach Gail Goestenkors called "the most beautiful ugly win that we've ever had."
Like two grizzled gunfighters squaring off in the gathering darkness on a dusty street in the modern day ghost town that is Bridgeport, Conn., Duke and Connecticut met Tuesday night to determine the final entry for this year's Final Four in Boston.
Unfortunately, after firing off every bullet in their chambers from 20 paces, the Blue Devils and Huskies had yet to hit much of anything. So they settled for the basketball equivalent of simply beating each other about the head with empty pieces of metal, right up until the final shot from Connecticut forward Charde Houston spun out of the basket at the end of overtime.
"That was the most beautiful ugly win that we've ever had in the history of our program," Duke coach Gail Goestenkors said after the win. "It was not pretty, by any means. When we shot poorly in the first half, I felt really good, because Monique [Currie] had been on the bench for us, and we shot so poorly. And I thought, 'My goodness, we can't possibly shoot this poorly for two halves.'
"And we didn't, but pretty close."
But as the Blue Devils -- who will play LSU at 9 p.m. ET Sunday (ESPN) -- danced on the court after a 63-61 overtime win that ensured the first Final Four since 1999 without Connecticut or Tennessee. As the arena emptied in the same "stunned silence" Currie said Monday that she and her teammates hoped to induce, all the missed shots didn't matter nearly as much as the Blue Devils' avoiding yet another missed opportunity in postseason play.
Blowing out inferior opponents in the early rounds, as the Blue Devils did against Southern, USC and Michigan State, is nothing new for a program with 18 NCAA Tournament wins since 2000. But getting the job done against another heavyweight when things start breaking down is enough to erase a lot of bad memories.
ESPN TV SCHEDULE
Sunday, April 2
• Final Four preview, 6:30 p.m. ET
• (2) Maryland vs. (1) UNC, 7 p.m. ET
• (1) LSU vs. (1) Duke, 9 p.m. ET

Tuesday, April 4
• Title game preview, 7:30 p.m. ET
• National championship, 8:30 p.m. ET
Before Tuesday's game, Goestenkors recounted almost losing Currie to the WNBA after last season, offering a somewhat surprising perspective.
"I think we'd still be an exceptional team [without Currie]," Goestenkors said. "Even last year, when she was considering going pro, I thought we were going to be a better team this year than we were last year."
Bold words considering Currie is a finalist for the Wade Trophy and a likely top-four pick in next week's WNBA draft. But with Duke's leading scorer in early foul trouble and never quite finding her rhythm while shooting 3-for-12 from the floor, the newest Blue Devil -- freshman Abby Waner -- showed exactly why the coach has so much faith in the rest of her team.
It didn't provide the final margin of victory, in fact, it didn't even give Duke the lead, but Waner's 3-pointer with 12:01 left in the second half might rank as the biggest shot of the season for the Blue Devils.
When Waner lined up her shot, Connecticut freshman Renee Montgomery had just brought the crowd at the Arena at Harbor Yard to its feet with an up-and-under layup that gave the Huskies their biggest lead of the game, 41-35. Currie had missed two free throws and a jump shot in the preceding two minutes and couldn't get anything going.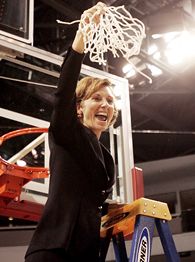 AP Photo/Elise AmendolaDuke coach Gail Goestenkors is taking the Blue Devils to their fourth Final Four since 1999.
It seemed like the perfect time to cue the video of Jackie Stiles and Lindsay Whalen and let Barbara Turner deliver another postseason coup de grace.
Only Waner, who dreams of broadcasting NBA games one day, wasn't around for any of the old nightmares and had a more dramatic ending in mind. Her long 3-pointer sliced Connecticut's lead in half and silenced the crowd. Minutes later, after missing another shot from behind the arc, Waner curled to the baseline and drained a slight fadeaway to cut the lead to a single point, 41-40.
As important as the actual points on the scoreboard, the sequence revealed a player not only willing but also eager to look for her shot on a night when nothing was falling for anyone else.
"We weren't really in a flow, and other people weren't hitting." Waner recounted after the game. "I had confidence in my shot, and what really helped was that the coaches were constantly telling me, 'Shoot, shoot, shoot.'
"And I felt like my teammates were 100 percent behind me. It's just the way that it came up, that we had a couple of out-of-bounds plays that were set up for me, and there were some good screens set and my teammates got me the ball."
With Connecticut's run halted, the game settled back into a slugfest that remained entirely up for grabs. But without the freshman stepping up when the team needed her most, things might have turned out much differently.
Just as they might have turned out differently if Alison Bales hadn't played like the best center heading to Boston, scoring 15 points and blocking eight shots on her way to being named the regional's most outstanding player. And just as they might have turned out differently if Chante Black hadn't made an instant impact on both ends of the court in the first half, or Lindsey Harding and Mistie Williams hadn't made clutch plays down the stretch.
Duke won ugly Tuesday night in one game, but the Blue Devils have tried the perfection angle before, only to find it's a difficult route to travel for six consecutive games.
The Blue Devils are heading to Boston for the Final Four in hopes of winning a title, not because their star player finally came through when it mattered most but because everyone else did.
Graham Hays is a regular contributor to ESPN.com's women's basketball coverage. E-mail him at Graham.Hays@espn3.com.
espnW.com
Graham Hays covers college sports for espnW, including softball and soccer. Hays began with ESPN in 1999.