Dayton the toughest; keep eye on Middle Tennessee
Updated:
March 13, 2007, 3:51 PM ET
By
Graham Hays
| ESPN.com
A blank NCAA Tournament bracket is nothing more than 63 unanswered questions. But hidden between the black lines in each of those thinning columns are hundreds of additional questions.
Here's a look at eight such questions arising from this year's field of 64 teams.
Which regional offers the toughest road to Cleveland?
As the crow flies, Dayton to Cleveland is by far the shortest route to this year's Final Four. But as the basketball bounces, it's a tougher route than Paris to Dakar.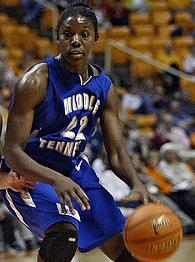 AP Photo/Wade PayneIn addition to the powerhouse top four seeds, Chrissy Givens and Middle Tennessee make Dayton even tougher.
For the second year in a row, Tennessee will spend a good part of the month of March trying to slog through Ohio in the tournament's toughest quarter of the bracket.
At least given the benefit of a No. 1 seed this time after being bumped to a 2-seed and dispatched to the brutal Cleveland Regional last year, the Lady Vols are joined by Maryland, Oklahoma and Ohio State in what would have looked like a decent Final Four as recently as a couple of months ago. For those scoring at home, that's the SEC and Big Ten regular-season champions, the Big 12 tournament champion and the defending national champion which lost all of one game to teams not named Duke or North Carolina.
And from the top seed's perspective, that doesn't even take into account what could amount to a road game against Pittsburgh in the second round or a potential rematch with in-state rival Middle Tennessee State in the Sweet 16.
Have fun with that.
It should make for some good television in Dayton, but it's tough to decipher how any of the top three seeds ended up at the bottom of a particular seed line on the infamous S-curve. Was Maryland really a weaker second seed than Purdue or Vanderbilt? And Oklahoma seemed destined for a No. 2 seed after winning the Big 12 tournament, but not only did the Sooners get bumped a line, they didn't even draw a spot in Dallas in return.
So could a team play spoiler in Dayton?
Glass slippers won't be the footwear of choice in such a top-heavy region, but Middle Tennessee might be the most dangerous outsider (team seeded fifth or lower) in the bracket.
The Blue Raiders should be able to get past Gonzaga in the first round, setting up a potential second-round game in Stanford, Calif., with Ohio State. The Buckeyes proved they can travel by going on the road to beat Oklahoma earlier this season, but this hasn't been the same team since Brandie Hoskins was lost for the year with an Achilles injury. Ohio State committed almost as many turnovers as it forced this season, and Hoskins had far and away the best assist-to-turnover ratio on the roster. That would be bad news against a Middle Tennessee team that averaged nearly 14 steals and 26 turnovers-forced per game.
Advance to the Sweet 16 and the Blue Raiders would be playing with house money. They suffered their worst loss of the season at Tennessee, but that was just the sixth game in uniform for junior-college transfer Amber Holt and freshmen Chelsia Lymon and Brandi Brown.
And, of course, the Blue Raiders still have Chrissy Givens.
There hasn't been a mid-major player more capable of taking over a game regardless of the opponent since Jackie Stiles starred for Southwest Missouri State. And wouldn't you know it, the Lady Bears were seeded fifth when they reached the Final Four in 2001, knocking off fourth-seeded Rutgers in the second round before beating heavily favored Duke in the Sweet 16 and Washington to earn a spot in the Final Four.
Which team has the best chance to beat a No. 1 seed during the opening two rounds?
Top seeds rarely struggle during the first four days, but there are a handful of potential second-round games (with apologies to first-round fodder Holy Cross, Maryland-Baltimore County, Prairie View and Drake) that might induce a mild sweat for players and coaches alike on the favorites.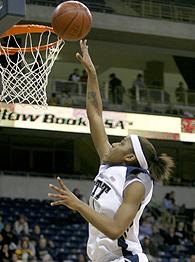 AP Photo/Andrew RushTop-seeded Tennessee faces a potential second-round matchup against Shavonte Zellous and Pitt -- in Pittsburgh.
Playing in a game that involves a homecourt advantage is nothing new for top-seeded Tennessee in the opening rounds, but playing the role of visitor in that equation will be a unique twist. Eighth-seeded Pittsburgh has its hands full with James Madison in the first round, but if the Panthers advance, they'll get to square off against the Lady Vols in front of a friendly crowd in Pittsburgh.
Still, while Pitt acquitted itself reasonably well against No. 1 seeds Duke and Connecticut in the regular season, and has firepower outside and inside with Shavonte Zellous and Marcedes Walker, a partisan crowd might only delay the inevitable.
With two No. 1 seeds opening in Pittsburgh's subregional, the city gets two opportunities to make headlines, and eighth-seeded California ultimately might be a better bet than the hometown favorites should the Bears get past Notre Dame in the first round and earn a shot at top-seeded North Carolina.
Few teams, regardless of seed, have more to throw at North Carolina's talented frontline than Cal does with Pac-10 player of the year Devanei Hampton and Ashley Walker.
An outstanding defensive team that limits opponents to 37 percent shooting and forces more than 17 turnovers per game, Cal is also exceedingly prone to turnovers itself, surrendering the ball nearly 19 times per game. The Bears are also not very deep, so if they let North Carolina coax them into a running game, they're done. But if they slow down things and take advantage of North Carolina's propensity for turnovers, it could get interesting.
Which No. 3 seed has the best chance of making it to Cleveland?
Little more than a week ago, things looked pretty good for LSU's basketball future. A surprisingly dominant win against Tennessee in the SEC semifinals had the Lady Tigers in position to win the conference tournament and wrap up a No. 2 seed in the NCAA Tournament.
Then came a loss against Vanderbilt in the conference final, a defeat which largely vanished from the radar when coach Pokey Chatman resigned, first effective at the end of the postseason and subsequently, after a barrage of speculation, effective immediately.
Nobody knows where this team's focus is right now. Maybe the players are rallying together, focusing on basketball as an escape from the questions that hound them off the court. Maybe they're distracted by the attention and distraught over the loss of a coach. Even if the media had full access to the team, it would likely be impossible to know how they will react when they step on the court against No. 14 UNC-Asheville on Saturday.
But if getting away from the firestorm in Baton Rouge, first to Austin and then potentially to distant Fresno, does bring some calm for the Lady Tigers, the simple basketball truth is that this is still an extremely talented group of players.
LSU already knows it can match up against Connecticut, the top seed in the region, after dropping a 72-71 decision against the Huskies a month ago after Renee Montgomery hit a 3-pointer with seven seconds to play and an apparent game-tying shot from Porsha Phillips was ruled a 2-point field goal when replays revealed her foot was on the line.
And with Sylvia Fowles manning the middle, the Tigers have the size to handle Stanford's imposing frontline while drawing the slower Cardinal away from the basket on the perimeter.
LSU might fall flat in the face of recent events, but it's worth remembering that they also have the talent to fly high.
Which program is best positioned to make the leap to elite status?
Texas A&M played its best basketball against the toughest competition during the regular season, posting a 4-0 record against conference heavyweights Oklahoma and Baylor. Throw in the favorable geography of a potential Sweet 16 showdown against North Carolina in Dallas, and the Aggies look like a legitimate sleeper to reach Cleveland.
There is no simple formula for beating North Carolina -- the Tar Heels win games even when they don't play well or don't get to play their style -- but athletic defensive-minded teams that can slow down a game have the potential to give Sylvia Hatchell's team fits. And perhaps no team this side of Rutgers fits that bill quite as well as Texas A&M. Opponents shot just 37.9 percent against the Aggies this season, in part because they were busy averaging 22 turnovers per game.
Even a win against North Carolina wouldn't guarantee Texas A&M a trip to the Final Four. Second-seeded Purdue plays a similar quality of defensive basketball and third-seeded Georgia has enough talent to qualify as perpetually enigmatic rather than perpetually disappointing. But after taking the first step with a 23-win campaign that ended in a disappointing first-round loss last season, the Aggies have a chance.
Who is the most overlooked player in the field?
It isn't likely to last beyond the opening two rounds in Hartford, but Mississippi senior Armintie Price deserves a curtain call on the national stage of the NCAA Tournament.
Playing in perhaps the strongest conference in the country, Price ranked among the top 50 players in the nation this season in points, rebounds and assists. Just for good measure, she also led the nation in steals at nearly four per game.
Price's shooting percentage dropped dramatically in conference play, highlighting a career-long fade that saw her field-goal percentage drop from 56.1 percent as a freshman to 43.6 percent as a senior, as defenses devoted more and more attention to stopping her. But there was no more mind-bending number this season than the 5-foot-9 Price averaging 10.1 rebounds per game in conference play.
Price will have her moment in Cleveland when the WNBA draft is held the day after the championship game, but she's still one of the college game's overlooked gems for at least one more day.
Where is the place to be during the opening two rounds?
If you've got the means, a trip to Stanford's campus is highly recommended. The eight games in the Bay Area offer the best of both worlds for the opening four days. Second-seeded Stanford, a darkhorse championship contender, will show its wares in the pod sending someone to the Fresno Regional. Games against Idaho State and either Old Dominion or Florida State in the second round might not tax the Cardinal, but they should offer a gauge of whether Candice Wiggins is at 100 percent after earning MVP honors in the Pac-10 tournament.
The site's other pod, sending a team on to Dayton, offers more short-term gratification. Ohio State and Middle Tennessee could meet in one of the second round's best games, assuming they get by upset-minded Marist and Gonzaga, respectively, in the opening round.
Which conference has the most to prove?
At least for the opening two rounds, the Colonial Athletic Association has the weight of the nation's mid-major programs on its three-pronged shoulders.
Thanks at least in part to down years in the Big Ten (three bids) and Pac-10 (four bids), the Colonial received two at-large bids in addition to the automatic bid that went to Old Dominion. The multiple at-large invitations are especially noteworthy considering neither James Madison nor Delaware claimed even a share of either the regular-season title or conference tournament title.
The selection committee put the Colonial teams in a position to earn their keep, seeding Old Dominion seventh and James Madison ninth in their respective regions (even No. 12 seed Delaware, presumably the final at-large team, has something to work in avoiding a protected seed in the first round).
The committee seems to have made a statement in rewarding mid-major programs like James Madison, Delaware and Sun Belt runner-up Louisiana-Lafayette at the expense of middle-class majors like Texas, USC and South Florida.
Now the newcomers need to do their part for parity.
Graham Hays is a regular contributor to ESPN.com's women's basketball coverage. E-mail him at Graham.Hays@espn3.com.
espnW.com
Graham Hays covers college sports for espnW, including softball and soccer. Hays began with ESPN in 1999.
MORE WOMEN'S BASKETBALL HEADLINES
MOST SENT STORIES ON ESPN.COM