Inside job could carry Stanford far
Updated:
March 15, 2007, 1:12 PM ET
By
Graham Hays
| ESPN.com
Stanford can win the NCAA title if: the Cardinal control the post
Make no mistake, Candice Wiggins is the key to Stanford winning its third national championship (and its first since 1992). But Wiggins is like oxygen; she's always around, and at some point, a tendency develops to take her for granted instead of marveling at all she does.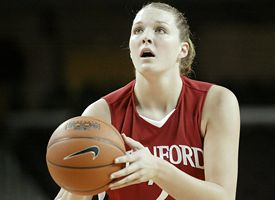 Larry Goren/Icon SMIStanford's Jayne Appel won Pac-10 freshman of the year honors this season.
Only Stanford found itself holding its breath earlier this season when Wiggins missed five games with a variety of the kind of injuries incurred when someone as wiry as the star guard plays perhaps the best all-court game in the country. And instead of passing out, the Cardinal survived by passing in, feeding the ball inside to Pac-10 country's tallest triplets this side of the Three Sisters peaks in Oregon.
Oklahoma has Courtney and Ashley Paris, North Carolina has Erlana Larkins leading a legion of versatile forwards and Connecticut has Tina Charles. But no team has a collection of posts quite like the one Tara VanDerveer can trot out with Brooke Smith, Kristen Newlin and freshman Jayne Appel.
Smith and Newlin already left a lasting impression on one NCAA Tournament, helping Stanford get the best of the Paris twins in the Sweet 16 last season and coming within a breath of beating LSU before succumbing 62-59 in a regional final.
Smith put up 49 points and 15 rebounds in those two games, including a 35-point masterpiece against the Sooners. The smallest of the posts at 6 feet, 3 inches, she is the most offensively polished, while Newlin does the dirty work inside on the glass and on defense.
But it's the newcomer who shifts this area from merely a strength to a potential championship foundation. Appel, the Pac-10 Freshman of the Year, has emerged as a blend of her two elders, showing off quick hands and good moves on offense and eating up space and swatting shots on defense.
It was Appel who, despite coming off the bench, led the way the final weekend of the regular season, maintaining Stanford's momentum even as Wiggins sat out a homestand against UCLA and USC. Appel posted 24 points, nine rebounds and four blocks against UCLA and followed with 14 points, nine rebounds and two blocks against USC.
She didn't start a game all season and still finished tied with Smith for the second-highest scoring average behind Wiggins, averaging 13.4 points on 54 percent shooting. She also finished third in rebounding at 7.4 boards per game and led the team with 55 blocks. All that despite averaging just 19.4 minutes.
Consider that last number for a minute. Appel is not Courtney Paris -- at least not yet -- but extrapolate the freshman's numbers out to the 30.3 minutes per game Paris plays and you get averages of 20.9 points, 11.6 rebounds and 2.8 blocks.
That's pretty close to what Paris -- who many justifiably argue is the most dominant post player in the history of women's college basketball -- offers the Sooners on a nightly basis.
The scary part is Wiggins and Appel have another season to spend together, but if the freshman doesn't play down to that label this postseason, the Cardinal might be able to send Smith and Newlin off with some strands of twine from Cleveland.
Graham Hays is a regular contributor to ESPN.com's women's basketball coverage. E-mail him at Graham.Hays@espn3.com.
espnW.com
Graham Hays covers college sports for espnW, including softball and soccer. Hays began with ESPN in 1999.
SPONSORED HEADLINES
MORE WOMEN'S BASKETBALL HEADLINES
MOST SENT STORIES ON ESPN.COM