Berglin shoulders the load for UW-Green-Bay
Updated:
March 19, 2007, 12:50 AM ET
By
Graham Hays
| ESPN.com
HARTFORD, Conn. -- You get the feeling Natalie Berglin doesn't understand what the big deal is. After all, she seems to say with a smile and a shrug, she still has one perfectly functional shoulder. How many does she need?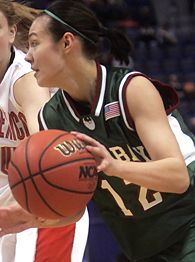 Bob Child/AP PhotoUW-Green Bay and Natalie Berglin won their first NCAA Tournament game since 2003.
Wisconsin-Green Bay's senior point guard guided the Phoenix to a 59-52 win against eighth-seeded New Mexico on Sunday night, totaling 11 points, seven rebounds and four assists while committing just one turnover and popping one partially dislocated shoulder back into place in 32 minutes.
Wait, that last one doesn't show up in the box score?
With just more than seven minutes remaining in the opening half and her team in a dogfight, Berglin poked the ball away from a New Mexico player and dove to secure it, landing solidly on her right shoulder, the one already encased in a large black brace. As the arm hung limp at her side and a grimace locked on her face, she somehow had the awareness to flip the ball to a teammate and tell her to call a timeout, at which point Berglin sprinted past the bench and into the tunnel at the Hartford Civic Center for some medical attention.
Along the way, she passed along the message that she'd be back.
"I tweaked it again and I had to leave the game and see the doctor, but everything was put back and I was ready to go," Berglin said. "I mean, it's something I can play through, thank God."
She would know, considering she has been playing through it since suffering the original partial dislocation in a game against Illinois State on Dec. 22. By her count, this was the second-worst incident, trailing only the original injury. But it didn't stop her from coming back out of the tunnel a couple of minutes later and returning to the court after less than a minute of game time had elapsed.
And it didn't stop her from hitting a 3-pointer less than a minute later, giving her team a 21-19 lead during the only period of the game when New Mexico seemed to be in control of tempo. For her teammates, it was typical Berglin.
"I knew, with how tough she is mentally and physically, that she was going to come back," Rachel Porath said. "We definitely knew she was going to come back, no matter what."
Coach Kevin Borseth is not a man who dispenses compliments with ease -- his own players say he's as pessimistic as a human can be -- but there seems to be an unspoken admiration behind his words when he talks about Berglin. It's as if he feels she's doing what any good point guard should do for her team, but he knows exactly how few would do it as selflessly and quietly as Berglin.
"You've got to play in pain," Borseth said. "She's had it a couple of times, and she just has to go back in and play. It's pain; it really is. She's a tough kid."
The injury is to Berglin's non-shooting shoulder, but that's small comfort for a player charged with handling the pressure more athletic teams invariably throw at the Phoenix. If any other player can't go one way, it's possible to disguise it. When a point guard needs to go right, there aren't a lot of shortcuts.
And at this time of year, every point guard carries the weight of a team's offensive continuity on her shoulders. Or shoulder, in Berglin's case.
"You get in the tournament, you better have a good guard and you better have a good big kid," Borseth said. "I think Nicole [Soulis] does a pretty good job for us, and I think Natalie does a good job for us. And that's really the heart and soul of your team. Good guards are really good when you get in NCAA play because they handle pressure and they get other kids open shots. And Natalie obviously did a great job tonight doing that."
Sophomore reserve point guard Kati Harty did an admirable job in her 12 minutes on the court, but it's no coincidence that New Mexico's largest run -- an 11-4 spurt in the first half -- came in a nearly four-minute period when Borseth rested Berglin. Whether it was spotting Amanda Popp leaking out on a break but waiting until she had crossed half court and had the best angle to make the pass for a transition layup, or making the pass that gave another player the right angle to get the ball inside to Soulis for a basket, Berglin ensured her team more than made up for what it lacked in athleticism with execution.
Even with a bum shoulder.
"I've been playing through it the whole year," Berglin said. "I don't want anything to slow me down, I mean, I want to enjoy my senior year and play as much as possible, as anyone would."
So after three years of postseason disappointment, including two opening losses in the NCAA Tournament and another in last season's WNIT, Berglin got a taste of something that's the perfect chaser for aspirin. She got to taste postseason victory.
"Amazing," Berglin described it. "I pretty much just came in thinking I want to feel it. I just want to be able to feel a postseason win. And right now it's great, all of us, we're just so excited. We're ready to keep going. We're ready to have some fun. We are having fun."
And finally, as the Wisconsin-Green Bay players gathered in the middle of the court to celebrate their accomplishment, we got to hear the sound of one hand clapping.
Graham Hays is a regular contributor to ESPN.com's women's basketball coverage. E-mail him at Graham.Hays@espn3.com.
espnW.com
Graham Hays covers college sports for espnW, including softball and soccer. Hays began with ESPN in 1999.