Boards, taking care of ball keys for Purdue
Four turnovers. Two and a half minutes. An 8-0 deficit.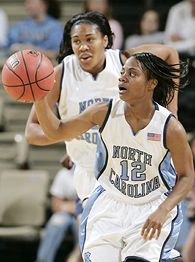 AP Photo/Mark HumphreyIvory Latta and Erlana Larkins (rear) give North Carolina a star-studded 1-2 punch.
That's what Purdue was staring at early in Sunday's Sweet 16 showdown against Georgia. The Boilermakers just couldn't take care of the ball, and by midway through the first half, the Lady Bulldogs' lead ballooned to 23-10.
Then Purdue senior Katie Gearlds started hitting shots and, more importantly, the Boilermakers didn't turn over the ball again before halftime. They trailed by just one point at the break and then hit a field goal only 19 seconds into the second half to take a lead they'd never relinquish en route to a 78-65 victory.
Against top-seeded North Carolina on Tuesday in the Elite Eight (ESPN, 9 p.m. ET), No. 2 seed Purdue can't afford another lapse. North Carolina has too many weapons and too much athleticism to keep up with if you're giving away points. The Tar Heels' offense feeds directly off its ability to convert points off of turnovers, but Purdue stands its best chance if the Boilers can force UNC to operate in a half-court offense and execute plays rather than get in transition.
The Tar Heels lead the nation in scoring offense, averaging 84.6 points per game. To beat them, Purdue must limit their possessions, which means dominating the boards in addition to keeping turnovers at a low.
It's no coincidence that the Tar Heels were outrebounded in all three of their losses this season. That puts the pressure on Purdue junior Lindsay Wisdom-Hylton and senior Erin Lawless to crash the boards.
ELITE EIGHT SCHEDULE
TUESDAY

(7) Ole Miss vs. (1) Tennessee
7 p.m. ET, ESPN (Dayton)

(2) Purdue vs. (1) UNC 9 p.m. ET, ESPN (Dallas)
But while they only had to worry about Georgia's Tasha Humphrey on Sunday (she ended up with 20 points but only two rebounds), Wisdom-Hylton and Lawless will have their hands full with UNC's talented frontcourt. For as much as senior point guard Ivory Latta is North Carolina's star, the Tar Heels post players could cause Purdue the most problems on Tuesday. Erlana Larkins, Camille Little, LaToya Pringle and Jessica Breeland combine for 43.5 points per game (just more than 50 percent of UNC's offense) and 27.4 of the Tar Heels' 45.6 rebounds per game. No matter which players rotate in, that inside battle will be a really tough matchup for Purdue.
Gearlds has to have a huge game, as well. She's a very talented player that Purdue will run off screens. Gearlds will curl, fade and go back-door, and her ability to mix it up is key because she's going to face a lot of athletic, long defenders. The X factor is how well Gearlds can read how she's being played and adjust her game to what's available.
North Carolina is the the No. 1 seed and the favorite. But if Purdue takes care of the ball and doesn't turn it over, the Boilers can win this game.
Nancy Lieberman, an ESPN analyst and Hall of Famer, is a regular contributor to ESPN.com's women's basketball coverage. Contact her at www.nancylieberman.com.
Basketball analyst / Writer
Nancy Lieberman, one of the most recognized individuals in women's basketball, is a men's and women's basketball analyst for ESPN. She works on ESPN and ESPN2's coverage of men's and women's college basketball, plus the WNBA and writes for ESPN.com.
SPONSORED HEADLINES
MORE WOMEN'S BASKETBALL HEADLINES
MOST SENT STORIES ON ESPN.COM