If ever there could be a game with no losers ...
Updated:
March 20, 2007, 4:41 AM ET
By
Mechelle Voepel
| Special to ESPN.com
RALEIGH, N.C. -- Baylor realizes what it's facing, of course.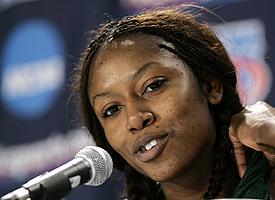 AP Photo/Mary Ann ChastainBaylor and Bernice Mosby know a lot of people will be rooting for emotional favorite NC State on Tuesday.
NC State is playing "at home," even if not at Reynolds Coliseum. The Wolfpack will have much more crowd support. And, of course, NC State players are fueled with the emotion surrounding coach Kay Yow's battle against breast cancer.
For lack of a better way to put it, Baylor might be viewed as sort of the "heavy" in Tuesday's highly anticipated NCAA Tournament second-round showdown with the Wolfpack (ESPN2, 7 p.m. ET). Most neutral fans' hearts are with the Wolfpack for obvious reasons.
"We know they are playing for something bigger than the game of basketball," Baylor's Jhasmin Player said of the Wolfpack players. "They're playing for a coach who is extremely sick and they want to win for her. We turn on ESPN and we see it; we look at the newspaper and we see it. We totally understand it.
"Our coaches try to keep us focused, though, because that's what we need to do."
Senior Bernice Mosby, who transferred from Florida and has made her one season at Baylor a very big success, also spoke graciously of Yow.
"Coach Yow is a great woman; I remember her recruiting me in high school," Mosby said. "She has a good heart, and it's going to be a very emotional night for both teams. What we have to do as a team is stay focused and know that we're playing to go to the next round. And after the game, hug her and tell her what she meant to this game."
But here is what we reporters didn't know at the time Mosby said this: She was dealing with her own sadness. After the Baylor locker room closed to the media, Lady Bears coach Kim Mulkey said that Mosby had learned earlier in the day that her home in Florida had burned down Sunday.
"Her uncle called this morning; her mother and sisters live there, and their home burned and they lost everything," Mulkey said. "Her mom didn't want her to know about it, for obvious reasons. But her uncle thought she needed to know from the family, in case she heard about it from somewhere else.
"She still had a great practice today. Her mother feels that this is where Bernice needs to be. Her initial reaction, of course, was, 'I want to go home.' But she's already come to a good place with this. As I told Bernice, while it's devastating to lose all those memories, she still has her family, and no life was lost. You can replace those other things."
Sometimes in the media, I know we can go overboard with the "sad stories." But it really is heart-wrenching to think of a young person having to deal with this at any time, let alone during the NCAA Tournament her senior year.
However, knowing Baylor fans and Big 12 fans like I do, I'm sure Mosby will be flooded with messages of support. And perhaps that will help a little bit.
In just this one season at Baylor, Mosby greatly impressed Big 12 followers not just with her play but how she fully accepted responsibility for what went wrong at Florida, which caused then-coach Carolyn Peck to remove her from the team.
"This has been a blessing, and I'm happy I'm here at Baylor with a great group of people surrounding me," Mosby said.
And there's one other story to tell about Baylor, and a reminder of a great enemy we all need to band together to fight as hard as possible: cancer.
Iwana McGee, who coached Mulkey her junior and senior seasons at Hammond High in Louisiana, is here in Raleigh to cheer for Baylor. McGee also coached at the collegiate level for a time, including a season at Lamar University.
"We've stayed in contact on and off," Mulkey said. "But probably more recently, since she herself is battling cancer. I don't want to say it was a surprise she came out here, because I knew she was. But it was a surprise considering her health condition that she would make the effort with her sister to fly out here and be a part of it.
"And I asked the question, 'Why now?' She said, 'Because I may not be here next year.' That's about as emotional and point blank as you can get. She is like Kay Yow -- she's influenced a lot of young people by what they've done in this life and their coaching endeavors."
You know … this is just one of those games where you wish like heck that nobody had to lose.
Mechelle Voepel of The Kansas City Star is a regular contributor to ESPN.com. She can be reached at mvoepel123@yahoo.com.
espnW.com
Mechelle Voepel joined ESPN.com in 1996 and covers women's college hoops, the WNBA, the LPGA, and additional collegiate sports for espnW.
SPONSORED HEADLINES
MORE WOMEN'S BASKETBALL HEADLINES
MOST SENT STORIES ON ESPN.COM