Yow's inspirational run ends as ACC goes 0-3
Updated:
March 25, 2007, 4:27 PM ET
ESPN.com
SATURDAY'S NOTES
By Mechelle Voepel
Well, this much is certain: There won't be three teams from the ACC in the Final Four again this year. Three went down in the Sweet 16 on Saturday, and now just North Carolina remains.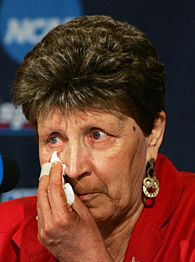 Gary Kazanjian/AP PhotoKay Yow, who is battling Stage 4 cancer, and the Wolfpack were playing in their first Sweet 16 since '01.
It was a rough day for the Atlantic Coast Conference, starting with Duke's 53-52 loss to Rutgers. After the game, ACC commissioner John D. Swofford released a statement basically pleading with fans to still show up to Greensboro Coliseum for the regional final between Rutgers (that school in New Jersey) and Arizona State (that school in Arizona, of course).
Yeah, good luck on getting folks in Greensboro to come out for that. The problem won't just be that women's hoops still has trouble drawing a good number of fans if there is no "local" interest. It's compounded when the local interest just got knocked out in very painful fashion. Think any Duke fans could possibly stand to come watch ASU-Rutgers?
Saturday then got worse for the ACC, as the feel-good story of the tournament, NC State, lost to Connecticut in the Fresno Regional. The Wolfpack almost -- but not quite -- did enough to win.
It might seem like "fate" would have helped out NC State …except "fate" doesn't really exist. We sometimes write that it does, but we're full of malarkey. The ball goes in the basket or doesn't go in based on the laws of physics. Either that or it's just luck. Wait a minute, that's kind of the same thing as "fate." Never mind.
NC State coach Kay Yow is in a battle for her life and we can all hope for a miracle for her. Typically, stage 4 cancer has only one inevitable ending. Yet Yow has displayed an amazing spirit and courage in fighting this most merciless of foes.
The Wolfpack players carried that inspiration from Yow with them all season, and it helped them to the ACC tournament finals and the Sweet 16. But eventually, a team that executed better than NC State for 40 minutes won.
Connecticut's Huskies had to put Yow's situation out of their minds, and -- honestly -- that probably wasn't all that difficult for them to do. None of those players really know her, nor do they play in her conference. For them, this was a game to get to the Elite Eight and make a push at another Final Four for a program that has defined excellence for more than a decade. They did exactly what they were supposed to do.
The ACC's rough day ended after it already had turned into Sunday on the East Coast. Underdog Florida State took out No. 2 seed Stanford in the second round, but its run ended against the superstar Sylvia Fowles and LSU.
Speaking of players who've had a ton on their minds … third-seeded LSU has been able to keep its focus in spite of coach Pokey Chatman's resignation and the subsequent fire storm that followed. The draw has worked well for LSU, admittedly, to get to the Elite Eight. LSU has beaten the No. 14, No. 11 and No. 10 seeds. Not exactly like facing No. 1, but that's what's coming on Monday against UConn (ESPN, 9 p.m. ET).
Meanwhile, on Sunday, the last hope of the ACC takes the floor, as the Tar Heels play their Sweet 16 game against George Washington. Before Saturday's games, it seemed possible, if not likely, that North Carolina would meet up with at least one of its league rivals in Cleveland. But if Tar Heels make it that far, they'll be representing the ACC alone.


HOPING GOESTENKORS ISN'T GOING, GOING GONE
By Graham Hays

Another postseason disappointment, this time falling to Rutgers in the Sweet 16 in achingly memorable fashion with Lindsey Harding at the free-throw line, means another calendar year of whispers, insinuations and flat-out accusations that Gail Goestenkors doesn't have what it takes to win a championship. After all, Goestenkors is the only constant in a lineage that has seen class after class come up short in March.
Whether or not its justified, such talk is reality for Goestenkors. And for Duke's sake, it's a debate that should remain centered in Durham for the foreseeable future.
Duke's administration would be making a bigger mistake than any misstep its women's basketball coach has ever made on the sideline if it lets her drift away to Texas, Florida or any other school with a vacant head-coaching position and money to spend.
Does that mean Goestenkors is worth money in the high six figures, which is where many have speculated an offer from Texas would fall? The women's basketball program loses money at Duke. It loses a lot of money, in fact. Could the school justify paying the coach of a program that loses money considerably more than it pays some professors?
In a word, yes.
Duke's postseason failures matter quite a bit to those of us who follow women's college basketball. But squandering leads against Rutgers in the Sweet 16 or Maryland in the 2006 national championship game matters very little to the much larger audience that is merely influenced by women's basketball.
For that group, some who could identify her and some who might not know they've been influenced by her, Goestenkors is the best role model from a generation of coaches looking to live up to ground-breaking contributions and sacrifices of coaches like Pat Summitt (and more poignantly, Kay Yow).
We long ago made the Faustian bargain in men's sports to accept athletes and coaches making far more than teachers, nurses and others who contribute much and are compensated little. We do that not because those people line the pockets of team owners or university athletic departments, but because sports matter to us above and beyond what might seem rational to an outside observer.
As a result, while sports have never been the first step or the most important step in creating an equal starting line in society, they have always been a step. And Duke has a woman who goes about getting the most out of her teams on the court without sacrificing anything off the court. She wins with class and loses with dignity. And that affects far more people than those in Duke jerseys.
Money shouldn't be a deciding factor, especially when it comes to college sports. If Duke chooses not to pay Goestenkors, it's because it doesn't think she's worth it, not because it can't afford the price tag.
Add up the tuitions of the students who set up tents to get tickets to this season's game against North Carolina and you probably cover the difference between Goestenkors' current salary and whatever a school like Texas might offer her.
So let us as fans and professional cynics worry about Goestenkors' tactical acumen in March; her value the rest of the year is worth whatever it takes to keep her in Durham.
ESPN'S TAKE
A look at what the experts were saying Saturday:
On Rutgers-Duke: "The thing that I was taken aback by was that Duke's perimeter wasn't as aggressive as it has been all season long. In big games, Lindsey Harding has stepped up her aggression. But she was passive and looked a little big confused by Rutgers' pressure. She had an uncharacteristic five turnovers and then the missed free throws in the end. The Duke players that had stepped up in big games all season long didn't do it (Saturday). Duke's full-court pressure never let up." -- Kara Lawson
"Matee Ajavon did a terrific job igniting Rutgers. She played with no fear and great aggression and attacked Duke -- Ajavon was the Scarlet Knights' only player to go to the foul line. Defensively, Rutgers held Duke to 25 percent shooting from 3-point range and converted 16 points off Duke turnovers in the second half. … Duke's Lindsey Harding has had an unbelievable career and is an All-American in my mind. She will have a fantastic career in the WNBA. -- Stacey Dales
On ASU-Bowling Green: "Arizona State did a nice job early on getting Emily Westerberg involved. She's the Sun Devils' leading scorer but really struggled offensively the first two rounds, as did the team. But they went to her early. Westerberg did a great job exploiting the left block in the mid-post area. She was 4-for-7 from the field for nine point and six rebounds in the first half and finished with 15 points and eight boards. The Sun Devils also did a tremendous job on the perimeter. Danielle Orsillo added scoring and Reagan Pariseau did a great job running the offense and getting the ball to the correct players at the right time. This is a team that has had defensive pressure and hustle all season long. The Sun Devils' depth wore down Bowling Green on Saturday." -- Kara Lawson
RU, ASU TO MEET AFTER ALL
GREENSBORO, N.C. -- Arizona State coach Charli Turner Thorne was asked about the regional final matchup that awaited her Sun Devils on Monday (ESPN, 7 p.m. ET). But ASU had just defeated Bowling Green 67-49, so Turner Thorne didn't know whom her team would play next. Duke-Rutgers had yet to tip off.

Yet there was an odd look on her face that suggested, somehow, she did know. Or at least suspected.
"Our players and the people in our ASU family think that it might be fate that this game will happen," Turner Thorne said.
"This game" means a matchup with Rutgers. Back on Nov. 25, the Sun Devils and Scarlet Knights were supposed to meet in the Paradise Jam in the Virgin Islands. But the Arizona State team woke up to horrific, heartbreaking news: Jordan Johnson, the 15-year-old brother of senior forward Aubree Johnson, had died overnight in his sleep.
It was later determined his death was caused by an enlarged heart. Jordan was there in the Virgin Islands with his family to watch his sister and the Sun Devils play. Obviously, there was no way on earth the ASU team could take the court later that day.
Rutgers coach C. Vivian Stringer could have picked up a victory by forfeit had she taken her team to the gym that day. But she didn't even consider it. Stringer, of course, has dealt with her share of personal tragedy, too. Her daughter suffered an illness in infancy that left her permanently disabled. And on Thanksgiving Day 1992, Stringer's husband, Bill, died of a heart attack. More …

PHOTO OF THE DAY
AP Photo/Mary Ann Chastain
After missing two foul shots with .01 seconds to play against Rutgers, Duke's Lindsey Harding (a 76 percent free-throw shooter) collapsed to the floor at the final buzzer.
IN MOTION
Rutgers downs No. 1 overall seed Duke in Greensboro
PLAYER OF THE DAY

Rutgers' Matee Ajavon: Numbers don't lie; they just need context to reveal the truth. Ajavon shot perhaps the most impressive 36.8 percent in recent memory on Saturday, scoring 20 of her team's 53 points as fourth-seeded Rutgers stunned No. 1 overall seed Duke 53-52 in Greensboro. Ajavon led her team in field-goal attempts, free-throw attempts (she was the only Rutgers player to get to the line) and assists, all while committing just two turnovers and playing a part in a perimeter defense that held player-of-the-year candidate Lindsey Harding to only five points. Other than that, she had a pretty quiet afternoon. -- Graham Hays

Honor Roll:
• Danielle Orsillo, ASU: Briann January, ASU's second-leading scorer, was a game-time scratch (she's still ailing from a concussion suffered in a second-round win over Louisville). So in just her third start of the year, Orsillo, a sophomore guard, had a team-high 16 points (she averages 9.7 ppg) and nailed her first six shots.
• ASU 67, Bowling Green 49

• Kalana Greene, UConn: Teammates Tina Charles and Charde Houston dominated inside, but Greene got it done, too. The sophomore guard took just six field-goal attempts but went 11-of-12 at the foul line. Greene notched her fifth double-double of the season with 17 points and 12 rebounds.
• UConn 78, NC State 71

• Quianna Chaney, LSU: Chaney hit consecutive 3-pointers during a 13-2 run that gave LSU a 20-8 lead 12 minutes into the first half, then added eight of her game-high 22 points during a 10-0 run to open the second. The junior guard was 9-for-17 from the field and 4-for-6 from downtown.
• LSU 55, Florida State 43

• Epiphanny Prince, Rutgers: She once scored more than 100 points in a high school game. But no basket was bigger Saturday than the two points the freshman scored on a layup with 20 seconds to play to give Rutgers the lead for good. And oh yeah … she ripped the ball out of the hands of Duke's Wanisha Smith before going coast-to-coast.
• Rutgers 53, Duke 52
AWKWARDS' MOMENT

DAYTON, Ohio -- Media day during the NCAA Tournament usually unfolds along the lines of the least amusing mad lib you've ever completed.

"We're very happy to be in [noun that's name of a city]." … "We just need to come out and [verb describing the exertion of effort] hard." … "We're not even thinking about [name of basketball-playing school]. All we're worried about is [name of another basketball-playing school] and our game tomorrow."

But every so often, a star emerges for reasons that have nothing to do with the court. Mississippi's Ashley Awkward will have a very sizable say in what happens for the Rebels against Oklahoma on Sunday, but it won't be easy for her to provide more entertainment than she did drawing laughs during the Rebels' turn talking to the press.

"Actually, I am awkward," she said in response to a query about the apparent irony of her name. "My feet and hands are abnormally large. I was supposed to be about five inches taller than I am; blame it on my mother for smoking cigarettes."

And Awkward wasn't done. Before she exited stage right, she took playful shots at her coach's penchant for less than positive reinforcement and the team's strength and conditioning coach and his penchant for seemingly sadistic sprints. -- Graham Hays
FOWLES LEADS LSU FAR
Seimone Augustus is gone. Temeka Johnson is gone. Pokey Chatman is gone. Sue Gunter is gone forever. And yet here sits LSU, just one game away from its fourth consecutive trip to the Final Four. Considering all that the Tigers have lost, perhaps it takes someone the size of Sylvia Fowles to embody at least a little of what all four of those people meant to the program.

Quianna Chaney led the way in the box score against Florida State on Saturday, hitting at will from behind the arc, but Fowles set a tone early, giving the Seminoles a matchup conundrum they never solved and opening up the floor for her teammates.

Overshadowed by controversy on her own campus, overshadowed by Candace Parker in her own conference and overshadowed by Courtney Paris in the post, Fowles is one game away from getting at least an equal share of the spotlight.

Fittingly, it's Connecticut, the last team outside the SEC to beat the Lady Tigers with Chatman on the sideline (snapping a 43-game home winning streak for LSU when they did it) and the last program to make four consecutive trips to the Final Four, that stands between LSU and a trip to Cleveland. -- Graham Hays
UCONN STARTS SLOW, FINISHES FAST
Considering the emotion NC State had been playing with since the return of Kay Yow, and just as importantly, the way that emotion had been funneled into execution, a seven-point win for Connecticut on Saturday night is impressive in its own right. Nobody was going to blow out the Wolfpack, so margin of victory shouldn't be an issue.

Except that the way the Huskies claimed the lead, mounting their second consecutive second-half surge, is troubling for reasons that go beyond the opponent on the court in Fresno.

Consider these halftime scores for a team that trailed by two at the break on Sunday:

Jan. 6: Tennessee 41, Connecticut 29. Jan. 15: North Carolina 41, Connecticut 36. Feb. 11: LSU 37, Connecticut 31. March 6: Rutgers 29, Connecticut 26. March 20: Wisconsin-Green Bay 40, Connecticut 38.

The Huskies have an undeniable tendency to start slowly in big games. The good news is they rallied for wins against NC State, Wisconsin-Green Bay and LSU. The bad news is, as futile rallies against North Carolina, Tennessee and Rutgers proved, that's a tough way to win against the kind of teams they'll face if they want to win a title. -- Graham Hays
DAYTON LOOK-AHEAD
DAYTON, Ohio -- Candace Parker and Courtney Paris are the stars of the show at this weekend's Dayton Regional, but avoiding the fate that befell top-seeded Duke might ultimately hinge as much on each star's supporting casts as anything Parker and Paris do on Sunday.

Consider three numbers worth tracking in addition to Parker's and Paris' lines: Sidney Spencer's offensive rebounds for Tennessee, freshman Jenna Plumley's assist-to-turnover ratio for Oklahoma and Marist point guard Alisa Kresge's fouls. More …
NOTABLE NUMBERS
36.08, minus-79.82

-- The latitude and longitude, respectively, of Greensboro, N.C., site of Duke's only two losses this season. The Blue Devils compiled 32 wins everywhere else, from Cancun, Mexico, to College Park, Md. But just three weeks after losing to NC State in the semifinals of the ACC tournament, Duke was bedeviled again at the Greensboro Coliseum on Saturday.

0/8 -- Rutgers wasn't the only defense doing its job. Arizona State held Bowling Green junior point guard Kate Achter scoreless. Achter, who was averaging 11.6 points and 5.1 assists, missed all six of her field-goal attempts and committed eight turnovers with just four assists in 36 minutes.

151 -- Duke senior Alison Bales blocked four shots to push her to 151 on the season, just one short of the NCAA single-season record. Bales, who scored 21 points to match her season high, ranks third in the NCAA in career blocks (434) and first (620) in NCAA Tournament play.

13 -- For the first time in 13 years, the nation's No. 1-ranked team failed to reach the Elite Eight (Tennessee was the last, in 1994).
SPONSORED HEADLINES
MORE WOMEN'S BASKETBALL HEADLINES
MOST SENT STORIES ON ESPN.COM
STORIES FROM HUFFINGTON POST