On SECond thought, maybe it's not the ACC's year
Updated:
March 26, 2007, 2:08 AM ET
ESPN.com
SUNDAY'S NOTES
By Mechelle Voepel
The term "under the radar" never truly applies to the SEC. But as much as it possibly could, it somewhat fit the SEC this year.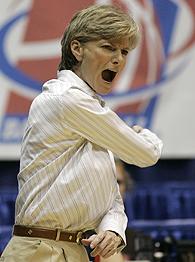 AP Photo/Al Behrman)Carol Ross' Rebels are headed to their first Elite Eight in 15 seasons.
Tennessee, which was perfect in SEC regular-season play, got its usual amount of attention. But the league that received most of the spotlight was the ACC, and for obvious reasons.
The ACC had three teams in the Final Four last year, and the title game was an all-ACC affair. For a chunk of this season, Duke, North Carolina and Maryland were ranked the top three teams in the country. When they met in Chapel Hill on Feb. 8, Duke and North Carolina were both still undefeated.
Six ACC teams made the NCAA Tournament field, and all of them got at least as far as the second round. No. 7 Georgia Tech won its first NCAA Tournament game in program history. Florida State, a No. 10 seed, knocked out No. 2 Stanford in the Fresno Regional to make the program's first Sweet 16.
But … Maryland exited in the second round, with Ole Miss making the Terps look like not nearly the team they actually are -- or at least what the sum of their parts makes us think they are. Duke lost in agonizing fashion to Rutgers in the Sweet 16, and NC State also went out in the regional semifinals, to UConn.
North Carolina is the ACC's lone remaining representative, while the SEC has three of the Elite Eight (Tennessee, LSU, Ole Miss) and the Big East has two (UConn, Rutgers). The other leagues still in play are the Big Ten (Purdue) and the Pac-10 (Arizona State).
What does this all mean? Did we underestimate the SEC and overestimate the ACC all season? Maybe we did the former, but not the latter.
Duke is a team that surprised most people this season. After losing Monique Currie, Mistie Williams and Jess Foley to graduation, the Blue Devils also lost Chante Black all year to injury. Duke was sixth in both polls to start the season. I think if someone had said in November that Duke would finish third in the ACC -- where the Devils were picked -- and make the Sweet 16, most would have thought that was a very fair projection.
As it turned out, of course, Duke won the ACC regular-season title and earned itself the NCAA Tournament's overall No. 1 seed. But if the Duke 2006 team played the Duke 2007 team -- not that such a thing is possible, of course, since several of the Blue Devils would have to play their own selves -- which would you pick? Duke 2006. That was the team that should have won the NCAA title, and would have, save a remarkable comeback effort by Maryland.
This year's team was a lot about individual improvement by players who finally got more of a spotlight and overall balance. It's not making excuses for the Blue Devils to say they overachieved to get to the position of becoming the so-called favorite for the national championship this year.
Maryland found out the hard lesson that it can be more difficult to be the hunted instead of the hunter. We kept waiting to see the Terps take off this season, but it never quite happened. Still, much of that team returns for next year … and the Terps will be back to feeling as though they are "hunters" again.
How about the Big 12? The league got in six teams, but only Oklahoma made it as far as the Sweet 16, where it was run ragged by Ole Miss. The Big 12 coaches raved about the parity in the league this year, and they were right -- from the standpoint that it was often difficult to predict who was going to win night in and night out during league season. But overall, there have been years when the Big 12 had more really strong contenders for making a long NCAA run. (Not that all those teams necessarily ended up making such a run.)
Which brings us back to the SEC. We knew Tennessee was going to be in the Elite Eight because … well, because. The last time that didn't happen was 2001. But third-seeded LSU, ranked No. 10 in the preseason, and No. 7 seed Mississippi, which was unranked, are the teams that have gone further than expected.
LSU was coming off three straight Final Four appearances but had lost superstar Seimone Augustus (no one had any inkling what else LSU would have to go through this season).
And Ole Miss had been off the national radar for a long time, even if star senior guard Armintie Price was a known commodity. When you see how Carol Ross' team has performed in back-to-back NCAA Tournament games against Maryland and Oklahoma, you wonder how it lost 10 games this season.
Had Georgia beaten Purdue on Sunday night, the SEC would have made up half of the Elite Eight and really would have crowed. As it is, three of eight is still pretty darn good -- especially considering SEC tournament champion Vanderbilt isn't one of them.
The SEC really doesn't need much of a "bragging rights" boost -- not with its history. Still, the league's performance in this NCAA Tournament so far does show once again how strong this conference is -- especially at the most important time of the season.


FRESNO LOOK-AHEAD
By Beth Mowins
FRESNO, Calif. -- The SEC sent more teams than any other conference to the Elite Eight. On Monday, LSU will try to become the league's first to secure a spot in the Final Four.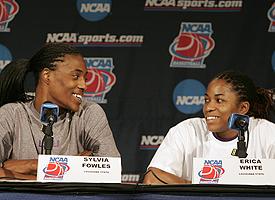 APIf center Sylvia Fowles, left, and point guard Erica White can have big games against UConn, LSU might knock off Fresno's 1-seed. And reach its fourth straight Final Four.
The third-seeded Lady Tigers -- who are seeking their fourth straight trip to the national semifinals -- face top-seeded Connecticut on Monday night (ESPN, 9 ET) in the regional final in Fresno. The winner will advance to the Final Four to play the Greensboro Regional champion, either Rutgers or Arizona State, which will be decided at 7 p.m. ET on Monday (ESPN).
At the teams' news conferences Sunday, there was much ado about the coming matchup in the paint between LSU's Sylvia Fowles and UConn's talented inside duo of freshman Tina Charles and junior Charde Houston.
But this game likely will come down to the point guard battle between 5-foot-7 Huskies sophomore Renee Montgomery and 5-3 Lady Tigers junior Erica White.
Their last meeting turned out to be a turning point for both. Montgomery had a huge game that night, scoring 20 points on 7-for-13 shooting, with seven assists and six rebounds, in one of her best performances of the season. When LSU tied the score with 17.1 seconds left, Montgomery was the one who answered with a 3-pointer -- over White -- to give the Huskies the lead again with 6.7 seconds to play. She scored UConn's final eight points.
And including the win over LSU, Montomery has averaged 15.2 points per game since, which is two more per game than her season average. She also has had five games with at least six assists.
White, on the other hand, didn't have a great game Feb. 11. Although she had no turnovers and dished out six assists, White was just 1-for-7 from the field for two points. Story


RUNNIN' REBELS
DAYTON, Ohio -- If you want to understand how the University of Mississippi women's basketball team has come within a game of the Final Four, you'd better bring sneakers. Because you aren't going to get anywhere just walking a mile in their shoes.
You'd better run.
And if you really want to understand the Rebels, you might as well keep running until Carol Ross and Darren Edgington tell you to stop.
Seventh-seeded Ole Miss scored its second straight upset against one of the supposed heavyweights of the "Regional of Death" in Dayton, moving within one win of a trip to Cleveland by beating third-seeded Oklahoma 90-82 Sunday. The Rebels now face top-seeded Tennessee in an SEC rematch in the Elite Eight. In their only meeting this season, the Lady Vols beat the Rebels 81-69 in Knoxville on Feb. 15; Ross is 1-19 all time against Tennessee, which includes 12 seasons at Florida.
Almost from the outset, Ole Miss dictated that Sunday's game would be played at coach Ross' preferred frenetic tempo. In an arena that was hot and muggy enough to wilt sheets of paper on press row, the Rebels simply wore down the Sooners.
"When we started, we played at a super-fast speed," Oklahoma sophomore Courtney Paris said. "It took me awhile to get into it with the heat. We knew how quick they are, but experiencing it is something else." More …
LADY VOLS STRICTLY BUSINESS
DAYTON, Ohio -- Business or pleasure?
After dispatching Marist in brutally efficient fashion in a 65-46 win Sunday afternoon, there's little doubt which box Tennessee checked before departing for Dayton.
Tennessee hasn't won a national championship since beating Louisiana Tech in 1998 and hasn't played for the title since losing to Connecticut three years ago. That's a drought of Dust Bowl proportions for a program with arguably the richest history in the sport, and perhaps it explains why the Lady Volunteers seem to be treating this weekend's regional a little like an unwanted layover on the way to Cleveland.
It's a team focused only on its own craft. Even if that means being the bully who takes the feel-good story of the NCAA Tournament and clinically reduces it to a few ineffective verbs, adjectives and prepositions.
A little less than an hour before Sunday's game, a sharp whistle from a trainer sent Tennessee's players, aligned in rows on their half of the court like a football team going through pregame stretching, slide-stepping to their right. And in Shannon Bobbitt's case, sliding directly into the path of a couple of Marist players making their way back to the team's locker room. Bobbitt didn't hesitate for a second, finishing her slide and forcing the players in red to sidestep around her. More …
PHOTO OF THE DAY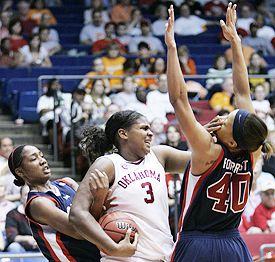 AP Photo/Ann Heisenfelt
Ole Miss made Oklahoma standout Courtney Paris earn every one of her 31 points (14-for-24 from field) and 20 rebounds (eight offensive).
IN MOTION
Monday's Elite Eight preview
IN MOTION, TAKE II
Ole Miss runs past 3-seed Oklahoma
PLAYER OF THE DAY

Mississippi's Armintie Price: It was just one game, but if you didn't find yourself at least reconsidering your player-of-the-year preference while watching Price run roughshod over the Oklahoma Sooners, you weren't watching closely enough. Coming off a brilliant opening weekend against TCU and Maryland, Price put together her most impressive performance yet, totaling 31 points, 10 rebounds, five assists and five steals to lead No. 7 Mississippi past No. 3 Oklahoma 90-82. Courtney Paris didn't disappoint with 31 points and 20 rebounds, but the star of the show Sunday afternoon in Dayton was the senior in blue who dominated the entire length and width of the court the way Paris so often dominates the paint. Price also joined Cheryl Miller as just the second player in NCAA history to tally 2,000 points, 1,000 rebounds, 400 assists and 400 steals in her career. -- Graham Hays
• Mississippi 90, Oklahoma 82

Other three games:
• Katie Gearlds, Purdue: Playing all 40 minutes of the Dallas Regional semifinal in which the Boilers overcame a 12-point first-half deficit, Gearlds poured in 30 points, hit 10 of 16 shots, snared nine rebounds and committed just one turnover. She's averaging 24 points in three NCAA Tournament games and has tallied at least 30 points in four games this season.
• Purdue 78, Georgia 65

• LaToya Pringle, North Carolina: The junior post collected 16 points and 14 boards (including five offensive) and blocked four shots. Pringle attempted just five field goals (making three), but went 10-for-12 at the foul line as UNC cruised into its third straight Elite Eight.
• North Carolina 70, George Washington 56

• Pat Summitt, Tennessee: How can we give the nod to Summitt when we didn't honor NC State's Kay Yow on Sunday? Well, you got us there. But the Tennessee coach gets props for keeping the Lady Vols in line -- like when they looked a little too happy with themselves for beating 13th-seeded Marist. Summitt's reaction? That infamous stony glare. Team managers also might be shopping for a new dry-erase board after Summitt slammed it to the ground during one timeout huddle. After the game, Candace Parker said Summitt's ire was directed at her, the sophomore standout who "needed to play better defense."
• Tennessee 65, Marist 46
OFF-COLOR REMARK
GREENSBORO, N.C. -- It appeared to be one of those "blood briefly runs cold" moments for Arizona State coach Charli Turner Thorne. Her third-seeded Sun Devils were asked during a news conference Sunday whether they sensed that they were the "underdog" against No. 4 Rutgers, even though ASU is the better seed.

First, Aubree Johnson answered, "If you pay attention to the media, I would say we're probably not the favorite. Just because [the Scarlet Knights] are so athletic and have a lot of individual great players. We aren't as 'heard of' as Rutgers; they have the past history of being at the Final Four."

Then a little later, Emily Westerberg was asked whether the Sun Devils felt underrated.

"We've always been underrated. I like that fact," Westerberg said. "I like that people can look at us and think we're a bunch of skinny, white girls who aren't athletic. I've always been on a team that has that.

"It's OK for me to hear that, and we're about going out and playing hard and having fun. It doesn't matter what people say. People are going to throw things around, especially the media all the time, and it's about what you do and how you perform."

You can probably figure out what part of the above quote made Turner Thorne cringe, although she later said she had no problem with any of her student-athletes' answers. But it seemed as though, like any coach, she would have preferred Westerberg not make a racial reference, however offhand it appeared to be.

In terms of Arizona State being the so-called perceived underdog, Turner Thorne said she thought her players probably paid more attention to that than she did.

"My husband sometimes lets me know, 'There was nothing on the Web site about your guys' game,' and I'm like, 'OK, good,'" Turner Thorne said. "And I try to coach my players to basically keep the external distractions out. Because a lot of times, things are brought up. And I don't believe in, 'Oh, get a chip on your shoulder.' I believe in positive energy."

Turner Thorne did not say what Web site her husband was referring to. But it seemed pretty obvious that the Sun Devils do feel a little underestimated. Then again, considering the Pac-10 hasn't had a Final Four team since 1997 and hasn't won an NCAA title since 1992 -- and both of those were Stanford -- it's understandable if women's basketball observers are waiting for the league to prove its mettle in March with a team other than the Cardinal. -- Mechelle Voepel
USED TO BE A REBEL
DAYTON, Ohio -- Two years ago, nearly to the day, Liz Cansdale played her final college game for Mississippi, scoring a team-high 13 points in a 60-57 loss to George Washington in the first round of the NCAA Tournament.

On Sunday, wearing jeans and an Ole Miss T-shirt instead of shorts and a jersey, she was among a small group of Rebels fans cheering from the stands in Dayton. Now coaching high school basketball in her hometown of Las Vegas, Cansdale couldn't resist making the trip across the country to see her old mates and live vicariously through them.

"Some of the players now are my old teammates, and just to see how much they've improved and gotten stronger, matured, and their poise, it's just very exciting to see them succeed like this," Cansdale said.

Standing in the hallway outside the Ole Miss locker room after the win, she teased Ashley Awkward about the senior's poise at point guard late in the game and joked about the abundant postgame spread laid out for the victors compared with the meager food provided back in her day, all the while looking almost as excited as (and considerably less tired than) her former teammates.

"I definitely feel like I'm a part of this," Cansdale said.

As she and every other player who ran the sprints and put in the work should. -- Graham Hays
NOTABLE NUMBERS
19

-- In 12 years at Florida and now four at Mississippi, Rebels coach Carol Ross is 1-19 all time against Tennessee and Pat Summitt. Ole Miss faces the Lady Vols in the Elite Eight, its first regional final appearance in 15 years.

10 -- Purdue has won 10 in a row for the longest winning streak of any team in the Elite Eight. Also of note, Purdue is the last No. 2 seed standing. And don't forget that the last three national champions -- Maryland in 2006, Baylor in '05 and UConn in '04 -- were all 2-seeds.

6 -- If we close our eyes tight, we can look past Erlana Larkins' seven turnovers. More noteworthy, however, were the North Carolina junior's six assists -- which she had by halftime and were as many as George Washington totaled as a team in the first 20 minutes.
SPONSORED HEADLINES
MORE WOMEN'S BASKETBALL HEADLINES
MOST SENT STORIES ON ESPN.COM