Resilience, focus carry LSU to Cleveland
Updated:
March 27, 2007, 3:22 PM ET
ESPN.com
MONDAY'S NOTES
By Graham Hays
Maybe the fourth time will be the charm for LSU in the Final Four.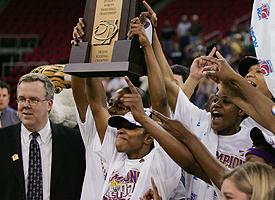 AP Photo/Gary KazanjianAs acting head coach, LSU's Bob Starkey, left, is 4-0. And the Lady Tigers are off to their fourth straight Final Four.
The Lady Tigers are heading back to the NCAA Tournament semifinals for the fourth year in a row after
beating top-seeded Connecticut 73-50
Monday night.
And for the second year in a row, media day at the Final Four might include a moderator stepping in to interrupt the first question about a touchy subject. Last year, it was Duke's players forced into awkward silence when asked about the lacrosse scandal that was still unfolding at that time on their campus. This year, LSU's players will have the specter of Pokey Chatman's sudden resignation hanging over their heads.
And that's a shame. All of these players were recruited by Chatman, but nothing in any of the allegations surrounding the former coach -- Chatman allegedly had a sexual relationship with a former player -- suggests any of these Lady Tigers were involved in the circumstances of her departure. And ironically, the greatest testament to the strength of will she instilled in them and the talent she honed comes from their ability to play through the controversy surrounding her departure.
The Lady Tigers' win against the Huskies in Fresno combined with Rutgers win over Arizona State in Greensboro means one of those two programs will play for the national championship for the first time.
That's not the only connection these teams share, considering LSU led the nation in field-goal defense and forced 18.3 turnovers per game. Bob Starkey's team lived up to those numbers against the Huskies, keeping Tina Charles and Charde Houston bottled up in the paint without sacrificing open shots for Mel Thomas or open lanes for Kalana Greene.
LSU didn't so much beat Connecticut as smother it, holding Charles, Greene and Houston to 13 points on 25 percent shooting.
And like the Scarlet Knights, the Lady Tigers took advantage of lowered expectations in the wake of a star's departure -- Seimone Augustus for LSU and Cappie Pondexter for Rutgers -- to come together, while their critics wrote them off completely during the lowest moments of the regular season.
Before beating Tennessee in the SEC tournament, LSU had gone 2-5 against teams seeded fifth or better in the NCAA Tournament. But only one of those defeats, a 68-58 setback at Vanderbilt, came by a double-digit margin, hinting at how close this team was to turning a corner.
Aside from 6-foot-6 junior center Sylvia Fowles, who has put on a show in the tournament rivaled only by Mississippi's Armintie Price thus far, the biggest manifestation of that improvement is LSU's outside shooting. The Tigers were averaging just 3.5 3-pointers and shooting only 32.6 percent from behind the arc heading into Monday's game. But a 7-for-10 night against the Huskies wasn't out of character, relative to the team's postseason performance.
In LSU's first three NCAA Tournament games, junior guard Quianna Chaney shot a torrid 47.8 percent from deep while averaging more 3-pointers per game on her own than the entire team did during the regular season. Junior guard RaShonta LeBlanc also checked in at 50 percent (6 of 12) from beyond the arc. Against Connecticut, Chaney was at it again with two more 3-pointers, and junior Ashley Thomas (2-for-2) and freshman Allison Hightower (3-for-4) joined the barrage. Before the tournament, LSU hadn't hit more than five 3-pointers in a game since Jan. 18; now the Lady Tigers have done it in three of the last four games.
When a great defensive team suddenly goes from a mediocre shooting group to a collection of dangerous marksmen, it's not so difficult to find the few extra points that seemed to haunt the Lady Tigers earlier in the season. And the result was the kind of championship chemistry on display in Fresno.
Here's hoping the focus on Cleveland is on their role at the Final Four and not on Chatman.


BIG SYL, BIG TIME
FRESNO, Calif. -- After Pokey Chatman's resignation, Sylvia Fowles knew she needed to step up and be more of a leader at LSU. Nineteen days later, Fowles is more vocal and dominant -- and also playing the best basketball of her career. On Monday, Fowles put in one of the most dominant performances I've ever seen in a regional final.
Fowles had an impact in every facet of the game. She scored 23 points, grabbed 15 rebounds and blocked six shots. She even dished out one assist -- her first of the NCAA Tournament and just her 16th of the season.
The blocks really seemed to damage the Huskies' psyche. Freshman Tina Charles and junior Charde Houston had combined to average 32.7 points in UConn's three previous NCAA Tournament games. But they were both ineffective Monday, combining for just five points (on 2-for-12 shooting) and nine turnovers. The Huskies finished with just eight points in the paint and were completely turned away from the middle. That had everything to do with Fowles.
The big key was that on the occasions that UConn was able to defend Fowles and Quianna Chaney, the Lady Tigers' other top offensive threat, LSU's outside players got open and started knocking down shots. Freshman Allison Hightower doubled her scoring average for 12 points and Ashley Thomas -- who hadn't hit a field goal since LSU and UConn played Feb. 11 (a knee injury forced her to sit out four of the 11 games in between meetings) -- went 5-for-8 from the field, hitting both of her 3-point attempts to score 12 points. She's averaging just 4.5 points this season.
Throughout the first four rounds of the tournament, coach Bob Starkey and his players have remained completely focused on the task at hand. They refused to be distracted, and it seems adversity has actually made them stronger.
DALLAS LOOK-AHEAD
DALLAS -- Four turnovers. Two and a half minutes. An 8-0 deficit.
That's what No. 2 seed Purdue was staring at early in Sunday's Sweet 16 showdown against Georgia. The Boilermakers just couldn't take care of the ball, and midway through the first half, the Lady Bulldogs' lead ballooned to 23-10.
Then Purdue senior Katie Gearlds started hitting shots and, more importantly, the Boilermakers didn't turn over the ball again before halftime. They trailed by just one point at the break and hit a field goal just 19 seconds into the second half to take a lead they'd never relinquish en route to a 78-65 victory.
Against top-seeded North Carolina on Tuesday night (ESPN, 9 ET), Purdue can't afford another lapse. North Carolina has too many weapons and too much athleticism to keep up with if you're giving away points. The Tar Heels' offense feeds directly off its ability to convert points off turnovers, and the Boilermakers stand their best chance if they can force UNC to operate in a half-court offense and execute plays rather than get in transition.
The Tar Heels lead the nation in scoring offense, averaging 84.6 points per game. To beat them, Purdue must limit their possessions, which means dominating the boards in addition to keeping turnovers at a low.
It's no coincidence that the Tar Heels were outrebounded in all three of their losses this season. That puts the pressure on Purdue junior Lindsay Wisdom-Hylton and senior Erin Lawless to crash the boards.
But while they only had to worry about Georgia's Tasha Humphrey on Sunday (she ended up with 20 points but only two rebounds), Wisdom-Hylton and Lawless will have their hands full with UNC's talented frontcourt. More …

PHOTO OF THE DAY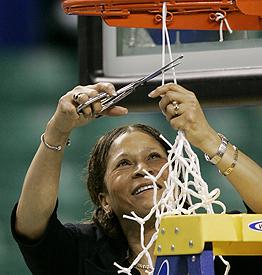 AP Photo/Mary Ann Chastain
For the fourth time in her career, and second at Rutgers, coach C. Vivian Stringer is headed to the Final Four.
IN MOTION
LSU ousts UConn
IN MOTION, TAKE II
Rutgers routs Arizona State
PLAYERS OF THE DAY

LSU's Sylvia Fowles: Read the rest of this page. Need we say more? OK, here goes. The 6-foot-6 junior center had 23 points (her third straight game of 20 or more points), 15 rebounds (her 28th performance of 10 or more this season), six blocks (76 on the season) and one assist (her 16th of the season) to lead LSU to its fourth consecutive Final Four.
• LSU 73, Connecticut 50

Rutgers' Kia Vaughn: Like Fowles, Vaughn dominated the lane for 17 points, 10 rebounds (five offensive) and two blocks. The sophomore center chipped in 11 of Rutgers' 31 first-half points and was 8-for-15 from the field. Her work inside opened up the perimeter for her teammates. Said ESPN's Stacey Dales: "That's why Rutgers was able to shoot 50 percent (4-for-8) from 3-point range and get four players in double figures. That's rare for Rutgers. But its offense has improved because Kia Vaughn has improved."
• Rutgers 64, Arizona State 45
DAYTON LOOK-AHEAD
Crafting gifted defensive teams isn't easy. Heart, desire and unselfishness are required. But the decision can result in a rewarding judgment. Both Tennessee and Ole Miss can testify to that. The Lady Vols and Rebels put their defenses on the stand Tuesday night (ESPN, 7 ET). Graham Hays
QUOTE OF THE DAY
"When the brackets came out and Pokey Chatman had just resigned, I thought [LSU] had no shot to make it to the Final Four without its head coach. But the mental fortitude, willpower and toughness of this LSU team has just been so impressive. They went out and earned it." -- ESPN analyst Kara Lawson
NOTABLE NUMBERS
45

-- Arizona State's 45 points were the second-fewest ever allowed in a regional final.

0 -- Rutgers' roster features five freshmen -- and zero seniors.

4 -- The fourth-seeded Scarlet Knights are the lowest seed to reach the Final Four since 2004.

4 -- LSU joins Connecticut, Louisiana Tech and Tennessee as the only programs to make four consecutive Final Four trips.