Starkey motivates through hard work, preparation
Updated:
March 27, 2007, 8:45 PM ET
Associated Press
FRESNO, Calif. -- Bob Starkey has made a career out of being in the background, breaking down film to assist noted coaches such as Dale Brown and Sue Gunter, and running practice drills that helped Shaquille O'Neal and Seimone Augustus develop into stars.
That's where Starkey hoped to stay, a teacher with no aspirations ever to become the head man. That suddenly changed a week before the NCAA Tournament when Starkey was thrust into prominence following LSU coach Pokey Chatman's sudden resignation amid allegations of improper conduct with a former player.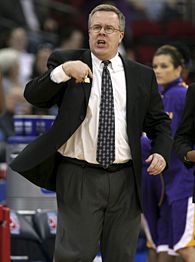 Rich Pedroncelli/AP PhotoActing head coach Bob Starkey has LSU in the Final Four.
Starkey became acting coach of the Lady Tigers (30-7) and has led them back to a fourth straight Final Four with a dominating 73-50 victory over top-seeded Connecticut in the Fresno Regional final on Monday night.
"I think too much is being made of it," Starkey said. "Other than talking to you guys, I'm not doing anything different than I would have normally done in terms of organizing practice and scouting. I'm privileged to be part of what the kids have done. To see them and how they handled it has inspired me a whole lot more than I have inspired them. To see them compete and succeed under these circumstances is something I will remember forever."
His players say he's downplaying his influence. He might be more laid back than the fiery Chatman, but Starkey motivates through his example of hard work and preparation.
"A lot has been thrust on him, and I think he's handled it really well," point guard Erica White said. "Just him having to come out and be the face of the program. I think he's handled himself and we're really proud of him. He says all the time that we inspire him, but he inspires us to keep playing this game motivated and to stay focused."
Starkey had been an assistant for his entire professional life until this month, starting at the high school level in West Virginia in the 1980s, going to the NAIA and Marshall before landing a job on coach Dale Brown's staff in 1990. He joined the women's staff in 1998, working for both Gunter and Chatman.
During his time with the LSU men, Starkey coached stars like O'Neal, Chris Jackson and Stanley Roberts, helped bring in some of the nation's top recruits and went to four NCAA tournaments with the Tigers.
Starkey still talks almost daily to Brown -- the man he calls his "father in Louisiana" while his parents are still in West Virginia -- and is praised by O'Neal.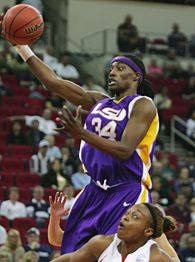 Gary Kazanjian/AP PhotoSylvia Fowles and the Tigers are 4-0 under Bob Starkey.
"Good guy, very knowledgeable of the game, been around a long time," O'Neal told the AP on Monday night. "It's kind of different how he got the job, but he really deserves it. So hopefully they give him the contract he deserves."
But unlike Steve Fisher, who got the head coaching job at Michigan after winning the NCAA title as the interim coach in 1989, Starkey has no interest in this job.
What he enjoys about coaching is breaking down film, developing game plans and scouting reports, and teaching his players in practice. All the other responsibilities that a head coach has -- fund-raising, recruiting, the media -- are things he could do with without.
"A lot of the reason we've been able to do the things we do and look good on the floor is because Pokey and (assistants) Carla (Berry) and Christie (Sides) were able to go out and recruit quality players. That's just not one of my strengths. I think this program deserves someone with experience as a head coach to handle all the other things that go into coaching."
Starkey hopes his tenure will last for two more games and then he can step away with an undefeated record and the school's first national championship. The Lady Tigers will play Rutgers (26-8) in Sunday's semifinals in Cleveland.
With Chatman at the helm, LSU has lost in that round each time. This year, Starkey said the Lady Tigers are playing even better heading into the Final Four than in the past despite losing Augustus, the two-time player AP player of the year, to graduation.
Sylvia Fowles has dominated the middle on both ends of the floor, LSU has hit 45 percent of its 3-pointers, and the Lady Tigers have had only one close game on their way to the Final Four.
That has their biggest supporter hoping this will be the school's breakthrough season.
"They can play, especially the big girl, Sylvia," O'Neal said. "She's a WNBA player. She's good. They've always been good, they've always been focused, they've always been one of the top teams with UConn and Tennessee. They're right there and I hope they get over that hump this time."

Copyright 2007 by The Associated Press
SPONSORED HEADLINES
MORE WOMEN'S BASKETBALL HEADLINES
MOST SENT STORIES ON ESPN.COM