Final Four teams on tear as games shift to Cleveland
Updated:
March 28, 2007, 4:00 PM ET
ESPN.com
TUESDAY'S NOTES
By Graham Hays
DAYTON, Ohio -- A band isn't eligible for induction into the Rock and Roll Hall of Fame until 25 years after the release of its first album. Until Purdue hung around and made North Carolina work for at least most of the second half in Dallas on Tuesday, it seemed like a team wasn't eligible to advance to the Final Four in Cleveland until it beat someone by close to 25 points in a regional final.
Unfortunately, after a stirring opening three rounds, drama was in short supply and unsold tickets were abundant in the Elite Eight matchups Monday and Tuesday.
The upshot is that all four teams advancing -- even the Tar Heels, considering the quality of their opponent -- come off performances in which they looked like championship material. Very little went wrong for Tennessee, North Carolina, LSU and Rutgers.
FINAL FOUR SCHEDULE
QUICKEN LOANS ARENA
CLEVELAND
SUNDAY
• (4) Rutgers vs. (3) LSU
7 p.m. ET, ESPN
• (1) UNC vs. (1) Tennessee
9 p.m. ET, ESPN
TUESDAY
• Semifinal winners
8:30 p.m. ET, ESPN
This just in: Things will go wrong in Cleveland.
Perhaps one team will continue riding a wave of excellence to two more flawless wins and a national title. More likely, the team that cuts down the nets on Tuesday will be the group that best adjusts to whatever adversity befalls it.
Maybe Kia Vaughn will get into foul trouble for Rutgers.
Maybe Quianna Chaney's outside touch will abandon her.
Maybe Shannon Bobbitt will look inexperienced.
Maybe Erlana Larkins won't get touches in the post.
Or maybe any of several dozen other potential pitfalls will materialize. Final Four games might become classics based on what happens down the stretch, but given the inherent pressures of the stage, they are rarely works of art from start to finish.
So as the four teams prepare to head to Ohio, you might want to imagine the voice from VH1's "Behind the Music" series setting up the show's famous tease.
"Team X was riding high as March came to a close. They were on top of the world with fans who thought they could do no wrong and prospects bright for the future. But then came a fateful trip to Cleveland when things started to fall apart for the group."
For three of four teams that could do no wrong in the first four rounds, the good times are going to come to a crashing halt.


TALKING 'BOUT AN EVOLUTION

DAYTON, Ohio -- Pat Summitt owns as impressive a past as any person in the history of women's college basketball. Candace Parker has as bright a future as it's possible to imagine a player possessing. All of which makes the intersection of those two timelines a pretty good place to call the present for the Tennessee Lady Volunteers.
With Parker putting on a display for the ages with 24 points, 14 rebounds and five blocks, and Summitt pushing all the right buttons from the sideline, Tennessee rolled to its 17th Final Four with a breathtakingly dominant 98-62 win against a Mississippi team that had knocked off Maryland and Oklahoma to reach the Elite Eight.
Parker's first trip to the Final Four as an active player (she was on the team that went to Indianapolis in 2005 but redshirted with a knee injury) will provide Summitt with an opportunity to win her seventh national championship, and the intersection of past and future proved to be the soundtrack of the night in Dayton.
As the minutes ticked down toward the start of Tuesday's game, the pep bands from both schools broke out separate renditions of Parliament's classic "Give Up the Funk (Tear the Roof off the Sucker)." The song, which first appeared on the group's 1976 "Mothership Connection" album following the addition of the legendary Maceo Parker to George Clinton's staggering array of talent, easily predated everyone with an instrument in Dayton (not to mention the starting lineups of both teams) by nearly a decade.
But one year before the song began its evolution from cutting-edge funk hit to pep band staple, a 22-year-old Summitt beat Middle Tennessee for her first win as head coach of the Lady Vols. Little did she imagine at that time a world where her 6-foot-4 All-American would dribble through a full-court press, swat shots into the first row of the stands, spin on a dime before soaring under the basket for a reverse layup and generally own the boards.
"Did I think I'd see that? No," Summitt said with a chuckle. "When I started coaching, we had a point guard, we had a 2-guard, and we tried to find a good 3-player who could play on the wing. Then we had two post players that were not that mobile. They could catch and pivot and shoot, and that was about it. You didn't want them to dribble."
Evolution used to be a touchy subject in the state that conducted the Scopes trial, but the basketball version is impossible to argue with when comparing that picture with everything Parker can do on the court. More …
LARKINS, LATTA LEAD UNC

DALLAS -- The fans in the stands right behind press row -- some small, some not-so-small -- all seemed to have big lungs.
"IVORY!!!! LATTA!!! IVORY!!! LATTA!! ERLANA!!! LARKINS!!! ERLANA!!! LARKINS!!!"
And when North Carolina's dynamic duo finished with its net-cutting after an 84-72 regional final victory over Purdue on Tuesday, Erlana Larkins and Ivory Latta started over toward the yellers …
"[SCREAMING SOUNDS]!!!!"
I thought I was at a Hannah Montana concert. (Or, you know, whoever's cool now.) Kids were tossing T-shirts, shoes, mini basketballs and Sharpies, pleading for autographs. Youngsters and adults were taking pictures with their cell phone cameras.
"LATTA, PLEASE!!!" and "LARKINS, OVER HERE!!!!"
A thousand miles from Chapel Hill, N.C., the Tar Heels definitely felt some love from a small (3,311) but vocal crowd at Reunion Arena.
"I'm honored," Latta said later. "I had to show them some love back."
Larkins said, "It feels good, but also kind of weird. Because I would never think in a million years that little kids would be screaming my name."
Well, why not? Even the youngest among them probably could have added up 29 points plus 10 rebounds plus 3 assists plus 4 steals and know that equals the regional's most outstanding player, which Larkins was named.
"You know Erlana's OK," Latta said, teasing her teammate. "No, she's a great post player. And I'm confident every time I give her the ball. I get in trouble because I'm there watching, because I don't know what she's going to do next. She did a fantastic job tonight, and she'll continue to do well for us."
Latta didn't too badly herself, with 21 points, four assists and two steals. Rashanda McCants had 15 points, Camille Little 10 and LaToya Pringle seven points and 10 rebounds.
Purdue's big three of Katie Gearlds (28 points), Lindsay Wisdom-Hylton (14) and Erin Lawless (10) did just about everything it could. Rookie guard FahKara Malone had nine points and played 40 minutes. Sophomore Jodi Howell, after getting crunched to the floor against Georgia and injuring her shoulder, gritted through 17 minutes of a game she wasn't expected to play in and scored seven points. More …

PHOTO OF THE DAY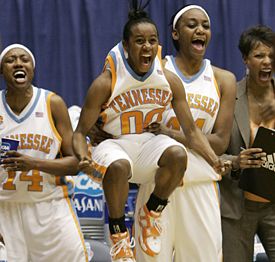 AP Photo/Al Behrman
Shannon Bobbitt stood tall (or as tall as her 5-foot-2 frame allows) Tuesday, hitting all three of her 3-pointers.
IN MOTION
Candace Parker paces the Lady Vols
IN MOTION, TAKE II
UNC rounds out the Final Four
PLAYERS OF THE DAY

Tennessee's Candace Parker: And now, a little lesson in alliteration: Parker was perfect in Tennessee's pounding of Ole Miss. If that sounded smooth, you should have seen Parker, who played such a solid game that any part of her 25 minutes on the court was the stuff highlights are made for. She ended up with 24 points, 14 rebounds, 5 blocks, 3 assists and 3 steals, hitting 10 of 14 shots before sitting out the final 12:10. -- Melanie Jackson
• Tennessee 98, Ole Miss 62

Erlana Larkins, North Carolina: North Carolina guard Ivory Latta said she sometimes gets in trouble when the coaching staff points out on film that she's just standing and watching teammate Erlana Larkins do her thing inside. But … you can't blame Latta for being a little mesmerized at times. Larkins, always a strong player, also shows a nimbleness inside when she needs to. She displayed all her skills (29 points, 10 boards) in the regional final against Purdue. In the semifinals against George Washington, Larkins had 14 points, 6 rebounds, 6 assists and 5 steals. No doubt who the Dallas' most outstanding player was. -- Mechelle Voepel
• UNC 84, Purdue 72
TOURNAMENT CHALLENGE
Of the 140,490 brackets submitted in the Women's Tournament Challenge, just 166 (0.001 percent) picked the correct Final Four of Rutgers, LSU, Tennessee and North Carolina. Of the Final Four teams, UNC was the most popular pick to win it all, at nearly 16 percent. Tennessee was next at 14 percent, LSU was third at 1.3 percent and Rutgers rounded it out at 0.50 percent.

Duke was the most popular pick to win it all, at 44.1 percent; 39,408 (28 percent) brackets picked all four No. 1 seeds to advance.

In ESPN.com's bracket group (league name: Bristol's Best), Nancy Lieberman is currently leading, correctly picking two Final Four teams and owning a bracket that ranks in the 97th percentile. But Charlie Creme was the only one to project Tennessee the winner in his bracket. All five other participants in the group had Duke winning.
QUOTE OF THE DAY
"Pat's the best at getting her team to postseason play. She had them ready to go. They looked every bit as good as any Tennessee championship team I've ever seen." -- Mississippi's Carol Ross, who is 1-20 all-time versus Tennessee (four seasons at Ole Miss, 12 seasons at Florida)
NOTABLE NUMBERS
36

-- The Lady Vols' 36-point win is the largest margin of victory in a regional final in the 26-year history of the women's NCAA Tournament.

17 -- Pat Summitt coached Tennessee to its 17th Final Four.

34 -- With a win Tuesday over Purdue, North Carolina improved to 34-3, a school record for victories in a season.

400/100 -- News surfaced Tuesday that Duke had granted Texas officials permission to speak to Blue Devils coach Gail Goestenkors about replacing recently retired Jody Conradt as the Longhorns' coach. After Rutgers upset Duke, the tourney's No. 1 overall seed, in the Sweet 16 on Saturday, Goestenkors wrapped up her 15th season with a 396-99 all-time coaching record. Like everybody else, we're just wondering which sideline Coach G will be on when she notches the milestone 400th win and 100th loss.
STORIES FROM HUFFINGTON POST