Confident Bobbitt sparks key Tennessee run
CLEVELAND -- It had been said that Shannon Bobbitt was cocky. Too big for the oversized britches that hang past her knees.
But Pat Summitt never saw that when her pint-sized point guard arrived in Knoxville last year.
"She's very confident," Summitt said. "She just came in and said, 'Coach, I just want to learn. I don't know anything. I want to learn everything.'"
One of the fastest cram sessions in Lady Vols' history was completed late Tuesday night, when Bobbitt sat in the postgame celebration of Tennessee's seventh national championship with a hunk of the net knotted to the back of her cap. The Lady Vols' rare juco gamble paid off, as the 5-foot-2 transfer ignited the defining spurt of a 59-46 victory.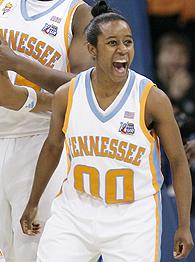 AP Photo/Tony DejakShannon Bobbitt's 13 points helped spark the Lady Vols past Rutgers.
Bobbitt hit three uncontested 3-pointers, stole the ball and dished it to Alexis Hornbuckle, then grabbed a rebound and crashed to the floor near the Tennessee cheerleaders. In a dizzying span of about 4½ minutes midway through the second half, she ignited a run that locked up Tennessee's first title since 1998.
By the time Bobbitt hit her final 3-pointer, Rutgers coach C. Vivian Stringer clutched a towel on the bench, threw her arms in the air and shrugged. There was nothing the Scarlet Knights could do.
"You know what?" Stringer said. "Here's what's incredible about it -- she's a midget on the floor. So all you had to do was be relatively close. So that's disturbing. But it might speak to the respect that she commands also because she is so little and then so quick with the ball.
"But when I get visions of this game, I see Shannon Bobbitt knocking those 3s down and us really not coming out and playing her. If you see a gnat moving on the floor, you try to stomp it out. You don't second-guess, you react. This was kind of strange."
Especially haunting for Stringer is the fact that Bobbitt is a New Yorker whom the Scarlet Knights recruited.
The backstory on Bobbitt was that she was tough, backed down to no one, and, most importantly, was a winner. She led the Trinity Valley Cardinals to a 30-2 record and the national junior college tournament in 2006. As a high school sophomore, she was ranked as the second-best player in the city behind Lady Vols teammate Nicky Anosike.
On a night when everybody wanted to talk about All-American Candace Parker again, Anosike, who crashed the boards for 16 rebounds, and Bobbitt took over at a key moment. Kia Vaughn's jumper had cut the lead to seven with 12:59 to play when Bobbitt swished her first 3-pointer of the second half. She nailed another one on the next possession, which Stringer said "clearly broke our back."
"I took what the defense gave me," Bobbitt said. "I felt like I had enough room to release the ball."
It was a complete reversal from the first half, when Bobbitt was held to one basket and was temporarily pulled by Summitt.
"But when I get visions of this game, I see Shannon Bobbitt knocking those 3s down and us really not coming out and playing her. If you see a gnat moving on the floor, you try to stomp it out. You don't second-guess, you react. This was kind of strange."
-- Rutgers coach C. Vivian Stringer
"I just wanted to get her focused on what we needed to do, and I wanted a little bit more structure and leadership from her offensively," Summitt said. "And I think Shannon just needed to kind of calm down. I think she was pretty hyped up. And she did a great job from that time on. She aims to please and wants to do exactly what you want her to do."
Though she's confident enough in her game to say she's a role model for the men back in her old neighborhood and has the swagger to believe that a juco player could make a seamless transition to a powerhouse, Bobbitt also tends to get nervous.
That's what Summitt sensed in the first half. When it happens, she tells Bobbitt, "Keep getting nervous. Because you play better when you're nervous."
The jitters were long gone with about 20 seconds to play, when Bobbitt bobbed up and down and made a beeline for the Tennessee bench. She wanted to hug Summitt as the clock wore down and the Lady Vols had finally satisfied a title-hungry town.
Summitt waved Bobbitt back onto the court. She didn't want to get a technical. But after the final whistle, after the Lady Vols exchanged postgame handshakes with the Scarlet Knights, Bobbitt caught up with her coach at mid-court. She bear-hugged Summitt and burrowed her head against the coach in a long embrace as confetti rained down.
Bobbitt was just getting acclimated. She danced and leaped her tiny body into the arms of teammate Alberta Auguste. She caught herself on the giant video board.
"She's made great strides because she's so coachable," Summitt said. "She's a winner."
Elizabeth Merrill is a writer for ESPN.com. She can be reached at merrill2323@hotmail.com.
Senior writer for ESPN.com
Formerly at "The Kansas City Star" and "The Omaha World-Herald"
SPONSORED HEADLINES
MORE WOMEN'S BASKETBALL HEADLINES
MOST SENT STORIES ON ESPN.COM