Commentary
Pitt will have hands full against Stanford
Updated:
March 27, 2008, 5:14 PM ET
By
Charlie Creme
| Special to ESPN.com
A look at how Saturday's regional semifinals in Spokane stack up:
No. 4 Vanderbilt vs. No. 1 Maryland (ESPN, 9 p.m. ET)
[+] Enlarge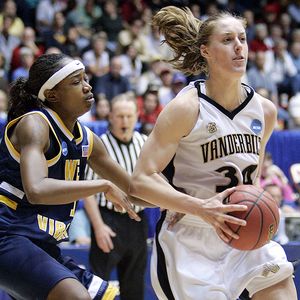 AP Photo/Jake SchoellkopfVanderbilt might have a problem keeping up with Maryland's scoring, so Christina Wirth's shots from outside need to fall.
Either Maryland is the least-dominant dominant team in the country or the Terrapins just like playing with fire. On too many occasions this season, they have allowed inferior teams to stay in games (both the first and second round would qualify here), but only three times did Maryland fail to deliver when it mattered most. Vanderbilt, on the other hand, was the classic third fiddle in the SEC all season -- clearly not on the level of LSU and Tennessee, but just as clearly better than everyone else.
Strengths:
Maryland has the most game-tested starting five in the tournament. And that's even with freshman Marah Strickland in the lineup. Laura Harper (94), Crystal Langhorne (133), Marissa Coleman (96) and Kristi Toliver (91) have combined to start 414 games. Plus, six of those games for each of them led to a national championship two seasons ago. Down the stretch, and certainly in the NCAA tournament so far, the Commodores have let their defense do most of the talking. Two pretty good offensive teams in Montana and West Virginia managed just 47 and 46 points, respectively, against Vandy. The Mountaineers were held to six points in the final 10 minutes.
Key matchup:
The focus here falls on Kristi Toliver vs. the Vanderbilt defense. The best way to defeat a good defense, especially a good zone, is to beat it down the floor. Toliver makes the Terps go with her speed and smarts. If she can jump-start the Maryland break frequently and beat Vandy down court, the Terrapins should play in front most of the night. Toliver's shooting and ability to move the ball also will be a key to beating the Commodores' zone.
Backcourt/frontcourt edge:
Christina Wirth is a great shooter and a good scorer. Liz Sherwood has good size and is solid in both the high and low post. However, Maryland has two All-American-caliber players in Langhorne and Coleman in its frontcourt. That's tough to beat. The rotation of Jennifer Risper, Jessica Mooney and Merideth Marsh has grown, but they still turn over the ball a bit too much and aren't consistent deep threats (that's mainly Wirth's job). Toliver alone probably gives Maryland the advantage in the backcourt. Throw in Strickland's shooting eye and that advantage has the potential to be a big one.
X factor:
Vanderbilt isn't explosive on offense and Maryland can really score. Watch the pace. This game needs to stay in the 60s or low 70s at most for the Commodores to have a chance. They can't score with Maryland in an up-tempo situation, but they might be able to frustrate the Terps in a half-court game with their zone.
No. 6 Pittsburgh vs. No. 2 Stanford (ESPN2, 11:30 p.m. ET Saturday)
[+] Enlarge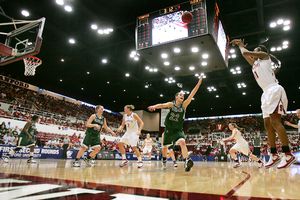 AP Photo/Tony AvelarCandice Wiggins hopes to lead Stanford to the Final Four in her last NCAA tournament.
Pittsburgh was not supposed to be one of the five Big East teams still alive, but the Panthers absolutely earned their first trip to the Sweet 16. In beating Wyoming in a virtual road game and then upsetting Baylor, the Panthers were the better second-half club in each instance. Stanford, meanwhile, has been the better club for every second of its victories over Cleveland State and UTEP, winning by an average margin of 36 points.
Strengths:
Stanford is all about balance -- threats inside and outside; youth and experience; fundamentals and flash; exuberance and professionalism. The Cardinal don't always win in the same way, and one single strategy rarely will beat them. When JJ Hones and Candice Wiggins make jumpers, no strategy works anyway. But when Agnus Berenato has her team dedicated to physical, in-your-face defense (as the Panthers have played in the first two rounds), it's no fun to play, either. In its past three wins, Pittsburgh has held the opponent to fewer than 60 points.
Key matchup: That has to be Wiggins vs. Shavonte Zellous. Wiggins' 44-point, 10-rebound and eight-assist performance in the second round was the kind of Maples Pavilion send-off usually reserved for a dream sequence. Yet, it also illustrated just how many ways one of the best guards the game has seen in recent years can beat an opponent.
Meanwhile, Zellous simply has been one of the tournament's most important players through two rounds. The junior has grabbed tough rebounds, made clutch free throws and taken Pittsburgh's biggest shots. She's easily the Panthers' most fluid, athletic player.
Backcourt/frontcourt edge:
Stanford has the better team and is better on nearly every area of the floor. Kayla Pedersen, Jayne Appel and Jillian Harmon are a versatile and productive trio up front. Pitt's Marcedes Walker can be brilliant, but can also disappear for periods. Xenia Stewart and Sophronia Sallard are not consistent help. Wiggins single-handedly makes Stanford's backcourt better than almost anyone's, but Hones' shooting and Rosalyn Gold-Onwude's ability to direct can't be forgotten. Pitt's Mallorie Winn is capable of taking and making big shots just like running mate Zellous, but is not particularly explosive.
X factor: Watch the whistles. Pittsburgh is already up against it on the inside trying to deal with Appel and Pedersen, so not only does Walker have to stay out of foul trouble, but also she has to excel. If she doesn't, the Cardinal will dominate the paint -- and likely the game.
Pittsburgh doesn't have much depth or the overall talent of Stanford, so it certainly can't afford to also lose the free-throw battle. The Panthers will have to impose their defensive will, be the more aggressive club and stay out of foul trouble to beat a Cardinal club that is really clicking.
Charlie Creme can be reached at cwcreme@yahoo.com.
Women's College Basketball
Charlie Creme projects the women's NCAA Tournament bracket for ESPN.com.
SPONSORED HEADLINES
MORE WOMEN'S BASKETBALL HEADLINES
MOST SENT STORIES ON ESPN.COM
2008 NCAA Women's Basketball Tournament
Get caught up with all the news, notes, insights and analysis from the 2008 NCAA tournament.
Tournament Index
Elite Eight
•
Dish: Tampa, here we come!
•
Hays: Gutsy win gets UConn seniors to Final Four
•
Voepel: Tough Tennessee wills itself to Tampa
•
Dish: Losses by Maryland, UNC leave ACC empty
•
Voepel: LSU the toast of New Orleans
•
Miller: Second really is the best in Spokane
•
Voepel: Elite Eight loss toughest on the seniors
•
Hays: Second chances key to UConn-Rutgers
•
Voepel: Like CP3, Hornbuckle important to Vols
•
Voepel: LSU faces toughest Elite foe yet in UNC
•
Miller: Terps, Cardinal feel slighted in Spokane
Sweet 16
•
Dish: Welcome to the Party, Texas A&M
•
Hays: Knights not satisfied with win
•
Hays: Hobbled Hunter finds ways to help Huskies
•
Voepel: UNC overcomes slow start for comeback
•
Voepel: White-Riley better than LSU-OK State
•
Voepel: Black back, driving force for Blue Devils
•
Hays: GW's Beck's must break out of slump
•
ESPN.com experts' Sweet 16 picks
•
Voepel: Overlooked Dores could test Terps
•
Voepel: Talent-laden Louisville ready for UNC
•
Hays: Louisville's Walz a real statement maker
•
Voepel: Oklahoma City Regional
•
Hays: Greensboro Regional breakdown
•
Creme: Spokane Regional breakdown
•
Mowins: New Orleans Regional breakdown
•
Merrill: The meeting that saved Texas A&M
First two rounds
•
Tuesday's Tournament Dish: Big East flavor
•
Hays: Awe-inspiring Allen leads Irish to OT win
•
Voepel: Moore so good we're left wanting more
•
Hays: Defending champs get defensive
•
Monday's Tournament Dish: Cowgirls up!
•
Hays: Irish guards hope to offset OU posts
•
Voepel: Huskies vs. Horns? Try Geno vs. Gail
•
Sunday's Tournament Dish: First-round wrap
•
Voepel: Unusual suspects step up for UConn
•
Hays: Not always pretty, but OU finds way to win
•
Saturday's Tournament Dish: Typical Day One
•
Mowins: Florida State too quick for Ohio State
•
Voepel: Buckeyes make another early exit
•
Voepel: Coach G, Horns feeling litte pressure
•
Hays: Sibling act helps Utah prepare for Purdue
•
Voepel: New tournament, same favorites
•
Hays: Five underrated players to watch
•
Smith: The storied saga of Geno and Pat
•
Hays: UConn's Moore playing beyond her years
•
Previews:
G'boro
|
N.O.
|
Okla. City
|
Spokane
•
Voepel: Calling all Volunteers
•
Voepel: Big Easy? Not for Heels
•
Hays: Bracket's big questions
•
Creme: Good bracket … with a few exceptions
•
Hays: Magnificent seven on inside track
•
ESPN.com experts break down the bracket
•
Merrill: OU, Paris seeking shelter from storm
•
Blog: There's nothing like your first tourney
More
•
Tournament Challenge