Commentary
Five players to find time to watch in the tourney
Originally Published:
March 21, 2008
By
Graham Hays
| ESPN.com
The NCAA tournament is one of higher education's most unforgiving math lessons.
[+] Enlarge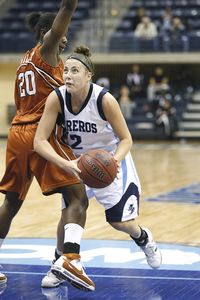 Jody Gomez/US PresswireAssist machine Amanda Rego notched two triple-doubles this season and set a single-game record with 16 assists on Senior Night.
More than 500 players will play their final game of the season at some point in the next four days. Roughly another 150 will exit the stage the following week.
And while that's a tougher reality for them than it is for us, it also means we're going miss a lot of good stories. Given the realities of television schedules and pesky matters like jobs and families, it's a little difficult for fans to watch 63 games spread over 10 days.
But if you pass a television in the next couple of weeks and hear one of these names, take a couple of minutes to savor some of college basketball's hidden gems.
Amanda Rego, San Diego
It's fashionable these days to use Steve Nash as the basis of comparison for any quality point guard, but it's another of the NBA's all-time assists leaders who comes to mind when watching Rego.
Whether she is pulling down a rebound (she averages five per a game), setting up shop with her back to the basket in the post or using every bit of her 5-foot-10 frame to shield the ball on a drive to the rim, Rego looks a lot like former Knick and Pacer Mark Jackson.
Not to mention the similarity of all those assists, of course.
Rego, a senior, enters the NCAA tournament averaging 8.5 assists per game, good for second in the nation and nearly a full assist per game better than the mark she posted last season that led the nation. The San Diego native either scored or assisted on 45 percent of the Toreros' field goals this season. That's the same percentage as Maryland's Kristi Toliver, an All-American candidate who led the ACC in assists and ranked fourth in scoring.
That's pretty much the definition of running an offense.
Considering the Toreros snuck into the field by virtue of winning the West Coast Conference tournament final -- after finishing 7-7 in the league -- they don't immediately spring to mind as a likely sleeper. Drawn opposite third-seeded Cal in a game (ESPN2, 4 p.m. ET Saturday) that will be played across the Bay from Berkeley at Stanford, Rego might find it difficult adding more than 40 more minutes to her college career.
But with a 6-foot-5, athletic post in Amber Sprague (Rego's high-school teammate and the beneficiary of a lot of her assists) and a point guard who has two triple-doubles this season (and the potential for more) there's more here than meets the eye. Just ask UCLA, which lost to San Diego, and Texas, which escaped with a two-point win.
Megan Frazee, Liberty
Fans have their pick of Frazee sisters (Moriah and Molly make up the triplets) to follow when Liberty takes the court (versus fifth-seeded Old Dominion, ESPN2, 7 p.m. ET Sunday), but Megan is the one whom opponents should not take their eyes off. A gifted all-court player with size, at 6-foot-3, that's more major than mid-major, she's not likely to shrink on the big stage.
Frazee put up 18 points and 12 rebounds in a loss earlier this season against North Carolina, and it's hard to argue those were all garbage-time numbers considering she fouled out with five minutes to play (12 of her 18 points came in the first half). She also finished with 28 points and 10 rebounds in Liberty's most impressive showing this season, a 61-56 win at Xavier, which boasts an intimidating front line of Amber Harris and Ta'Shia Phillips.
Jareica Hughes, UTEP
Hughes would still be a player worth the price of admission if she had the same set of skills in a body five inches taller -- she's not special just because she's small.
[+] Enlarge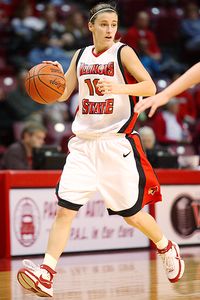 Alan Look/Icon SMIA point guard with one of the best assist-to-turnover ratios in the nation, Kristi Cirone is also a versatile scorer (16.6 ppg) in Illinois State's motion offense.
But it's still impressive what kind of game she packs into a 5-3 frame.
Along with current UTEP teammate Timika Williams, Hughes won a high school title in Michigan at a school that had no record of such success. She has followed a similar path while helping Keitha Adams complete a makeover of the formerly moribund Miners.
Given her size, the five assists per game she averages and one of the best assist-to-turnover ratios in Conference USA, she literally and statistically looks like a point guard. But part of what makes Hughes one of the most entertaining players in the country is her ability to shift from assist to assassinate in the blink of an eye. With backcourt partner Natasha Lacey around to help distribute the ball, Hughes is taking a few more shots than she did while earning conference rookie of the year honors a season ago.
There's a fearless quality to Hughes' game on offense, whether it's throwing her body into the lane off penetration (she leads the Miners in free-throw attempts) or launching a pull-up 3-pointer. And she plays the same way on defense; Hughes enters the NCAA tournament ranked among the top 30 players in the nation in steals.
For those inclined to believe glasses are generally half full, there is some good news. With 10th-seeded Western Kentucky facing No. 7 seed UTEP (ESPN2, 10:30 p.m. ET Saturday) in the first round, we're all going to get a chance to see either WKU's Crystal Kelly (22.7 ppg, 10.6 rpg, 65 percent from the field) or Hughes play two games in the NCAA tournament.
Meg Dahlman, Marist
Few things speak to the root of Marist's success better than the realization that perhaps the most valuable member of one of the nation's highest-scoring teams doesn't need to score.
Dahlman falls just shy of the national leaders in blocked shots entering the NCAA tournament. She's averaging 1.4 blocks per game for the Red Foxes. That total is good third in the MAAC but not quite enough to join a group of six players (including Kia Vaughn and Tina Charles) at the tail end of the top 50 nationally.
But the senior is also averaging 1.3 steals per game in addition to owning more assists than turnovers.
Of those players making up the current top 50 in blocks, 21 are playing in the NCAA tournament. Here's the complete list of those also averaging at least one steal per game with a positive assist-to-turnover ratio:
Candace Parker.
All right, so it was a short list.
To be clear, there's obviously a rather substantial gulf between Parker and Dahlman before we even get to the points column, but Dahlman will finish her career as one of the most underrated all-around players in the country -- and simply one of the best all-around players in the country.
Marist isn't going to win if Rachele Fitz, an underrated talent in her own right and a potential All-America candidate next season, doesn't score. But she's only part of the equation.
Dahlman has the rare ability to change her game based on the opposition -- whether she's a "big" post against smaller teams like some of those in the MAAC, or a "small" post against a team like Ohio State in last year's NCAA tournament. She has touch around the rim and 15 feet from the basket. And as the numbers suggest, she's a perfect fit in Marist's team defense.
Few posts face quite as daunting a 48 hours as Dahlman. Beginning Saturday (ESPN2, 8 p.m. ET), she has to spend 40 minutes sprinting up and down the court against the 1,600-meter relay team DePaul puts out on the basketball court. If she and the Red Foxes survive that, Dahlman would likely face second-seeded LSU and All-American Sylvia Fowles in the second round.
But few players are better than Dahlman at doing a little bit of everything.
Kristi Cirone, Illinois State
Cirone is the only one of nine finalists for the Nancy Lieberman Award, recognizing the nation's best point guard, who plays in a conference that didn't send multiple teams to the NCAA tournament. She might play on a small stage, but she does it with big-time skills.
At the most basic level, no player in the country does more good things on the basketball court than the two-time Missouri Valley player of the year.
Cirone leads the nation in assist-to-turnover ratio with three times as many assists as turnovers. Through 32 games, in which she averages 33.9 minutes, she has been charged with all of 56 turnovers. Forgetting everything else she does on offense, Cirone erased her own negatives nearly two times over with 79 steals and 10 blocked shots. Of course, you can't forget about her offense, not when she shoots 48.7 percent from the floor, 39.6 percent from the 3-point arc and 79.8 percent from the free-throw line while leading the team at 16.6 points per game.
And best of all, you don't need any of the numbers to understand what makes Cirone special. All it takes is watching her play (versus Oklahoma, ESPN2, noon ET Sunday).
Graham Hays is a regular contributor to ESPN.com's women's basketball coverage. E-mail him at Graham.Hays@espn3.com.
espnW.com
Graham Hays covers college sports for espnW, including softball and soccer. Hays began with ESPN in 1999.
2008 NCAA Women's Basketball Tournament
Get caught up with all the news, notes, insights and analysis from the 2008 NCAA tournament.
Tournament Index
Elite Eight
•
Dish: Tampa, here we come!
•
Hays: Gutsy win gets UConn seniors to Final Four
•
Voepel: Tough Tennessee wills itself to Tampa
•
Dish: Losses by Maryland, UNC leave ACC empty
•
Voepel: LSU the toast of New Orleans
•
Miller: Second really is the best in Spokane
•
Voepel: Elite Eight loss toughest on the seniors
•
Hays: Second chances key to UConn-Rutgers
•
Voepel: Like CP3, Hornbuckle important to Vols
•
Voepel: LSU faces toughest Elite foe yet in UNC
•
Miller: Terps, Cardinal feel slighted in Spokane
Sweet 16
•
Dish: Welcome to the Party, Texas A&M
•
Hays: Knights not satisfied with win
•
Hays: Hobbled Hunter finds ways to help Huskies
•
Voepel: UNC overcomes slow start for comeback
•
Voepel: White-Riley better than LSU-OK State
•
Voepel: Black back, driving force for Blue Devils
•
Hays: GW's Beck's must break out of slump
•
ESPN.com experts' Sweet 16 picks
•
Voepel: Overlooked Dores could test Terps
•
Voepel: Talent-laden Louisville ready for UNC
•
Hays: Louisville's Walz a real statement maker
•
Voepel: Oklahoma City Regional
•
Hays: Greensboro Regional breakdown
•
Creme: Spokane Regional breakdown
•
Mowins: New Orleans Regional breakdown
•
Merrill: The meeting that saved Texas A&M
First two rounds
•
Tuesday's Tournament Dish: Big East flavor
•
Hays: Awe-inspiring Allen leads Irish to OT win
•
Voepel: Moore so good we're left wanting more
•
Hays: Defending champs get defensive
•
Monday's Tournament Dish: Cowgirls up!
•
Hays: Irish guards hope to offset OU posts
•
Voepel: Huskies vs. Horns? Try Geno vs. Gail
•
Sunday's Tournament Dish: First-round wrap
•
Voepel: Unusual suspects step up for UConn
•
Hays: Not always pretty, but OU finds way to win
•
Saturday's Tournament Dish: Typical Day One
•
Mowins: Florida State too quick for Ohio State
•
Voepel: Buckeyes make another early exit
•
Voepel: Coach G, Horns feeling litte pressure
•
Hays: Sibling act helps Utah prepare for Purdue
•
Voepel: New tournament, same favorites
•
Hays: Five underrated players to watch
•
Smith: The storied saga of Geno and Pat
•
Hays: UConn's Moore playing beyond her years
•
Previews:
G'boro
|
N.O.
|
Okla. City
|
Spokane
•
Voepel: Calling all Volunteers
•
Voepel: Big Easy? Not for Heels
•
Hays: Bracket's big questions
•
Creme: Good bracket … with a few exceptions
•
Hays: Magnificent seven on inside track
•
ESPN.com experts break down the bracket
•
Merrill: OU, Paris seeking shelter from storm
•
Blog: There's nothing like your first tourney
More
•
Tournament Challenge