Commentary
Beck's ability to break out of shooting slump a key for GW
Originally Published:
March 29, 2008
By
Graham Hays
| ESPN.com
GREENSBORO, N.C. -- As Red from "The Shawshank Redemption" might say, Kimberly Beck is the kind of person who knows how to find things on the basketball court.
The senior point guard knows how to find her open teammates; she'll leave George Washington as the school's all-time leader in assists. She knows how to find the ball on defense; she enters Sunday's game against No. 2 seed Rutgers (ESPN2, 2:30 p.m. ET) 24 steals shy of the program record. And she knows how to find a path for her team to reach the Sweet 16, a place the program had never been in back-to-back seasons until a 55-53 win over No. 3 seed Cal on Monday in the second round sent it through for the second year in a row.
[+] Enlarge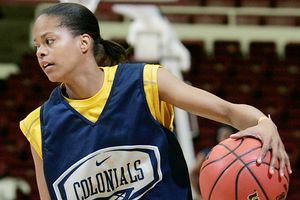 AP Photo/Marcio Jose SanchezKimberly Beck runs her team as well as any point guard in the country. But she has shot just 3-for-21 from the field (and 3-for-14 behind the arc) so far in the tourney.
Beck has led the Atlantic 10 in assists in each of her four seasons, just the 11th player in NCAA Division I history to do so. And she'll go out with a flourish. She already has set a career high with 200 assists this season and ranks 12th in the nation in assists per game and fifth in assist-to-turnover ratio. She is one of just two players ranked among the top 20 in both categories to advance to the Sweet 16, along with Louisville's Patrika Barlow. Some point guards succeed by staying a step ahead of the competition mentally. Others thrive by using quickness and physical gifts to literally stay a step ahead. As one of the quickest point guards in the country, Beck could have been successful as one of the latter. But it's the combination of the two that makes her so special. "I think what makes Kim so successful is she's a very smart player," senior teammate Whitney Allen said. "Her basketball IQ is so high. And her shot doesn't have to fall for you to see her greatness. She runs our team very well; she knows the system. She knows her teammates and what they can and can't do, and she knows how to put us in great position." Beck has started 127 of the 128 games she has played for coach Joe McKeown, and early on, she learned running the team is a responsibility that involves more than calling out plays. "My freshman year, we had a lot of seniors, and a lot of seniors that were kind of tough to handle in a way," Beck said. "And I remember one practice, we were in the huddle and everyone was talking in our huddle, and Coach pulled me aside and was like, 'You can't let that happen; this is your team, and you have to run the huddles.' And after that, I kind of felt my own voice and started to run the team." But for the Colonials to chart a course to the Elite Eight for the first time in more than a decade and just the second time ever, Beck might need to find her shooting touch against a defense that took just about every shot away from her teammates earlier this season. In a regional atmosphere already pulsating with speculation about a potential third meeting this season for Connecticut and Rutgers, George Washington is one of two underdogs fighting against both a higher seed and the perception of earlier results. The Colonials actually have the lesser of the historical obstacles to overcome after a 25-point home loss to the Scarlet Knights in November -- thanks to Old Dominion's 43-point loss to Connecticut later that month. Not that it's much consolation for the memories of shooting 22 percent from the floor and scoring the fewest points at home in nearly 25 years. "It just snowballed," McKeown said. "We got off to a bad start, and Rutgers played really well. We couldn't get on track." George Washington advanced to Greensboro courtesy of wins over Auburn and Cal, the latter on a court at Stanford far more familiar to the Bears than the Colonials. McKeown's team earned those wins without much in the way of scoring from Beck, who suffered through a 3-of-21 shooting stay in the Bay Area, including a 3-of-14 effort from behind the arc. Although the team's third-leading scorer this season didn't pile up points, she did finish with four steals and 10 assists against just three turnovers. "That's what's great about everyone on this team," Beck said. "If your shot's not falling, you're going to have to find another way to affect the game. So if that's the case, I'll hit Sarah-Jo [Lawrence] for an open shot or get Jessica Adair started. It's just about making plays at the end of the game." But in discussing an opponent with which he's all too familiar after the game in November, McKeown offered one clue as to why the Colonials will need Beck to break out of her shooting slump. "I think [Matee] Ajavon is one of those players, like Kim Beck in a way, where she does whatever you have to do to win the game," Joe McKeown said of one of Rutgers' backcourt keys. "If she has to score, she finds ways to score. If she has to get everybody else involved, she does that. … They hit shots. It seems like they hit shots at the right time, you know, when they feel like they have the other team on the ropes." And in the NCAA tournament, Rutgers is playing as well on offense as it has all season. With Kia Vaughn opening up the middle with back-to-back 20-plus-point performances, the Scarlet Knights are shooting better than 50 percent from the floor through two rounds. Given the kind of defense they play, that's an almost unbeatable combination. However, nobody runs a team better than Beck, one of the best facilitators in recent memory. And the Colonials are a different team if she's knocking down shots, as she did in leading the team in scoring during conference play, shooting 44.2 percent from the floor. "It's great," Lawrence said of playing alongside someone so willing to put the ball in her teammates' hands. But then with a laugh, she added one small disclaimer. "Sometimes you kind of want to yell at her to shoot her own shot." Beck makes everyone around her better, but for the Colonials to be their best Sunday, she might need to find her own shot.
Graham Hays is a regular contributor to ESPN.com's women's basketball coverage. E-mail him at Graham.Hays@espn3.com.
espnW.com
Graham Hays covers college sports for espnW, including softball and soccer. Hays began with ESPN in 1999.
2008 NCAA Women's Basketball Tournament
Get caught up with all the news, notes, insights and analysis from the 2008 NCAA tournament.
Tournament Index
Elite Eight
•
Dish: Tampa, here we come!
•
Hays: Gutsy win gets UConn seniors to Final Four
•
Voepel: Tough Tennessee wills itself to Tampa
•
Dish: Losses by Maryland, UNC leave ACC empty
•
Voepel: LSU the toast of New Orleans
•
Miller: Second really is the best in Spokane
•
Voepel: Elite Eight loss toughest on the seniors
•
Hays: Second chances key to UConn-Rutgers
•
Voepel: Like CP3, Hornbuckle important to Vols
•
Voepel: LSU faces toughest Elite foe yet in UNC
•
Miller: Terps, Cardinal feel slighted in Spokane
Sweet 16
•
Dish: Welcome to the Party, Texas A&M
•
Hays: Knights not satisfied with win
•
Hays: Hobbled Hunter finds ways to help Huskies
•
Voepel: UNC overcomes slow start for comeback
•
Voepel: White-Riley better than LSU-OK State
•
Voepel: Black back, driving force for Blue Devils
•
Hays: GW's Beck's must break out of slump
•
ESPN.com experts' Sweet 16 picks
•
Voepel: Overlooked Dores could test Terps
•
Voepel: Talent-laden Louisville ready for UNC
•
Hays: Louisville's Walz a real statement maker
•
Voepel: Oklahoma City Regional
•
Hays: Greensboro Regional breakdown
•
Creme: Spokane Regional breakdown
•
Mowins: New Orleans Regional breakdown
•
Merrill: The meeting that saved Texas A&M
First two rounds
•
Tuesday's Tournament Dish: Big East flavor
•
Hays: Awe-inspiring Allen leads Irish to OT win
•
Voepel: Moore so good we're left wanting more
•
Hays: Defending champs get defensive
•
Monday's Tournament Dish: Cowgirls up!
•
Hays: Irish guards hope to offset OU posts
•
Voepel: Huskies vs. Horns? Try Geno vs. Gail
•
Sunday's Tournament Dish: First-round wrap
•
Voepel: Unusual suspects step up for UConn
•
Hays: Not always pretty, but OU finds way to win
•
Saturday's Tournament Dish: Typical Day One
•
Mowins: Florida State too quick for Ohio State
•
Voepel: Buckeyes make another early exit
•
Voepel: Coach G, Horns feeling litte pressure
•
Hays: Sibling act helps Utah prepare for Purdue
•
Voepel: New tournament, same favorites
•
Hays: Five underrated players to watch
•
Smith: The storied saga of Geno and Pat
•
Hays: UConn's Moore playing beyond her years
•
Previews:
G'boro
|
N.O.
|
Okla. City
|
Spokane
•
Voepel: Calling all Volunteers
•
Voepel: Big Easy? Not for Heels
•
Hays: Bracket's big questions
•
Creme: Good bracket … with a few exceptions
•
Hays: Magnificent seven on inside track
•
ESPN.com experts break down the bracket
•
Merrill: OU, Paris seeking shelter from storm
•
Blog: There's nothing like your first tourney
More
•
Tournament Challenge
MORE WOMEN'S BASKETBALL HEADLINES
MOST SENT STORIES ON ESPN.COM
STORIES FROM HUFFINGTON POST