Commentary
Hobbled Hunter still finds ways to help Huskies
Originally Published:
March 29, 2008
By
Graham Hays
| ESPN.com
GREENSBORO, N.C. -- Perhaps she's not quite on par with Willis Reed or Kirk Gibson in the canon of one-legged sporting saviors, but Brittany Hunter can limp the limp.
As much as the final score made Sunday's 78-63 win against Old Dominion look like little more than business as usual for the tournament's top seed, it didn't start out that way. For most of the first half, Connecticut looked about as focused as a typical college student at the end of the weekend. One of the best rebounding teams in the country ceded control of the paint for long stretches against the Lady Monarchs. By coach Geno Auriemma's own count, only two of Old Dominion's 13 field goals in the first half came on jump shots. The Huskies owned a 43-33 halftime lead because they were the better team, not because they had played a better -- or even equivalent -- game. "[Thirty-three points] is not a lot until you figure that 27 of them came from layups and second shots and stuff around the basket," Auriemma said. "Once we took care of that, and it's all that -- contain the dribble, get a hand up on a shot, box out, no second shots. If you do those things every night, you can win every game. You can win every game." If not for an opening salvo out of the break from Hunter that staked her team's claim to the post space Auriemma coveted on both ends of the court, it may have cost them. After an Old Dominion 3-pointer cut Connecticut's lead to 43-36 in the opening minute of the second half, Hunter took a pass in the high post, waited for Maya Moore to clear her way off a screen and fed the freshman the ball for a 3-pointer of her own. Inserted in the starting lineup at the beginning of the NCAA tournament, a move in part motivated by the desire to keep her troublesome knee loose after warming up, the high-post screen and assist on Moore's bucket was a perfect example of how she looks to get involved. "I try not to focus on stats or anything," Hunter said. "I just try to set screens, get people open, and by doing that, you get yourself open. So I just try to do all the small things." But those small things quickly became big parts of the game's defining stretch. Hunter scored six consecutive points in the post for the Huskies and closed down the offensive glass for Old Dominion with a pair of defensive rebounds. By the time she left the game after hitting two free throws with 15:40 to play, Connecticut had a 56-36 lead. Old Dominion played almost the full 40 minutes coach Wendy Larry wanted, but despite a late rally, the game was effectively over when Hunter's last free throw found the bottom of the net.
[+] Enlarge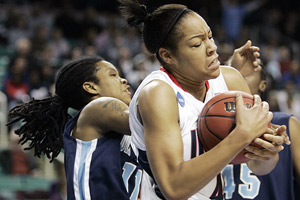 AP Photo/Elise AmendolaBrittany Hunter used to be so worried about how her troublesome knee would be in the future that it prevented her from going all out in the present. "Now I'm just like, 'I don't care.' Unless it falls off, I'm playing on it," she said.
The senior played half of the game's first 26 minutes. In the 13 minutes she was on the court, the Huskies outscored the Monarchs by 17 points. In the 13 minutes she was on the bench, her teammates were just three points better than the underdogs. "She goes hard, she's aggressive, and even though she has knee problems, she's still very athletic," Kaili McLaren said. "And she just draws so much attention because she can score, she rebounds and she can run the floor." Hunter has gotten used to squeezing all she can into a small window of time on the court because of a right knee that never fully recovered from an injury suffered during her one and only season at Duke. She's averaging just 11.2 minutes per game in her final season, which actually represents the most time in her three seasons at Connecticut. She has been forced to sit out eight games in their entirety and practice is all but a pipe dream. For someone who entered the college ranks as the top prep player in her class, it has been a frustrating existence. And one which she only really came to terms with this season. "You never really get used to it," Hunter said. "I was pretty much, I think, in denial for a long time. I don't know, after awhile, especially this year, I tried to envision it being like a pick-up game. You're only in for so long, the game is to seven -- that's about how many points are scored when I'm in anyway. That's just how I try to think of the game when I'm in." There was a time when she admitted that concern about how the knee would react in the future clouded her ability to go all out in the present. But with only as many games as her team wins remaining in her basketball career, she has had enough of the hesitancy. As she put it, "Now I'm just like, 'I don't care.' Unless it falls off, I'm playing on it." As good as the Huskies are down low, no three players bear the brunt of Auriemma's wrath quite as often as Tina Charles, Charde Houston and McLaren. Listening to the coach, each seems to be a nightly unknown, equally capable of carrying the team or placing it in peril. And the one player with the consistency to carry the load on a nightly basis must instead spend the bulk of each game watching from the bench. "Unfortunately for Brittany, it's been kind of a frustrating career for her," Auriemma said. "There just hasn't been any time when she has been 100 percent healthy. We had a glimpse a little bit of where she could have been and what she still can do. She has a sense of purpose. She has grown up a lot and she has matured an awful lot. I think that showed today." With less than two minutes to play and Old Dominion staging one final rally, Hunter could only lend moral support after getting a hand up from the bench from teammate Cassie Kearns during a timeout. But in truth, she had already done enough. Connecticut was battered and bruised after second-half injuries forced both Charles and Renee Montgomery to the bench, although neither appears in doubt for Tuesday. And as Hunter might attest, that's all right as long as the pain comes with a win. "It's just incredible to see someone who has gone through so much come out and play with so much spirit, play so hard and play with so much intensity," McLaren said. "You can't help but be happy for her."
Graham Hays is a regular contributor to ESPN.com's women's basketball coverage. E-mail him at Graham.Hays@espn3.com.
espnW.com
Graham Hays covers college sports for espnW, including softball and soccer. Hays began with ESPN in 1999.
2008 NCAA Women's Basketball Tournament
Get caught up with all the news, notes, insights and analysis from the 2008 NCAA tournament.
Tournament Index
Elite Eight
•
Dish: Tampa, here we come!
•
Hays: Gutsy win gets UConn seniors to Final Four
•
Voepel: Tough Tennessee wills itself to Tampa
•
Dish: Losses by Maryland, UNC leave ACC empty
•
Voepel: LSU the toast of New Orleans
•
Miller: Second really is the best in Spokane
•
Voepel: Elite Eight loss toughest on the seniors
•
Hays: Second chances key to UConn-Rutgers
•
Voepel: Like CP3, Hornbuckle important to Vols
•
Voepel: LSU faces toughest Elite foe yet in UNC
•
Miller: Terps, Cardinal feel slighted in Spokane
Sweet 16
•
Dish: Welcome to the Party, Texas A&M
•
Hays: Knights not satisfied with win
•
Hays: Hobbled Hunter finds ways to help Huskies
•
Voepel: UNC overcomes slow start for comeback
•
Voepel: White-Riley better than LSU-OK State
•
Voepel: Black back, driving force for Blue Devils
•
Hays: GW's Beck's must break out of slump
•
ESPN.com experts' Sweet 16 picks
•
Voepel: Overlooked Dores could test Terps
•
Voepel: Talent-laden Louisville ready for UNC
•
Hays: Louisville's Walz a real statement maker
•
Voepel: Oklahoma City Regional
•
Hays: Greensboro Regional breakdown
•
Creme: Spokane Regional breakdown
•
Mowins: New Orleans Regional breakdown
•
Merrill: The meeting that saved Texas A&M
First two rounds
•
Tuesday's Tournament Dish: Big East flavor
•
Hays: Awe-inspiring Allen leads Irish to OT win
•
Voepel: Moore so good we're left wanting more
•
Hays: Defending champs get defensive
•
Monday's Tournament Dish: Cowgirls up!
•
Hays: Irish guards hope to offset OU posts
•
Voepel: Huskies vs. Horns? Try Geno vs. Gail
•
Sunday's Tournament Dish: First-round wrap
•
Voepel: Unusual suspects step up for UConn
•
Hays: Not always pretty, but OU finds way to win
•
Saturday's Tournament Dish: Typical Day One
•
Mowins: Florida State too quick for Ohio State
•
Voepel: Buckeyes make another early exit
•
Voepel: Coach G, Horns feeling litte pressure
•
Hays: Sibling act helps Utah prepare for Purdue
•
Voepel: New tournament, same favorites
•
Hays: Five underrated players to watch
•
Smith: The storied saga of Geno and Pat
•
Hays: UConn's Moore playing beyond her years
•
Previews:
G'boro
|
N.O.
|
Okla. City
|
Spokane
•
Voepel: Calling all Volunteers
•
Voepel: Big Easy? Not for Heels
•
Hays: Bracket's big questions
•
Creme: Good bracket … with a few exceptions
•
Hays: Magnificent seven on inside track
•
ESPN.com experts break down the bracket
•
Merrill: OU, Paris seeking shelter from storm
•
Blog: There's nothing like your first tourney
More
•
Tournament Challenge