Commentary
Rutgers finds no satisfaction in Sweet 16 win
Originally Published:
March 30, 2008
By
Graham Hays
| ESPN.com
GREENSBORO, N.C. -- Lots of teams talk about not wanting to beat themselves, but Rutgers put a new spin on the old adage in proving it had learned how not to lose to itself.
One year and six days after one of the biggest wins in program history on the same Greensboro Coliseum court on which it played Sunday's game, second-seeded Rutgers held off No. 6 seed George Washington 53-42. With the win, Rutgers earned a rubber match with top-seeded Connecticut on Tuesday night (ESPN, 9 p.m. ET) after the teams split regular-season games. Not that any of the Scarlet Knights seemed all that pleased with the accomplishment. Sunday's game wasn't a thing of beauty, as promised to be the case in a battle of two outstanding defensive teams, and the victors seemed more sullen than satisfied. "We understand we didn't play our best basketball today," senior Essence Carson said of a performance her coach described as poor. "We have expectations for ourselves." There's a fine line between craftsmanship and joyless drudgery. There's also a fine line between success and failure with a bench that only goes two deep. And considering no team in the country is more familiar with what's ahead Tuesday night -- or knows better what it takes to actually beat Connecticut -- Rutgers' perfectionism was understandable. But it also occurred in a setting that offers a rather recent reminder of the alternative to a bad win against an underdog with a propensity for defense. It could have been worse. With 3:17 remaining in last year's regional semifinal, No. 1 seed Duke led fourth-seeded Rutgers 45-41. That same scant amount of time later, the tournament's top seed was headed home to Durham after a 53-52 loss.
[+] Enlarge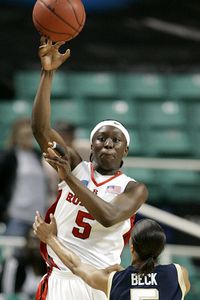 AP Photo/Elise AmendolaNobody's perfect, but Essence Carson had the hot hand Sunday, matching her career high with 25 points on 9-for-15 shooting from the field.
After George Washington's Jessica Adair collected a partially tipped shot from teammate Whitney Allen and put it in with 3:42 to play Sunday, Rutgers led 46-42. At which point the present left history's script, thanks mostly to Carson. Curling around a screen from Rashidat Junaid, Carson dropped in a jumper and subsequently converted the three-point play after being fouled on the shot. And instead of feeling the pressure of the moment, the Scarlet Knights were free to coast home with four more free throws from Carson on her way to matching a career-high 25 points.
"I recognized that I had been on," Carson said. "And my teammates were just doing a great job of getting me the ball in positions where I'm really effective. And I just had the mind-set to just continue to attack, not to settle for long-range shots."
Rutgers actually shot 51 percent from the floor, the third time in as many NCAA tournament games the team did that after shooting 43.8 percent from the field in 29 games leading up to the postseason. But after creating a season-low 39 field goal attempts, including just three in 37 minutes for Kia Vaughn after back-to-back 20-plus-point games for the junior center in the first two rounds, C. Vivian Stringer wasn't happy. "We are not capable of rattling off 15 points in a four- or five-minute span, as we have over the years and as we did last year, because we are not using the '55' press," Rutgers' coach said. "We don't have enough people to do that. So what causes me a lot of stress, and what causes us to have to focus really hard is that we can't turn the ball over, we need to be very efficient in our recognition of zone and man, we need to execute but we need to know who to get the ball with. That's the part I'm frustrated with." So three weeks to the day that most expected it would happen, Rutgers and Connecticut will play for the third time this season. A loss against Louisville early in the Big East tournament sent Rutgers home prematurely and short-circuited that potential meeting, but it also gave the Scarlet Knights an opportunity to get in a few more practices. And if Stringer saw Sunday's game as a setback for a group of players from whom she said she never knows what to expect, the first two rounds certainly offered plenty of potential payoff. "I think it definitely did [help], although we wanted to continue to play," Matee Ajavon said. "I think the time that we had to work on our stuff really helped us." The team's occasionally sloppy play in Sunday's game, as well as its sour reaction to the result, suggest it remains a work in progress. And Tuesday night's deadline looms large. But as one of its senior leaders demonstrated Sunday, perfectionism is sometimes best shelved in favor of pragmatism. "Essence looked to me like she wasn't willing to go home, and, you know, call it a day," Stringer said. "So we live to see 40 more minutes." Worse fates have befallen favored teams in the Sweet 16 in Greensboro.
Graham Hays is a regular contributor to ESPN.com's women's basketball coverage. E-mail him at Graham.Hays@espn3.com.
espnW.com
Graham Hays covers college sports for espnW, including softball and soccer. Hays began with ESPN in 1999.
SPONSORED HEADLINES
MORE WOMEN'S BASKETBALL HEADLINES
MOST SENT STORIES ON ESPN.COM
2008 NCAA Women's Basketball Tournament
Get caught up with all the news, notes, insights and analysis from the 2008 NCAA tournament.
Tournament Index
Elite Eight
•
Dish: Tampa, here we come!
•
Hays: Gutsy win gets UConn seniors to Final Four
•
Voepel: Tough Tennessee wills itself to Tampa
•
Dish: Losses by Maryland, UNC leave ACC empty
•
Voepel: LSU the toast of New Orleans
•
Miller: Second really is the best in Spokane
•
Voepel: Elite Eight loss toughest on the seniors
•
Hays: Second chances key to UConn-Rutgers
•
Voepel: Like CP3, Hornbuckle important to Vols
•
Voepel: LSU faces toughest Elite foe yet in UNC
•
Miller: Terps, Cardinal feel slighted in Spokane
Sweet 16
•
Dish: Welcome to the Party, Texas A&M
•
Hays: Knights not satisfied with win
•
Hays: Hobbled Hunter finds ways to help Huskies
•
Voepel: UNC overcomes slow start for comeback
•
Voepel: White-Riley better than LSU-OK State
•
Voepel: Black back, driving force for Blue Devils
•
Hays: GW's Beck's must break out of slump
•
ESPN.com experts' Sweet 16 picks
•
Voepel: Overlooked Dores could test Terps
•
Voepel: Talent-laden Louisville ready for UNC
•
Hays: Louisville's Walz a real statement maker
•
Voepel: Oklahoma City Regional
•
Hays: Greensboro Regional breakdown
•
Creme: Spokane Regional breakdown
•
Mowins: New Orleans Regional breakdown
•
Merrill: The meeting that saved Texas A&M
First two rounds
•
Tuesday's Tournament Dish: Big East flavor
•
Hays: Awe-inspiring Allen leads Irish to OT win
•
Voepel: Moore so good we're left wanting more
•
Hays: Defending champs get defensive
•
Monday's Tournament Dish: Cowgirls up!
•
Hays: Irish guards hope to offset OU posts
•
Voepel: Huskies vs. Horns? Try Geno vs. Gail
•
Sunday's Tournament Dish: First-round wrap
•
Voepel: Unusual suspects step up for UConn
•
Hays: Not always pretty, but OU finds way to win
•
Saturday's Tournament Dish: Typical Day One
•
Mowins: Florida State too quick for Ohio State
•
Voepel: Buckeyes make another early exit
•
Voepel: Coach G, Horns feeling litte pressure
•
Hays: Sibling act helps Utah prepare for Purdue
•
Voepel: New tournament, same favorites
•
Hays: Five underrated players to watch
•
Smith: The storied saga of Geno and Pat
•
Hays: UConn's Moore playing beyond her years
•
Previews:
G'boro
|
N.O.
|
Okla. City
|
Spokane
•
Voepel: Calling all Volunteers
•
Voepel: Big Easy? Not for Heels
•
Hays: Bracket's big questions
•
Creme: Good bracket … with a few exceptions
•
Hays: Magnificent seven on inside track
•
ESPN.com experts break down the bracket
•
Merrill: OU, Paris seeking shelter from storm
•
Blog: There's nothing like your first tourney
More
•
Tournament Challenge
STORIES FROM HUFFINGTON POST