Commentary
Second-chance points the key in third meeting
Originally Published:
March 31, 2008
By
Graham Hays
| ESPN.com
GREENSBORO, N.C. -- Placed on a puzzling collision course, conference rivals Connecticut and Rutgers meet for the third time this season in Tuesday's regional final (ESPN, 9 p.m. ET).
The rubber match marks just the second time since the NCAA tournament field expanded to 64 teams that conference foes seeded No. 1 and No. 2 will meet with a spot in the Final Four on the line; Vanderbilt and Tennessee had the dubious honor in 2002. It's a scenario no more pleasing to either side now than it was when the bracket first came out two weeks ago, especially given what the Big East's impressive overall performance suggests about the strength of the league. But here they are, familiar teams seeking a familiar goal in an unfamiliar place.
[+] Enlarge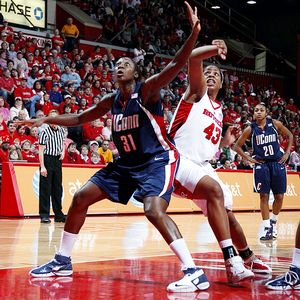 Jim O'Connor/US PresswireUConn's Tina Charles and Rutgers' Rashidat Junaid will continue to fight for rebounds when they clash Tuesday with a trip to Tampa on the line.
Against their will, they fit the bill.
No wonder both sides spent so much time worrying about second chances during and after Sunday's Sweet 16 games.
In the broader narrative, the third game between the Huskies and Scarlet Knights is a chance to erase past disappointments. Connecticut's only loss this season came at Rutgers on Feb. 5 -- at the time, its fifth loss in eight games in the series. For C. Vivian Stringer's team, the rematch four weeks ago in Hartford on March 3 offered a clear opportunity to earn a No. 1 seed of its own. Instead, her team's first loss of the season by a double-digit margin opened the door for the NCAA selection committee to make its odd decision.
But broad narratives aren't of nearly as much use as broad shoulders when it comes to the kind of second chances that might help shape the final chapter of the story.
Rutgers enters Tuesday's game shooting 53.7 percent from the field in the NCAA tournament; Connecticut is a little better at 54.1 percent from the field. But even ignoring for a moment that both offenses will be trying to match those totals against two of the best defenses in the country, season-long math on both sides dictates that at least half of the shots taken Tuesday are more likely to come off the rim than drop through the net.
In a game that could come down to one or two possessions, control of the basketball will be quite literally up for grabs somewhere in the neighborhood of 50 to 60 times.
That was something of special concern to Stringer after she watched each of George Washington's starters grab three offensive rebounds in Rutgers' 53-42 win Sunday.
"Do you think that Connecticut is going to allow these 18 offensive rebounds; do you think they're not going to convert these?" Stringer queried rhetorically after the win. "How many of these do you think they're not going to convert? We already know. … Stats don't lie. It was obvious to us that when they were getting second and third opportunities on shots, that these are conversions for Connecticut."
Few opposing coaches know Connecticut better than Stringer, and she has never been more right. Geno Auriemma's team entered the Sweet 16 averaging an even 16 offensive rebounds per game. Not only was that one of the best marks among teams that advanced to the second week of play but it was the best production for any Connecticut team since 2000, a stretch that includes three national championships and a perfect season in 2001-02.
This from a team that leads the nation in field goal percentage, which is the sort of thing that tends to cut down on offensive rebound opportunities.
Like a fake punt on fourth down or a botched double-play grounder -- only a dozen or more times per game -- offensive rebounds can be psychological warfare no matter the opponent. And against a team that misses less often than anyone else and ranks among the top of the class in assist-to-turnover ratio, fewest turnovers and points per game, watching Tina Charles, Kaili McLaren, Brittany Hunter, Maya Moore or Charde Houston put in a rebound after you just worked for 30 seconds on defense can be brutal.
"Especially when you get the shot clock down so far or you just do a really good job executing your defense," Hunter said of second-chance psychology. "That second-chance shot -- it's like you almost let up a little bit. And it definitely bothers you."
It definitely bothered Auriemma in Connecticut's 78-63 win over Old Dominion in the Sweet 16. The Lady Monarchs, who entered the third round trailing only North Carolina in offensive rebounds per game among active teams, collected 17 offensive boards against the Huskies. Nine of those came in the first half, after which Auriemma made it clear to his posts they weren't getting the job done.
Old Dominion finished the game with more offensive rebounds, but Connecticut ended up with rebounds on a greater percentage of its own misses and quelled the revolt.
"He talks about [rebounding] probably every time before a game, or even at practice," Charles said of her coach. "He says rebounding, points in the paint, is what's going to help win us these games throughout the whole season. And that's what he really puts the emphasis on, on both ends of the court."
On paper, and as Stringer's concerns might suggest, rebounding should be an uphill battle for Rutgers, a team that has surrendered more offensive rebounds than it has collected and that fell short of its already modest average rebounding margin against George Washington. Except that Rutgers has been at its best on the boards against Connecticut.
"They pursue the ball all the time on the boards, so we definitely are going to have to match that," Heather Zurich said. "It doesn't take any talent to rebound; coach Stringer stresses that all the time. You just have to box out and go after the ball, basically. So that's definitely going to be the key to the game."
Not entirely surprisingly, given the result, Rutgers had the rebounding edge on Connecticut in its 73-71 win at home. But even in an otherwise disappointing 20-point loss in Hartford, Conn., which the Scarlet Knights reviewed Sunday night, they had more total rebounds and held the Huskies to just 11 offensive rebounds on 30 missed shots.
Things fell apart quickly that night, thanks in part to some brilliant passing that produced 19 assists and plenty of first-chance points for Connecticut. And certainly, Auriemma's team wouldn't be the overall No. 1 seed if it couldn't beat opponents in a variety of ways. But take away the rebounding edge, and you take away a lot.
"You've got to rebound in order to get out and run," McLaren said. "And in order to kind of continue with our game plan, and score a lot of points, we've got to offensive rebound, also. And the more we rebound, the better position we'll be in."
It was a familiar sentiment for two teams completely familiar with each other. Talking about what she felt would be most important for her team's success, Stringer brought up rebounding not once, not twice, but three times within a few breaths.
"I mean, it's obvious to me that it's great rebounding, great defense, we've got to move the ball offensively," Stringer said. "And we've got to go to the boards; we've got to go to the boards."
Neither team will get another chance.
Graham Hays is a regular contributor to ESPN.com's women's basketball coverage. E-mail him at Graham.Hays@espn3.com.
espnW.com
Graham Hays covers college sports for espnW, including softball and soccer. Hays began with ESPN in 1999.
SPONSORED HEADLINES
MORE WOMEN'S BASKETBALL HEADLINES
MOST SENT STORIES ON ESPN.COM
2008 NCAA Women's Basketball Tournament
Get caught up with all the news, notes, insights and analysis from the 2008 NCAA tournament.
Tournament Index
Elite Eight
•
Dish: Tampa, here we come!
•
Hays: Gutsy win gets UConn seniors to Final Four
•
Voepel: Tough Tennessee wills itself to Tampa
•
Dish: Losses by Maryland, UNC leave ACC empty
•
Voepel: LSU the toast of New Orleans
•
Miller: Second really is the best in Spokane
•
Voepel: Elite Eight loss toughest on the seniors
•
Hays: Second chances key to UConn-Rutgers
•
Voepel: Like CP3, Hornbuckle important to Vols
•
Voepel: LSU faces toughest Elite foe yet in UNC
•
Miller: Terps, Cardinal feel slighted in Spokane
Sweet 16
•
Dish: Welcome to the Party, Texas A&M
•
Hays: Knights not satisfied with win
•
Hays: Hobbled Hunter finds ways to help Huskies
•
Voepel: UNC overcomes slow start for comeback
•
Voepel: White-Riley better than LSU-OK State
•
Voepel: Black back, driving force for Blue Devils
•
Hays: GW's Beck's must break out of slump
•
ESPN.com experts' Sweet 16 picks
•
Voepel: Overlooked Dores could test Terps
•
Voepel: Talent-laden Louisville ready for UNC
•
Hays: Louisville's Walz a real statement maker
•
Voepel: Oklahoma City Regional
•
Hays: Greensboro Regional breakdown
•
Creme: Spokane Regional breakdown
•
Mowins: New Orleans Regional breakdown
•
Merrill: The meeting that saved Texas A&M
First two rounds
•
Tuesday's Tournament Dish: Big East flavor
•
Hays: Awe-inspiring Allen leads Irish to OT win
•
Voepel: Moore so good we're left wanting more
•
Hays: Defending champs get defensive
•
Monday's Tournament Dish: Cowgirls up!
•
Hays: Irish guards hope to offset OU posts
•
Voepel: Huskies vs. Horns? Try Geno vs. Gail
•
Sunday's Tournament Dish: First-round wrap
•
Voepel: Unusual suspects step up for UConn
•
Hays: Not always pretty, but OU finds way to win
•
Saturday's Tournament Dish: Typical Day One
•
Mowins: Florida State too quick for Ohio State
•
Voepel: Buckeyes make another early exit
•
Voepel: Coach G, Horns feeling litte pressure
•
Hays: Sibling act helps Utah prepare for Purdue
•
Voepel: New tournament, same favorites
•
Hays: Five underrated players to watch
•
Smith: The storied saga of Geno and Pat
•
Hays: UConn's Moore playing beyond her years
•
Previews:
G'boro
|
N.O.
|
Okla. City
|
Spokane
•
Voepel: Calling all Volunteers
•
Voepel: Big Easy? Not for Heels
•
Hays: Bracket's big questions
•
Creme: Good bracket … with a few exceptions
•
Hays: Magnificent seven on inside track
•
ESPN.com experts break down the bracket
•
Merrill: OU, Paris seeking shelter from storm
•
Blog: There's nothing like your first tourney
More
•
Tournament Challenge