Commentary
Five burning questions for the Final Four
Updated:
April 6, 2008, 9:11 PM ET
By
Kara Lawson
| ESPN.com
Before the national semifinals tip off Sunday (ESPN, 6:30 p.m. ET), let's tackle some hot topics from Tampa.
What are the X factors in each semifinal?
[+] Enlarge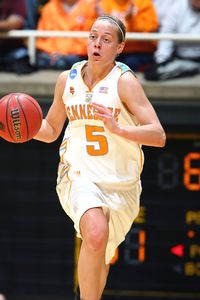 Brian Spurlock/US PresswireAfter struggling offensively for the past month, can Angie Bjorklund be Tennessee's difference-maker off the bench?
Secondary scoring will be a huge factor in Connecticut-Stanford. Candice Wiggins, Jayne Appel and Kayla Pedersen are going to get their points, but who else is going to step up? JJ Hones and her 23 points made the difference for the Cardinal against Maryland in the Elite Eight. I'm a firm believer that you have to score points to contend with Connecticut. You can't beat the Huskies just by playing great defense. You can't slow them down, so you have to counter their points with some of your own. When you play Connecticut, you must find a way to score. In LSU-Tennessee, Candace Parker's shoulder will have the biggest effect. The matchup is as close to even as it gets -- when Parker is 100 percent healthy. The SEC championship was a super competitive game, and that was with a great performance from Parker. She must play better than well for Tennessee to beat LSU again. Pat Summitt said Wednesday that Parker will play, but we don't know how short of 100 percent she will be. That is a huge concern. The Lady Vols struggled on offense when Parker sat out against Texas A&M during the Elite Eight. The Aggies are a good defensive team; LSU is even better.
What about Tennessee makes you believe the Lady Vols can win back-to-back championships?
Tennessee has incredible experience. The fact that the Lady Vols have been here before helps. To be honest, it did hurt them at times during the regular season. They are very senior heavy, and at times, the players were looking forward to the postseason. They were focused not on the present but on March. That being said, Tennessee is in its sixth Final Four in seven seasons. Parker is better in all phases of the game than she was a year ago. And Alexis Hornbuckle, who always has been a great all-around guard, has had a tremendous year. She is a lot more efficient on the offensive end, and her shot selection is better. However, going forward, Angie Bjorklund's performance is a concern. She has struggled offensively in the past month. She doesn't look as confident as she did in the middle of the season. The Lady Vols are going to need someone to come off the bench and change the game. In last year's Final Four, Alberta Auguste came off the bench and played really well. If Bjorklund doesn't turn things around, I'm not sure Tennessee has a strong sixth woman.
What about Connecticut makes you believe the Huskies can win their first NCAA title since 2004?
There's no doubt in my mind that Connecticut has been the best team all season. That's not to say the Huskies will win, but they are the best all-around team. The word that comes to mind is "complete." The Huskies are very good in every phase. They are so balanced they can withstand one player not having a particularly good night on either end. They have so many great offensive and defensive players that if one is not getting the job done, coach Geno Auriemma can bring somebody off the bench to do so. The Huskies also have a great confidence about them. Perhaps the only partial knock on Connecticut is that no one on the team has played in a Final Four. Still, with this bunch, I don't see that making a big difference. These players have won too many basketball games and have been too consistent to think that a lack of semifinal experience is going to catch up with them. I marvel at freshman Maya Moore every time I watch Connecticut play. She is everything you want in a basketball player. The maturity of both her game and her personality is impressive. She doesn't seem to get rattled and won't force it if it's a night when she's not shooting particularly well. Although Moore has received so many accolades this year, there isn't even a hint of jealousy or animosity from her teammates, many of whom are upperclassmen and very accomplished in their own right. That says a lot about how hard she works and the respect she has earned from her teammates. Her work ethic and the way she battles every possession is very admirable in any player, but especially in a player in her first year of college basketball.
After four consecutive losses in the national semifinals, why can this Final Four trip be different for LSU?
A team that defends is always dangerous, and defense is at the core of what the Lady Tigers do. It gives them a chance in every game. Sylvia Fowles has come into her own as a go-to player. She was much more deferential on offense her freshman and sophomore seasons. She always has had the skills to be a go-to player, but now she has the mind-set as well. She really stepped into that role in LSU's Elite Eight win over Connecticut last year. And this season, she has put more energy and effort into getting the ball and dominating on the offensive end, especially in the paint. That gives LSU a great chance of making this Final Four trip different than previous appearances. Quianna Chaney also is emerging as a go-to scorer and must continue to take pressure off Fowles. In addition, point guard Erica White's leadership continues to be a strength. She simply takes ownership of the Lady Tigers, and when you have a player who is willing to direct a team, be its leader and provide a tremendous will to win, her teammates will respond.
Can Candice Wiggins cap her career with a Sheryl Swoopes-like NCAA tournament run?
Connecticut presents a very large hurdle, but I said the same thing about Maryland. So yes, Wiggins has the talent to do it and has been the MVP of the tournament so far. Should Stanford win the championship, I don't know if there will have been a player who has done more for her team in NCAA tournament history. Wiggins is the best leader in the country, but it's more than just getting her teammates to feed off her emotions or leading by example. She has the ability to lift her teammates almost psychologically, to make them play above themselves. Don't get me wrong. Her teammates are very good players. But her confidence gives her teammates the ability to play out of their minds. They follow her lead and turn in great performances. Hones is an example. She averages six points a game but had 17 in the first half against Maryland. Some players elevate their teammates' games by creating easy shots. Wiggins does that, but she also seems to elevate the Cardinal mentally.
Kara Lawson is a women's basketball analyst for ESPN.
Women's Basketball
Kara Lawson is an Olympic Gold Medalist, WNBA Champion, and current member of the WNBA's Connecticut Sun. She serves as a game and studio analyst for ESPN's coverage of men's and women's college basketball. A longtime fitness advocate, the University of Tennessee graduate is channeling her passion to fight childhood obesity as a member of The First Lady's Let's Move Campaign.
SPONSORED HEADLINES
MORE WOMEN'S BASKETBALL HEADLINES
MOST SENT STORIES ON ESPN.COM
2008 NCAA Women's Basketball Tournament
Get caught up with all the news, notes, insights and analysis from the 2008 NCAA tournament.
Tournament Index
Championship game
•
Hays: Two-year plan pays dividends for Vols
•
Hays: Lady Vols' defense wins championship
•
Voepel: Fitting end to Parker's college career
•
Voepel: Never satisfied, Summitt wins title No. 8
•
Voepel: Another great title game from Anosike
•
Hays: Wiggins gone, but Stanford future bright
•
Experts: X factors behind Tennessee's win
•
Creme: Parker leads UT to second straight title
•
Voepel: Wiggins, Parker share more than name
•
Lawson: Candice Wiggins vs. Candace Parker
•
Appel, Pedersen give Stanford potent post
•
Expert X factors and picks: Stanford the favorite
•
Hays: Assistant coaches vital in trip to title game
•
Voepel: Vols' Auguste up for one last big game
•
Creme: Championship game preview
Final Four
•
Voepel: Hornbuckle's heroics save Lady Vols
•
Hays: Stanford's mental toughness the difference
•
Voepel: LSU's end to season all too familiar
•
Hays: UConn will get Moore chances
•
Expert X factors: How Tennessee beat LSU
•
Expert X factors: How Stanford beat Connecticut
•
Voepel: Loyal alumni cheer on Stanford in Tampa
•
Instant Analysis:
Stanford
|
Tennessee
•
Hays: Saturday in Tampa? Wiggins' world
•
Voepel: Injury won't slow down Vols' Parker
•
Voepel: Moore remembers first Final Four
•
Hays: UConn vs. Stanford? Try East vs. West
•
Voepel: LSU trio in shadows, but just as vital
•
Voepel: Anosike sees little room for error
•
Experts: X factors for Stanford-Connecticut
•
Experts: X factors for LSU-Tennessee
•
Lawson: Five burning questions for the Final Four
•
Voepel: PGs could determine SEC rubber match
•
Creme: Final Four breakdown
•
Hays: Injured UConn pair still contributing
•
Experts' Final Four picks
•
Voepel: Stanford's Final Four a long time coming
Elite Eight
•
Dish: Tampa, here we come!
•
Hays: Gutsy win gets UConn seniors to Final Four
•
Voepel: Tough Tennessee wills itself to Tampa
•
Dish: Losses by Maryland, UNC leave ACC empty
•
Voepel: LSU the toast of New Orleans
•
Miller: Second really is the best in Spokane
•
Voepel: Elite Eight loss toughest on the seniors
•
Hays: Second chances key to UConn-Rutgers
•
Voepel: Like CP3, Hornbuckle important to Vols
•
Voepel: LSU faces toughest Elite foe yet in UNC
•
Miller: Terps, Cardinal feel slighted in Spokane
Sweet 16
•
Dish: Welcome to the Party, Texas A&M
•
Hays: Knights not satisfied with win
•
Hays: Hobbled Hunter finds ways to help Huskies
•
Voepel: UNC overcomes slow start for comeback
•
Voepel: White-Riley better than LSU-OK State
•
Voepel: Black back, driving force for Blue Devils
•
Hays: GW's Beck's must break out of slump
•
ESPN.com experts' Sweet 16 picks
•
Voepel: Overlooked Dores could test Terps
•
Voepel: Talent-laden Louisville ready for UNC
•
Hays: Louisville's Walz a real statement maker
•
Voepel: Oklahoma City Regional
•
Hays: Greensboro Regional breakdown
•
Creme: Spokane Regional breakdown
•
Mowins: New Orleans Regional breakdown
•
Merrill: The meeting that saved Texas A&M
More
•
Tournament Challenge