Commentary
McCoughtry the key vs. UNC, while Cowgirls look to stop Fowles
Updated:
March 26, 2008, 4:03 PM ET
By
Beth Mowins
| Special to ESPN.com
A look at how Saturday's regional semifinals in New Orleans stack up:
No. 4 Louisville vs. No. 1 North Carolina (ESPN, noon ET)
[+] Enlarge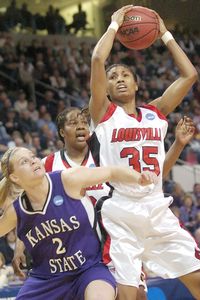 AP Photo/Jessica HillLouisville's Angel McCoughtry has proven she can score on the best defenders in the country -- and she'll have to vs. UNC.
This matchup has the makings for a very entertaining game, especially with North Carolina averaging more than 80 points and Louisville not far behind at 75 ppg. Both teams are well balanced and good rebounding clubs that are at their best when they play up-tempo. Louisville's Angel McCoughtry has proven she can score on the best defenders in the country, but she will be challenged by the Tar Heels. North Carolina's Erlana Larkins is a relentless low-post player who could create problems for the Cardinals.
Strengths:
Their strengths are similar. Led by Rashanda McCants, the Tar Heels have been a balanced team offensively all season, with five players averaging double figures. Louisville has learned to play better with McCoughtry and has become an attack with multiple weapons, like forward Candyce Bingham. Both sides have strong front lines and speedy perimeter players. Rebounding will be a key statistic as both teams rely on controlling the glass to win.
Key matchup:
Point guard play will be vital. UNC freshman Cetera DeGraffenreid has been consistently steady without making costly mistakes. She can be a disruptive defender and leads the Heels in steals. Louisville's Patrika Barlow is a dazzling distributor who led the Big East in assists -- but also fouled out of five games. Taking care of the ball will be at a premium for these two.
Backcourt/frontcourt edge:
Larkins and McCants are joined by ACC Defensive Player of the Year LaToya Pringle and ACC Sixth Player of the Year Jessica Breland. They are faster, stronger and can all run the floor well, and combine to give North Carolina the better frontcourt. McCoughtry, though, also has a good supporting cast of Bingham and the much-improved Chantise Wright. But UNC gets the edge on the perimeter, too. The Tar Heels can go small or big and create matchup problems. Each side has a quality 3-point shooter to cancel each other out.
X factor:
It's McCoughtry. She is capable of doing what Stephen Curry did for the Davidson men. McCoughtry is capable of a big night offensively, and that is a nice option to have in a tight game. But Carolina has a host of different defenders it could use to try to contain her.
No. 3 Oklahoma State vs. No. 2 LSU (ESPN, 2 p.m. ET Saturday)
[+] Enlarge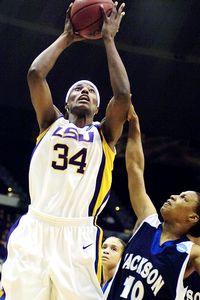 AP Photo/Patrick DennisOklahoma State's strength is its guard play, but the Cowgirls must find an answer for LSU's Sylvia Fowles.
In the regional's second game, LSU will have a decided home-court advantage -- not to mention a significant edge in experience. The Lady Tigers have a roster of players that have been here before, while none of the Cowgirls have played in a Sweet 16 -- let alone consecutive Final Fours.
Strengths:
LSU's strength is having a player unlike any other in the country in 6-foot-5 center Sylvia Fowles. The SEC's all-time leader in double-doubles and rebounds will be a nightmare matchup for Oklahoma State. Fowles is strong around the basket on both ends of the floor, picking up the SEC's player of the year and defensive player of the year honors. The Cowgirls' strong suit is ESPN.com second-team All-American Andrea Riley. Her 45-point performance against Oklahoma in the regular season put them on the national map. Her free throw with seven-tenths of a second left in overtime against Florida State on Monday propelled the Cowgirls into the Sweet 16.
Key matchup: The key matchup will be the "matchup" -- as in the zone Oklahoma State likes to play and hopes it can use to force someone other than Sylvia Fowles to produce points. Oklahoma State will provide several different looks out of the zone, looking to limit Fowles as much as possible -- and hope none of the other Lady Tigers has a big night.
Backcourt/frontcourt edge:
Even with Riley, the backcourt matchup could be even due to the LSU duo of Erica White and Rashonta LeBlanc. The action will be quick on quick at the point, as both Riley and White are terrific dribble penetrators and playmakers. Give LSU the edge up front, where Fowles will go up against Oklahoma State's lean post Maria Cordero.
X factor: The X factor might be Cowgirls forwards Shaunte Smith and Danielle Green. Green came up huge at the end of regulation Monday and Smith played all 45 minutes in the FSU win. They can rebound and run and create their own shots. They will also be responsible for keeping an eye on LSU sharpshooter Quianna Chaney.
Beth Mowins is a regular contributor to ESPN.com's women's basketball coverage.
Women's Basketball
Beth Mowins is a regular contributor to ESPN.com's women's basketball coverage.
2008 NCAA Women's Basketball Tournament
Get caught up with all the news, notes, insights and analysis from the 2008 NCAA tournament.
Tournament Index
Elite Eight
•
Dish: Tampa, here we come!
•
Hays: Gutsy win gets UConn seniors to Final Four
•
Voepel: Tough Tennessee wills itself to Tampa
•
Dish: Losses by Maryland, UNC leave ACC empty
•
Voepel: LSU the toast of New Orleans
•
Miller: Second really is the best in Spokane
•
Voepel: Elite Eight loss toughest on the seniors
•
Hays: Second chances key to UConn-Rutgers
•
Voepel: Like CP3, Hornbuckle important to Vols
•
Voepel: LSU faces toughest Elite foe yet in UNC
•
Miller: Terps, Cardinal feel slighted in Spokane
Sweet 16
•
Dish: Welcome to the Party, Texas A&M
•
Hays: Knights not satisfied with win
•
Hays: Hobbled Hunter finds ways to help Huskies
•
Voepel: UNC overcomes slow start for comeback
•
Voepel: White-Riley better than LSU-OK State
•
Voepel: Black back, driving force for Blue Devils
•
Hays: GW's Beck's must break out of slump
•
ESPN.com experts' Sweet 16 picks
•
Voepel: Overlooked Dores could test Terps
•
Voepel: Talent-laden Louisville ready for UNC
•
Hays: Louisville's Walz a real statement maker
•
Voepel: Oklahoma City Regional
•
Hays: Greensboro Regional breakdown
•
Creme: Spokane Regional breakdown
•
Mowins: New Orleans Regional breakdown
•
Merrill: The meeting that saved Texas A&M
First two rounds
•
Tuesday's Tournament Dish: Big East flavor
•
Hays: Awe-inspiring Allen leads Irish to OT win
•
Voepel: Moore so good we're left wanting more
•
Hays: Defending champs get defensive
•
Monday's Tournament Dish: Cowgirls up!
•
Hays: Irish guards hope to offset OU posts
•
Voepel: Huskies vs. Horns? Try Geno vs. Gail
•
Sunday's Tournament Dish: First-round wrap
•
Voepel: Unusual suspects step up for UConn
•
Hays: Not always pretty, but OU finds way to win
•
Saturday's Tournament Dish: Typical Day One
•
Mowins: Florida State too quick for Ohio State
•
Voepel: Buckeyes make another early exit
•
Voepel: Coach G, Horns feeling litte pressure
•
Hays: Sibling act helps Utah prepare for Purdue
•
Voepel: New tournament, same favorites
•
Hays: Five underrated players to watch
•
Smith: The storied saga of Geno and Pat
•
Hays: UConn's Moore playing beyond her years
•
Previews:
G'boro
|
N.O.
|
Okla. City
|
Spokane
•
Voepel: Calling all Volunteers
•
Voepel: Big Easy? Not for Heels
•
Hays: Bracket's big questions
•
Creme: Good bracket … with a few exceptions
•
Hays: Magnificent seven on inside track
•
ESPN.com experts break down the bracket
•
Merrill: OU, Paris seeking shelter from storm
•
Blog: There's nothing like your first tourney
More
•
Tournament Challenge
MOST SENT STORIES ON ESPN.COM