Commentary
New tourney, same disappointing result for OSU
Updated:
March 23, 2008, 2:16 AM ET
By
Mechelle Voepel
| Special to ESPN.com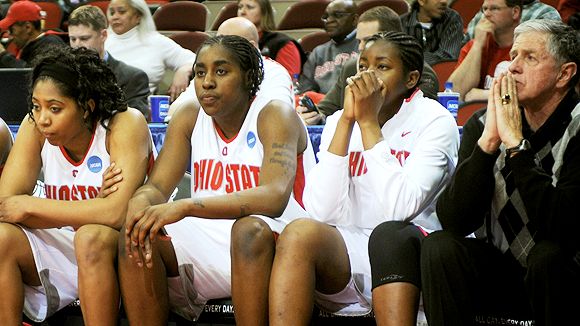 AP Photo/Steve PopeOSU was upset in the first round for the second straight season, this time to 11th-seeded Florida State.
After the 2002 season, Jim Foster left Vanderbilt to take over an Ohio State program that seemed very ready to make some big moves. Well … the Buckeyes have done fine in the regular season under Foster, but not so well in the NCAA tournament. Saturday's 60-49 loss to 11th-seeded Florida State marked the fifth time in Foster's six seasons in Columbus that the Buckeyes have lost to a lower-seeded team. This time it was as a No. 6 seed falling to a No. 11 seed. The fact that Florida State -- which went 7-7 in the ACC -- was such a surprise even getting an at-large bid is what makes this loss stand out all the more uncomfortably for Ohio State. It's a nice win for the ACC, which almost got another upset on Saturday with 10th-seeded Georgia Tech pushing 7-seed Iowa State before falling 58-55. The Seminoles have been through a difficult season, and this victory is particularly gratifying for FSU coach Sue Semrau. For Ohio State fans, though, this is getting old. The biggest disappointment among the Buckeyes' recent NCAA losses was in 2006, when Ohio State was a No. 1 seed and was upset in the second round by eighth-seeded Boston College. Last year, the No. 4-seed Buckeyes lost in the first round to 13th-seeded Marist. Three straight NCAA losses for Ohio State is not just bad news for the Buckeyes. It's also not a good reflection on the Big Ten. The Buckeyes tied Iowa for the regular-season title this season before being upset by Illinois in the Big Ten quarterfinals. Ohio State did not live up to its NCAA seed in 2005, either, but that season's loss wasn't much of an upset. The Buckeyes were the No. 2 seed and fell to third-seeded Rutgers in the Sweet 16. In 2003, Foster's first season with Ohio State, the Buckeyes were a No. 4 seed and lost in the second round to 5-seed Louisiana Tech, which was then led by future WNBA star Cheryl Ford. Since Foster took over at Ohio State, the only season in which the Buckeyes have lost to a higher-seeded team was in 2004, when they were a No. 6 and fell to No. 3 Boston College in the second round. Upsets do happen to programs, no doubt. But the upset bug biting the Buckeyes for a third year in a row is really rather alarming. What does this it mean? Well, this much is obvious: Ohio State's postseason preparation isn't working. It isn't likely that a veteran coach such as Foster is ill-prepared or doesn't game-plan well. No, this seems like a question of motivation -- in which case his players have to take a lot of the responsibility.
Mechelle Voepel of The Kansas City Star is a regular contributor to ESPN.com. She can be reached at mvoepel123@yahoo.com.
espnW.com
Mechelle Voepel joined ESPN.com in 1996 and covers women's college hoops, the WNBA, the LPGA, and additional collegiate sports for espnW.
2008 NCAA Women's Basketball Tournament
Get caught up with all the news, notes, insights and analysis from the 2008 NCAA tournament.
Tournament Index
Elite Eight
•
Dish: Tampa, here we come!
•
Hays: Gutsy win gets UConn seniors to Final Four
•
Voepel: Tough Tennessee wills itself to Tampa
•
Dish: Losses by Maryland, UNC leave ACC empty
•
Voepel: LSU the toast of New Orleans
•
Miller: Second really is the best in Spokane
•
Voepel: Elite Eight loss toughest on the seniors
•
Hays: Second chances key to UConn-Rutgers
•
Voepel: Like CP3, Hornbuckle important to Vols
•
Voepel: LSU faces toughest Elite foe yet in UNC
•
Miller: Terps, Cardinal feel slighted in Spokane
Sweet 16
•
Dish: Welcome to the Party, Texas A&M
•
Hays: Knights not satisfied with win
•
Hays: Hobbled Hunter finds ways to help Huskies
•
Voepel: UNC overcomes slow start for comeback
•
Voepel: White-Riley better than LSU-OK State
•
Voepel: Black back, driving force for Blue Devils
•
Hays: GW's Beck's must break out of slump
•
ESPN.com experts' Sweet 16 picks
•
Voepel: Overlooked Dores could test Terps
•
Voepel: Talent-laden Louisville ready for UNC
•
Hays: Louisville's Walz a real statement maker
•
Voepel: Oklahoma City Regional
•
Hays: Greensboro Regional breakdown
•
Creme: Spokane Regional breakdown
•
Mowins: New Orleans Regional breakdown
•
Merrill: The meeting that saved Texas A&M
First two rounds
•
Tuesday's Tournament Dish: Big East flavor
•
Hays: Awe-inspiring Allen leads Irish to OT win
•
Voepel: Moore so good we're left wanting more
•
Hays: Defending champs get defensive
•
Monday's Tournament Dish: Cowgirls up!
•
Hays: Irish guards hope to offset OU posts
•
Voepel: Huskies vs. Horns? Try Geno vs. Gail
•
Sunday's Tournament Dish: First-round wrap
•
Voepel: Unusual suspects step up for UConn
•
Hays: Not always pretty, but OU finds way to win
•
Saturday's Tournament Dish: Typical Day One
•
Mowins: Florida State too quick for Ohio State
•
Voepel: Buckeyes make another early exit
•
Voepel: Coach G, Horns feeling litte pressure
•
Hays: Sibling act helps Utah prepare for Purdue
•
Voepel: New tournament, same favorites
•
Hays: Five underrated players to watch
•
Smith: The storied saga of Geno and Pat
•
Hays: UConn's Moore playing beyond her years
•
Previews:
G'boro
|
N.O.
|
Okla. City
|
Spokane
•
Voepel: Calling all Volunteers
•
Voepel: Big Easy? Not for Heels
•
Hays: Bracket's big questions
•
Creme: Good bracket … with a few exceptions
•
Hays: Magnificent seven on inside track
•
ESPN.com experts break down the bracket
•
Merrill: OU, Paris seeking shelter from storm
•
Blog: There's nothing like your first tourney
More
•
Tournament Challenge